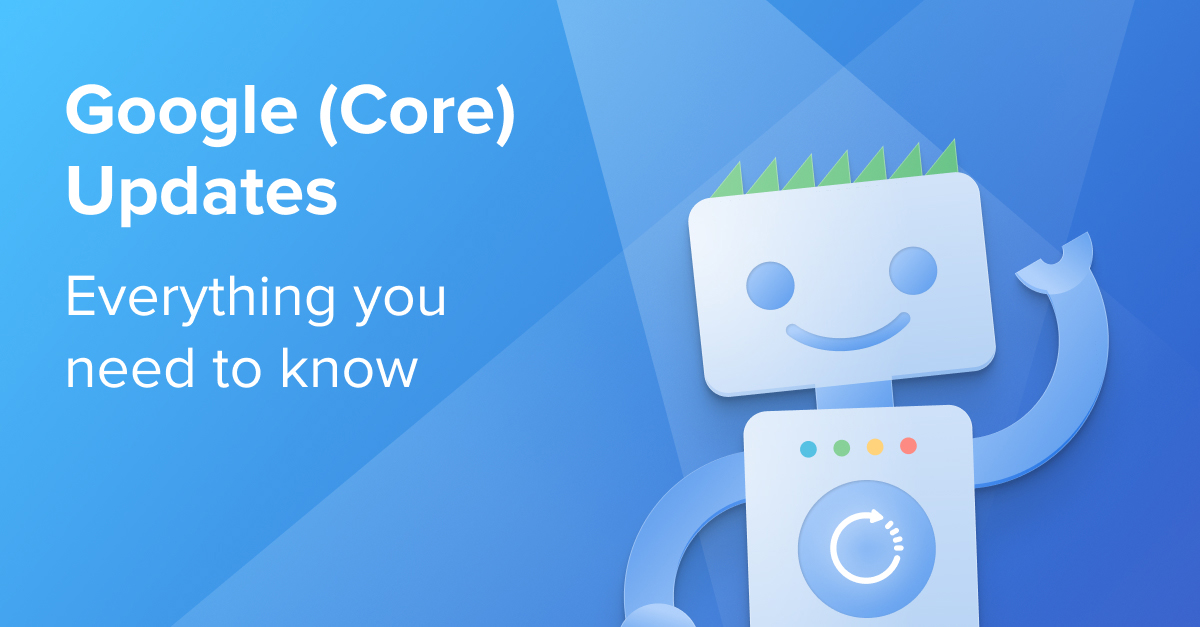 Last updated on April 26, 2023.
Have you seen your organic search traffic change drastically in a matter of hours or days? It's possible that your website has been affected by a recent Google update.
See the list of recent Google updates
Google updates can deal serious blows to businesses that rely on organic traffic for revenue, e.g. through online ads, affiliate links, or by selling products online.
Especially Google's "core updates" are well-known for their sudden and significant impact, often leaving website owners wondering what they did wrong and how to recover their search traffic.
That's why, in this article, we're going to cover:
what a Google (core) update is
a protocol of the biggest Google updates of the past years
what you should do if you've been hit by a Google (core) update
After reading this article, you'll know what to do to rebound after a Google update, avoid major impacts on your business and get your website ready for future updates!
What is a Google update?
Google's search engine uses complex algorithms to rank its search results, taking hundreds of different factors into account. Google adjusts these factors and its search engine in general several thousand times a year. These ongoing adjustments impact the presentation of search results, ranking factors, recognition of search intent, and much more.
Most of these updates are minor changes that don't have a noticeable impact on the overall SERPs. But several times per year, Google launches significant updates that are officially announced and often have a considerable impact on search results. Known examples of major Google updates have introduced page experience as a ranking factor, impacted local search, or improved Google's understanding of search intent. We'll cover these and other examples below.
What is a Google Core Update?
Google Core updates are a special type of update that Google releases multiple times per year. In contrast to other big updates, Google Core Updates are changes to the core algorithm and not to individual ranking factors.
While other updates often have a clearly defined target (e.g. the introduction of a new ranking factor or new technology), Google Core updates are focused on improving the overall quality of results users get from the Google search engine. They're part of Google's efforts to present relevant and authoritative content to searchers.
Google always announces a new core update via Twitter and names it according to the month and year of its release (e.g. "May 2022 Core Update").
Today, we're releasing a broad core update, as we do several times per year. This update is called the May 2022 core update. Learn more: https://t.co/7kFklwdkAb

— Google Search Central (@googlesearchc) May 25, 2022
Summary of major Google updates since 2018
Below, we'll cover the most impactful updates in the past years – both Core updates and significant other updates. As Google continues to make major updates to its algorithm, we'll update this summary, so you can always come back here to learn about the most recent changes.
Note: You probably have heard of other major, well-known updates before 2018, such as Panda, Penguin, or Hummingbird. We'll only go back to 2018 here since that's when Google first announced a "Broad Core Algorithm Update" as we know them today.
The list is based on Google's official ranking update release history. We've added a summary of the key facts as well as links to more information and analyses for the big and relevant updates.
2023
April 2023 Reviews Update
April 12 – 25
The April 2023 reviews update was an important extension of Google's previous product reviews updates. This update not only affected product reviews (as previously), but all types of reviews (e.g., for services, media, travel destinations, etc.). Google's recommendations for writing quality product reviews have also been updated to cover "high quality reviews" in general. This means that from now on Google's reviews updates will be relevant to an increased number of website owners.
March 2023 Core Update
March 15 – 28
On March 15, Google announced the March 2023 Core Update via Twitter which was completed on March 28. Compared to previous core updates, the update had a very strong impact on search results.
According to SEO expert Lily Ray, the update may show the effects of the latest update to Google's Quality Rater Guidelines which included the expansion of E-A-T to E-E-A-T. Websites that clearly demonstrate first-hand experience have benefited from the update. Her analysis also shows that dictionary and reference sites were particularly impacted as well as the categories eCommerce, travel, reviews, health and entertainment. What's also worth mentioning: websites that merely collect information from other websites without offering their own product/service are among the losers of this update. This shows an important direction at a time when more and more AI-generated content is flooding the web.
February 2023 Product Reviews Update
February 21 – March 7
The February 2023 Product Reviews Update is Google's 6th product reviews update. These updates aim to improve Google's evaluation of websites publishing product review content. Unlike previous product reviews updates, the February update affected languages other than English for the first time. Also, the impact on search results was stronger than with the previous versions. See Google's official blog post for more information.
2022

December 2022 Link Spam Update (December 14 – January 12):
This is a global update affecting all languages. The update aims to improve the detection of unnatural links by Google's AI system "SpamBrain". In particular, the system is now able to detect purchased links more effectively, as well as domains that serve the sole purpose of creating backlinks to other websites. You can find more information in this summary on Search Engine Journal.
December 2022 Helpful Content Update (December 5 – January 12):
This update is an improvement of Google's helpful content classifier which was released in August 2022. Contrary to the first Helpful Content Update, this one affects content in all languages (not only English).

You can find recommendations for how to react to this update in our original post on Google's Helpful Content Update.

October 2022 Spam Update (October 19 – 21):
Unless you publish spam on your website, this update probably won't affect you. Learn more about Google's spam updates here.
September 2022 Product Reviews Update (September 20 – 26):
This update overlapped with the September 2022 Core Update (see below). In case you are affected, you'll find Google's recommendations on how to write high-quality product reviews here.
September 2022 Core Update (September 12 – 26):
This update seemed to be less impactful than previous core updates. It also overlapped with another update, the September 2022 Product Reviews Update.

According to an analysis by Lily Ray, government and music sites won, whereas news sites and stock photography sites lost organic traffic due to the update. Other particularly impacted niches include lyrics and dictionary sites.
Some SEOs speculated if the update could be related to the Helpful Content Update, but Google didn't confirm this.

Helpful Content Update (August 25 – September 9):
Google introduced a new ranking signal aiming to detect and downrank low-quality content created for the sole purpose of ranking high in search. Read more in our post on Google's Helpful Content Update.
July 2022 Product Reviews Update (July 27 – August 2)
May 2022 Core Update (May 25 – June 9):
This core update seemed to have a smaller effect than the November 2021 Core Update. Read more in our summary of the May 2022 Core Update.
March 2022 Product Reviews Update (started on March 23)
Page Experience Update for Desktop (February 22 – March 3):
Following last year's page experience update for mobile search, this update implemented the same ranking criteria for desktop experiences. Google Search Central detailed the update in this post.
2021

December 2021 Product Reviews Update (December 1 – December 21)
November 2021 Local Search update (November 30 – December 8):
Neural matching was introduced to the process of matching local searches with local search results. Ranking factors remain relevance, distance, and prominence, according to Google's guidance.
November 2021 Core Update (November 17 – November 30):
This update was slightly odd compared to previous core updates as Roger Montti of Search Engine Journal explains in this summary of the November 2021 Core Update impact.
November 2021 Spam Update (November 3 – November 11)
July 2021 Link Spam Update (July 26 – August 24)
July 2021 Core Update (July 1 – July 12):
This update was part 2 of the June 2021 Core Update. Learn more in our Google (Core) Updates in June and July 2021 overview.
June 2021 Spam Update (Part 1 on June 23, Part 2 on June 28)
Page Experience Update (June 15 – September 2):
This update introduced Google's Core Web Vitals as official ranking factors for mobile search.
June 2021 Core Update (June 2 – June 12):
As we covered in our summary of the June 2021 Core Update, the data on this update wasn't very clear and to some parts even contradictory. It also differed slightly from other core updates by not affecting the typical YMYL niches.
April 2021 Product Reviews Update (April 8 – April 22)
Passage Ranking Update (February 10):
Google added a new ranking factor that's able to identify relevant passages buried deep within your page content. You can learn more in our summary of the Passage Ranking Update and in this one-hour chat with Google's Martin Splitt.
2020
2019
2018

Broad Core Algorithm Update (around August 1):
This update is referred to as "Medic," because it was believed to target health sites in particular. This hasn't been confirmed by Google, but Search Engine Journal put together an article sharing advice for sites affected by the "Medic" update.
Broad Core Algorithm Update (started on April 16):
Google confirmed this update and pointed to the official explanation and advice from March 2018.
Broad Core Algorithm Update (around March 12):
The focus of this update was content relevance as was confirmed by Google's John Mueller in the April 2018 Google Webmaster Central office-hours hangout.
How to recover from Google updates (and prepare for future ones)
If you've been hit by a recent Google update, the first thing you should do is: gather as much information about the update as possible, and don't panic. There are always ways to recover your traffic – it might just require some effort and patience.
Independent of the update that hit you, there are five basic steps you'll want to take to recover:
Read up on Google's guidance regarding the latest update
Take a look at the analysis from SEO experts and authorities
Check to see how changes affected your site
Follow Google's guidelines on the specific update
Grab your favorite caffeinated drink and await recovery
What does that look like in practice? As an example, let's look at Google's Helpful Content Update from August 2022:
1. Google Search Central shared a post on what creators should know.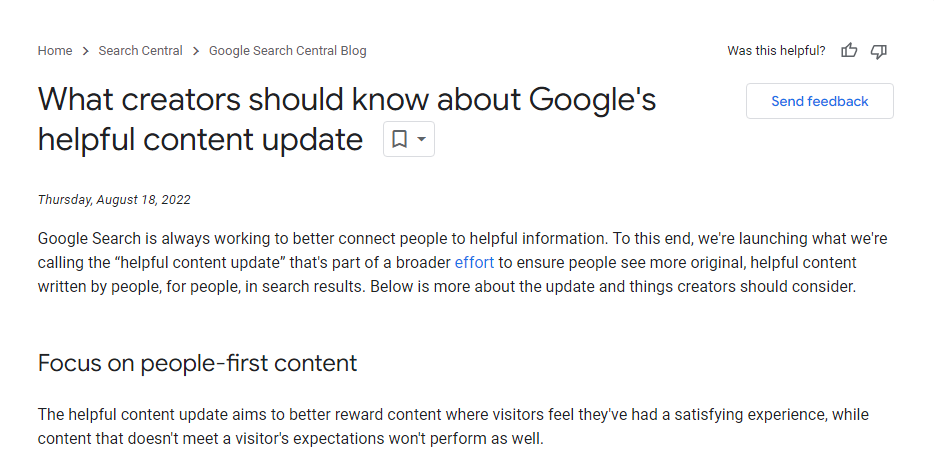 2. After reading that, you'd head to resources like our Helpful Content Update post for analysis and reactions to the update.
(Tip: Bookmark this Google Update article – we are constantly updating it with key facts and helpful additional resources about new updates as soon as they become available!)
3. Now that you know what the update is all about, take a look at your own projects: You can use tools like Seobility's keyword rank tracking, Google Analytics, or Google Search Console to stay on top of any changes to your site's rankings and traffic.
4. If your content was impacted, go through the bullet points Google provides in its official guidance on the update to check if you have any content on your site that Google might consider "not helpful".
If so, it's worth taking the time to delete or update it. Then it's a matter of pouring yourself a caffeinated drink and waiting for your traffic to recover. (And while you wait, you can spend the time creating more helpful content in your area of expertise.)
5.
How to recover from a Google Core update
Core updates are a matter for themselves. As Google emphasizes after each core update, there's no quick fix for recovery when your organic search traffic takes a heavy hit following a Google core update. The reason for that was already mentioned in the beginning: Google core updates don't target individual ranking factors but instead change Google's core algorithm.
Google core updates always aim to make Google's search results better for users. And that means Google's advice will always start in the same place: improving your content.
Take a step back and try to evaluate the overall quality of your website instead of focusing on a specific ranking factor. As you can imagine, this is ongoing work – not a simple quick fix.
Google provides some questions in its official guidance on core updates that can help you assess the quality of your content. The questions are all related to one core principle called "E-E-A-T".
Lay the groundwork for recovery with E-E-A-T
E-E-A-T is short for experience, expertise, authority, and trustworthiness. It's not an individual ranking factor but instead summarizes a concept of high-quality content that Google wants to reward with its core updates. Content that performs well in terms of E-E-A-T is content written by experienced subject matter experts that are trustworthy and recognized as authorities in their niche.
The concept has historically been very important for sites labeled by Google as "your money or your life" (YMYL). These are sites on topics that help us make important life decisions, such as finance or health sites. But in the last few years, the concept has become more and more important for all types of websites.
When you evaluate your content, always ask yourself: Would you trust this piece of content enough to make real-life decisions based on it? Would you feel safe putting in your credit card details on another site with this piece of content?
If the answer to any of these is a hard no – you've got work to do. We've provided a detailed guide on how to improve your content's E-E-A-T here on our blog.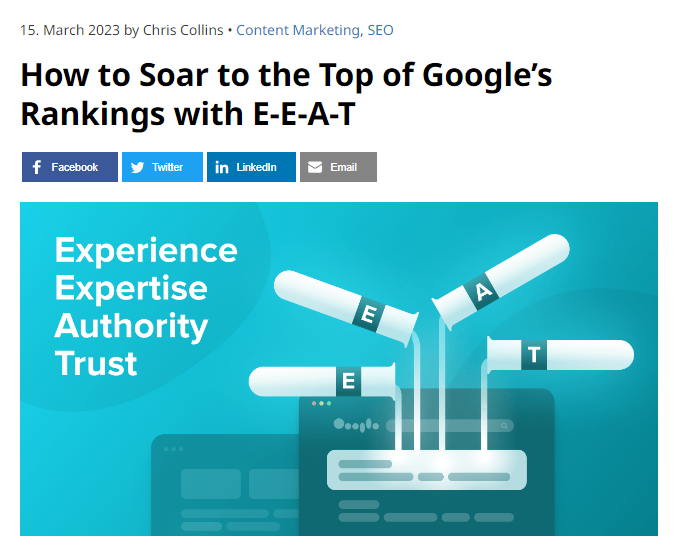 When you follow these guidelines, it won't improve your rankings overnight but it increases your chances to come out on top in future Core updates, making you a winner in the long term.
Prepare your website for future updates
Providing high-quality content will not only help you recover from a core update – it's also essential to get your website ready for future updates. Because if there's one central theme that most of Google's recent updates have in common, it's the importance of creating high-quality content that gives searchers exactly what they are looking for.
Of course, this doesn't guarantee that you will never get hit by a future Google update. But it's the least you can do (besides optimizing your website with Seobility 😉) to increase your chances of standing on the winning side when Google's algorithm strikes again.
PS:
Get blog updates straight to your inbox!