On January 23, Google made a big announcement on Twitter: web pages that are listed as a featured snippet will no longer repeat on the first page of the organic search results. This caused a great outcry from the SEO industry with many site owners being afraid of substantial traffic losses due to the change. But is this update really something you should worry about? And how will it impact your website's rankings in Seobility? Read on to learn more.
What is the featured snippet update about?
Google's recent change to the search engine result pages (SERPs) is affecting featured snippets, which are search results that give a direct answer to a search query without users having to click on one of the search results. Google pulls the content for featured snippets from websites it considers to offer the best answer to a query and displays it above the organic search results. The featured snippet is commonly referred to as "position zero":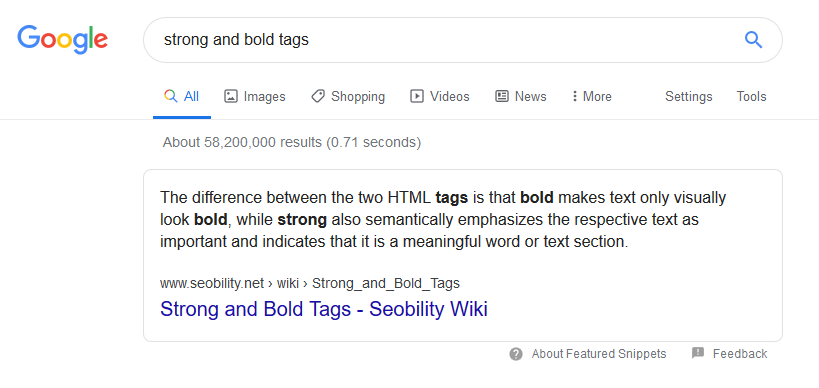 Screenshot of google.com
Before Google's latest change, the web page in the featured snippet also had an organic listing on page 1, mostly on position 1 to 5. On January 23 however, Google announced on Twitter that web pages which are listed as a featured snippet will no longer appear on page 1 of the organic search results:
If a web page listing is elevated into the featured snippet position, we no longer repeat it in the first page of results. This declutters the results & helps users locate relevant information more easily. Featured snippets count as one of the ten web page listings we show….

— Google SearchLiaison (@searchliaison) January 23, 2020
So what happens with the organic listing of the featured web page instead? Many SEOs reported that they had dropped to page 2 of the search results. Some even said they didn't stay in the top 100.
As this seems like a massive backlash for featured web pages, many site owners wonder why Google made this change. According to the official announcement, Google wants to deduplicate search results in order to improve user experience. Users shouldn't see the same URL multiple times on the SERPs but have the choice between more diverse search results. This should help them to find the information they are looking for more easily.
(FYI, this change doesn't affect video featured snippets and other SERP features such as Top Stories or Interesting Finds.)
Seobility Tool Update
Following Google's featured snippet change, you might have experienced that web pages dropped in your Ranking Monitoring Dashboard, which occupied top positions before. This was due to the fact that we did not track featured snippets before.
With our latest update of Seobility, featured snippets are now properly tracked and according rankings are indicated with a little flag in the Ranking Monitoring Dashboard. It looks like this:

We also take featured snippets into account for calculating your visibility in the search results. If you rank on position 1 below the featured snippet, we will continue to count this as position 1.
How should you react to Google's featured snippet change?
Since the update, it's not possible anymore to own a featured snippet and rank on page 1 of the organic search results at the same time. Thus, your organic traffic might have been negatively affected, if your website was featured in search results and ranking in the top 10 organic results before the update. After all, you only have one of two listings on the first page left, so you now have to decide whether it's still beneficial for you to be listed as a featured snippet.
As of now, it is hard to give a clear recommendation on how to react to this update. On the one hand, there is a study from 2017 that suggests featured snippets may have a lower CTR in search results than organic #1 listings. The consequence of these findings would be to deoptimize your results for featured snippets in order to regularly rank for position one below the featured snippet. However this study was conducted almost 3 years ago and we don't know if the results prevailed until today, e.g. because of a changed presentation of featured snippets on the SERPs. In addition, deoptimizing for featured snippets will not assuredly get you a #1 ranking instead.
On the other hand, a much smaller but also much more recent test by the German agency gettraction (disclaimer: German article) concluded featured snippet results tend to have better click rates than the first regular listing, which would mean that no action is required. They only recommend deoptimizing in case your traffic decreased by more than 50% compared to the time before the update, as this would mean that the (now missing) organic result generated a larger proportion of the traffic you received.
After all, it is within reason to assume that Google has us SEOs in mind and would take action in order to prevent a wave of deoptimizations which could ultimately hurt the quality of featured snippets.
Last but not least, owning a featured snippet has other positive side effects, such as improved brand recognition, etc. If you want to learn more about the risks and benefits as well as the different types of featured snippets, we recommend you to read our wiki article on featured snippets.
Conclusion
Until further research on the recent change has been conducted and the value of featured snippets vs. regular top positions becomes very clear, we recommend you to stay calm and focus on creating high-quality content. Don't overreact and deoptimize, trying to prevent your website from being chosen as a featured snippet unless you know for sure that it is beneficial for your specific situation. CTRs of featured snippets vary strongly between search queries and even if your website traffic was negatively affected due to the change, it does not mean that preventing your site from being featured will improve your traffic. Even more so, we know that a featured snippet ranking outperforms anything beyond the top 3 in most cases. Therefore, if you are not currently in the top 3 and there is a featured snippet to take, you should keep on optimizing your content by trying to answer the questions of users in the best possible way.
PS:
Get blog updates straight to your inbox!