Website Audit Tool
Seobility crawls your entire website searching for on-page SEO issues
Analyze your complete website with Seobility now! Our website audit tool helps you find and solve technical errors and on-page SEO issues in order to improve your Google rankings.
Seobility not only provides a detailed SEO audit but also gives tips and instructions on how to fix the problems found on your website. The site audit includes checks of more than 300 SEO-relevant website factors. The resulting 50+ analyses are presented in three main categories:
Tech. & Meta: Discover crawling issues, problems with meta tags, problematic URLs, and other technical errors affecting the health of your website.
Structure: Check whether your site is well-structured for both search engines and visitors and find problems with internal linking, anchor texts, site hierarchy, etc.
Content: Evaluate the quality and relevance of your content and find duplicate content.
---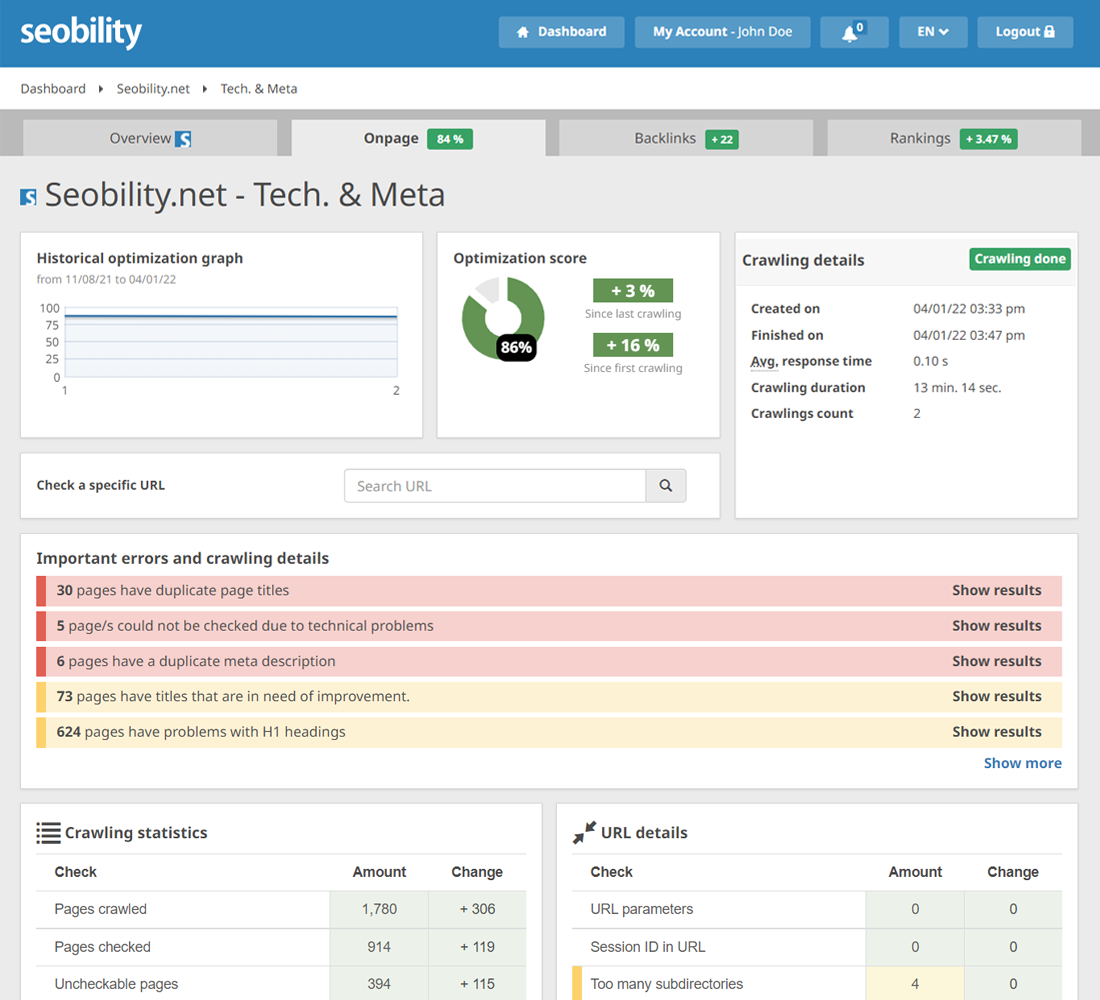 Audit of technical
factors and meta information
Seobility's "Tech. & Meta" analyses indicate which parts of your website can be crawled and indexed by search engines and if there are problems with security, page speed, meta information, or other technical SEO mistakes affecting your site.
By fixing these issues, you make sure that Google can access all of your relevant content and understand what it's about in order to match it with suitable search queries.
The prioritized list of important errors shows you where to start in order to fix the most urgent problems. Below that list, you will find an overview of all technical checks, including:
uncheckable pages, pages blocked by your robots.txt, and nofollow pages
problematic or duplicate page titles and meta descriptions
problems with heading tags, bold tags, and frames
URLs including parameters or too many subdirectories
file sources such as images, CSS and JavaScript
HTTP status codes and response times
... and more!
---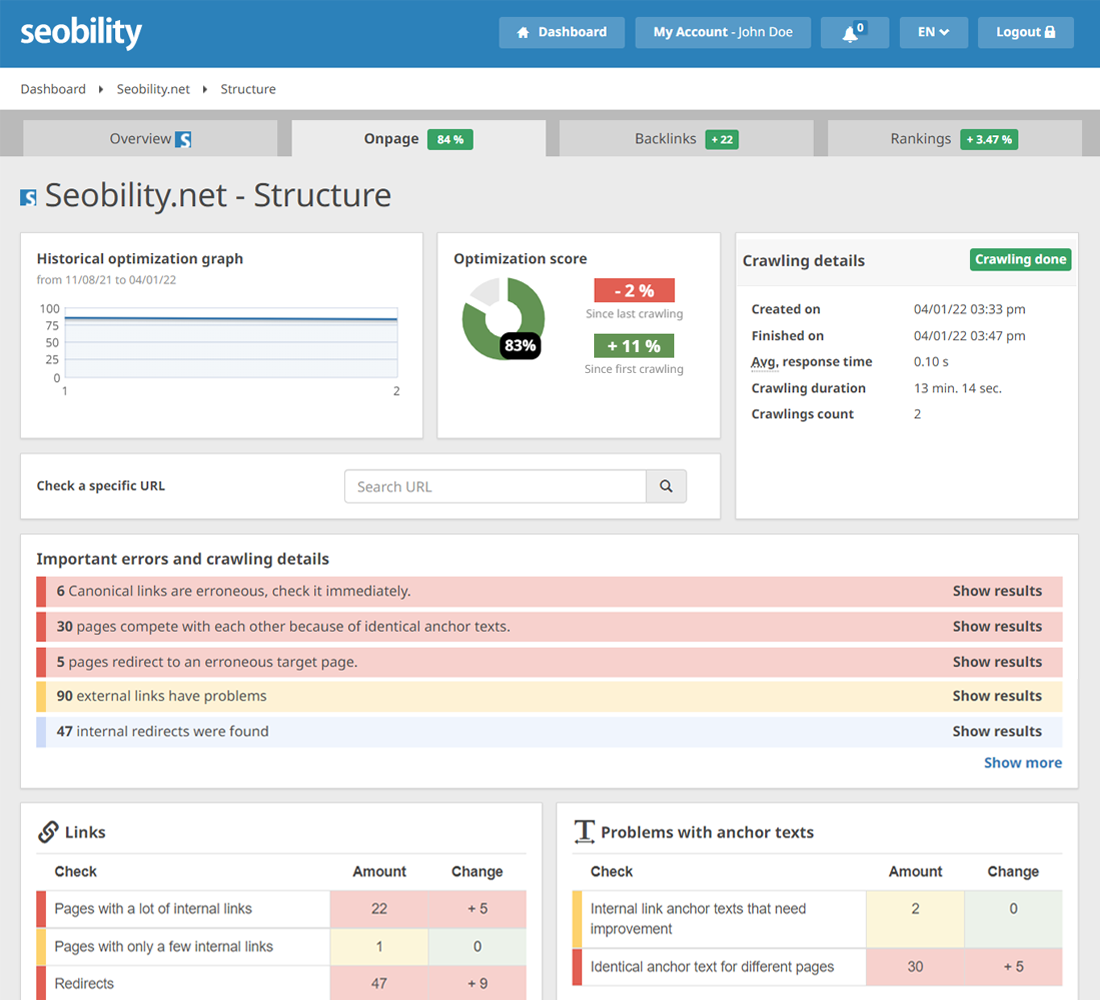 Audit of your website's structure
The "Structure" section of the Seobility site audit helps you improve your website structure, i.e. the way your pages are organized within your website and how they are connected through internal links.
A well-structured website not only improves your visitors' experience but also makes it easier for search engine crawlers to find all relevant content and understand which of your pages are the most important.
With Seobility's site audit, you can uncover issues that negatively affect your website's structure, for example:
problems with internal linking (e.g. pages with too many links, redirect loops, or canonical link errors)
identical link anchor texts that are used for different link targets or generally need improvement
problems with sitemaps
In addition to that, Seobility lets you analyze the page levels on your website (i.e. how many clicks are needed to get from the homepage to a particular subpage), your most frequent anchor texts, and your most important pages according to the number of internal links and the click distance.
---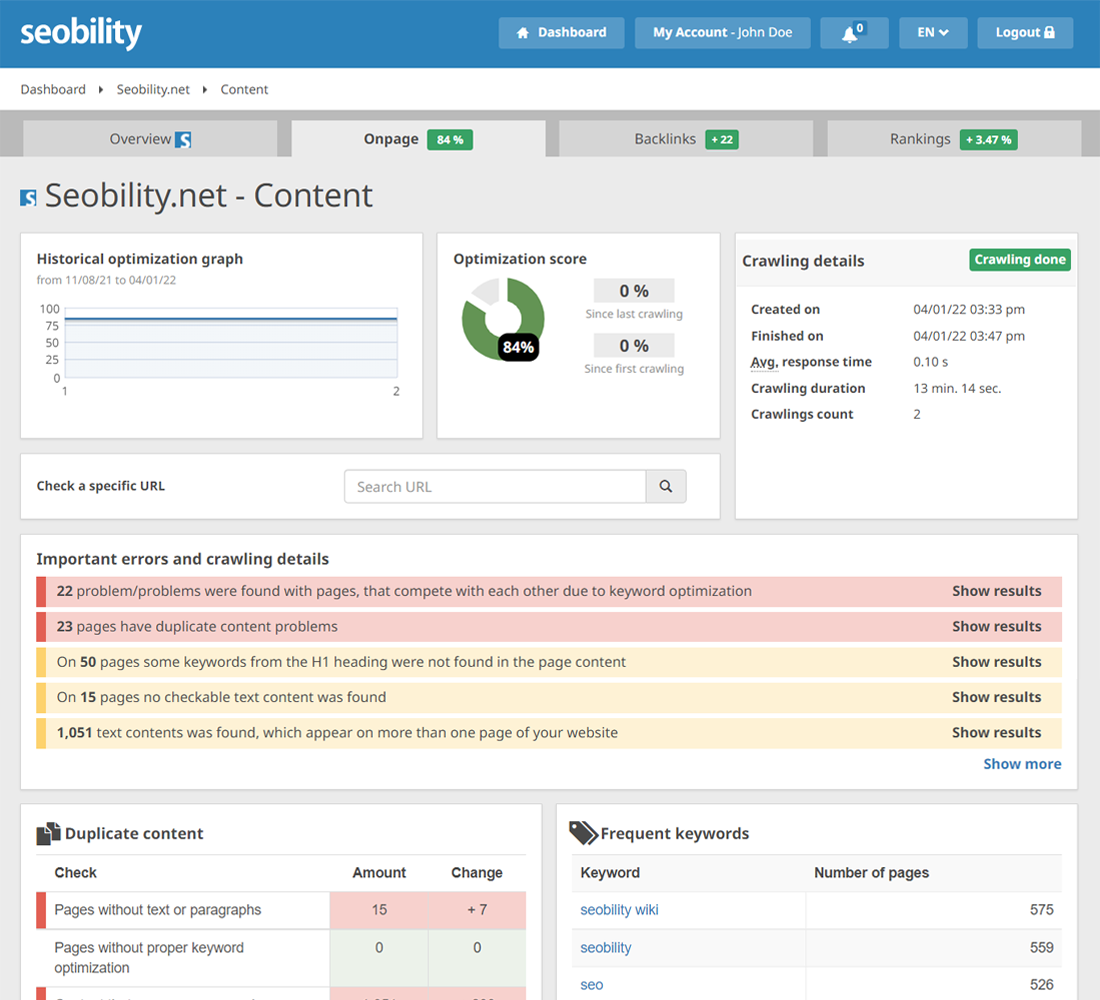 Audit of your website's content
High-quality and unique content is essential to get a top position in Google search. Seobility's "Content" audit section helps you find issues that can lead to low-quality or duplicate content as both can have a negative impact on your rankings. This includes:
content that appears on multiple pages
duplicated HTML pages
keyword cannibalization, i.e. multiple URLs that are optimized for the same keyword and thus compete with each other in search results
pages with too little or too much text
other quality problems such as typos, filler text, or inconsistencies between the page content and titles/headings
... and more!
---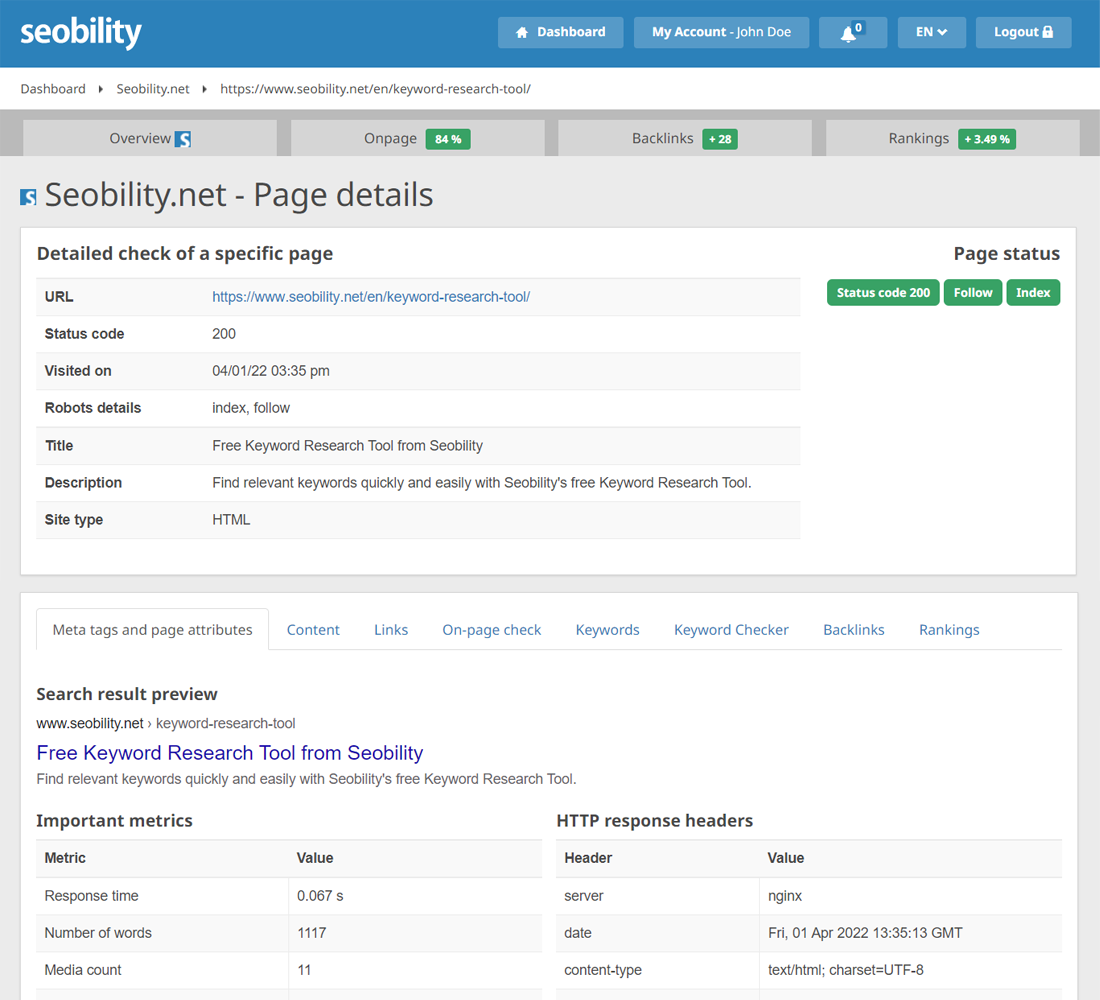 Detailed SEO analysis of each page
In addition to auditing your complete website, Seobility lets you take a detailed look at each individual page on your site.
This "Page details" page includes all errors and SEO issues from the global site audit, narrowed down on one particular URL.
Here, you can dig into the technical errors, meta data, content quality, problems with internal links, etc. of any of your pages. You can even check the page's backlinks and rankings to get a complete picture of its SEO performance.
---
Seobility Website Audit: your benefits at a glance
Perform a comprehensive SEO audit with 300+ website factors analyzed
Audit individual URLs to get an in-depth look at specific pages of your website
Set up automated and individually scheduled crawls (e.g. weekly)*
Get a status report of your website via email after each crawl
Download PDF or CSV reports for each individual analysis*
Get alerted by email in case severe problems occur
* These features are only available in the Premium or Agency plan. For a full list of all features and plans, check out our pricing page.
---
If you have any questions about Seobility or about our plans and pricing please contact us by phone Mon - Fri from 9am to 5pm (CET)
at +49 (0) 911 23756261 or by email at [email protected]