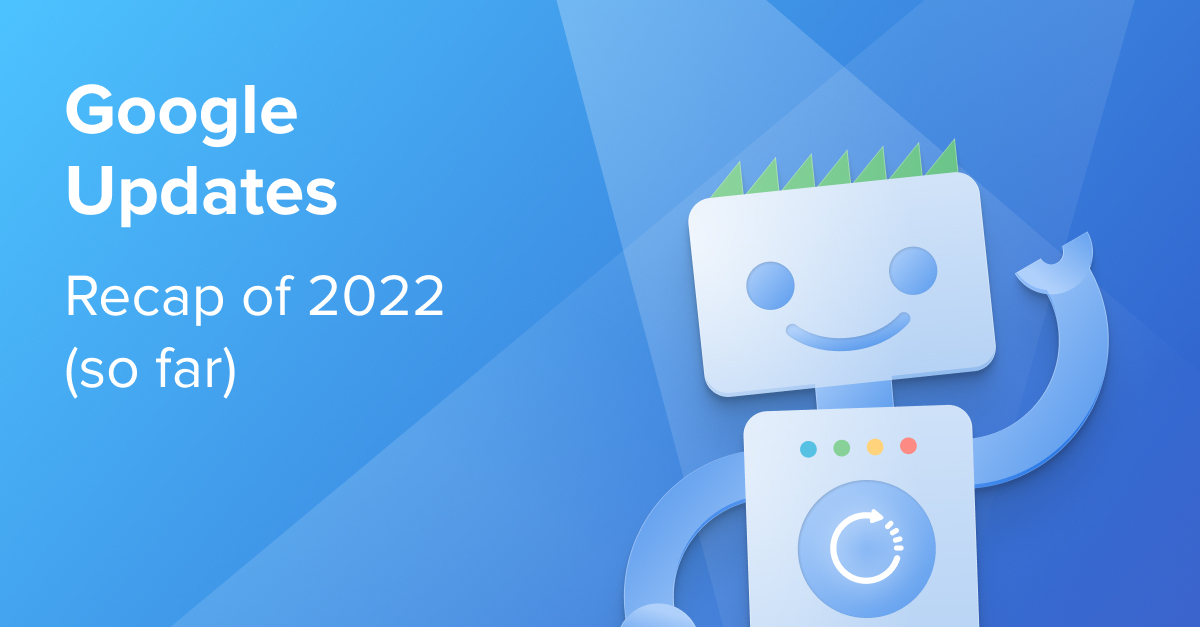 The nature of Google updates is changing.
Major core updates that completely shake up the search results are becoming less frequent. Instead, it's getting harder to distinguish updates from "regular" SERP fluctuations as their impact seems to decline. On top of that, Google makes thousands of minor improvements to Search every year – and this number is rising steadily.
That's making it increasingly difficult for SEOs to recognize updates, analyze the effects, and adapt their SEO strategy accordingly. Especially since Google's communication about algorithm updates is usually vague and intransparent.
It's also getting harder for us to give you a useful and informative summary of changes (along with concrete recommendations) after each core update. But as an SEO, there's still no getting around the need to stay up to date with new and important developments.
So in this article, we're taking a retrospective look at the most important updates from the last 6 months. We'll also explain which trends they reflect that you should definitely incorporate into your SEO strategy.
Ready? Then let's get started with the first big topic of 2022.
Page Experience
Rollout of the Page Experience update for desktop search
With the Page Experience update, Google's Core Web Vitals became an official ranking factor for mobile search about a year ago. In February 2022, Google followed up with the rollout for desktop search which was completed in early March.
For the most part, the update included the same signals as the mobile version. The only factor the desktop version leaves out is (naturally) "mobile-friendliness".


Source
A few weeks before, Google had already added a separate report for "Desktop" to the Core Web Vitals report in Search Console so that SEOs and site operators could prepare for the February update.
Two new metrics are available in PageSpeed Insights
And then around two months later, Google expanded the tool PageSpeed Insights which can be used for evaluating your Core Web Vitals. It now includes two new figures allowing you to analyze your user experience more precisely: Time To First Byte (TTFB) and Interaction to Next Paint (INP).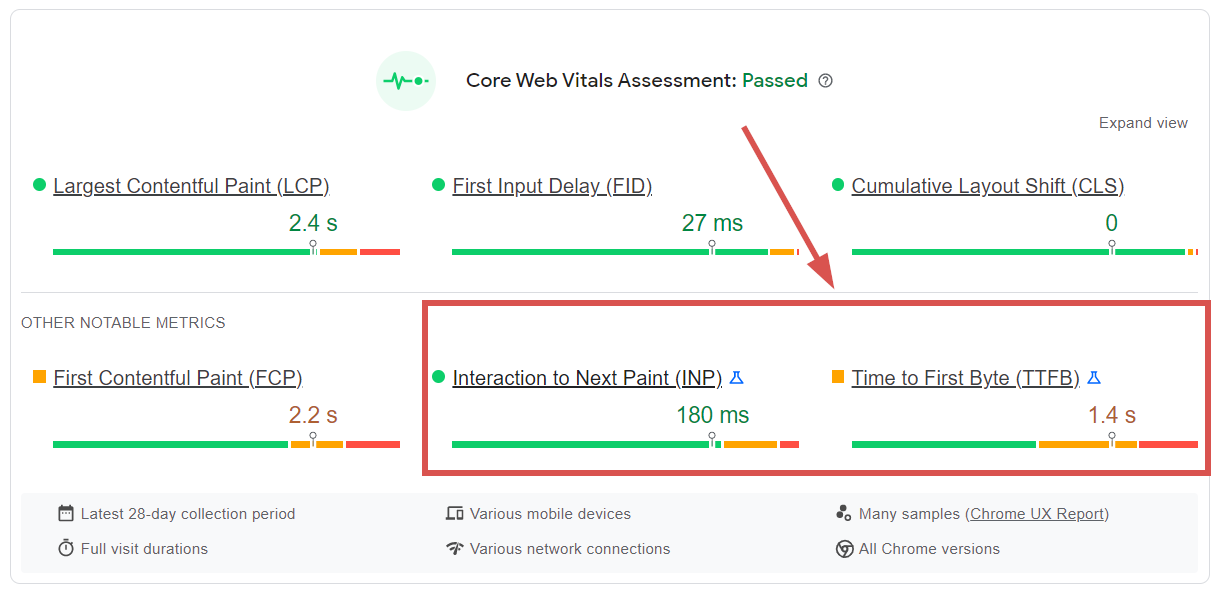 Maybe you've already heard of the first one as it has been around for a while. What's new is just that it's available in PageSpeed Insights now. TTFB measures how long it takes for a server to send the first byte when a web page is loaded. That makes this metric a good indicator of your server response time.
INP, on the other hand, is a completely new metric that measures a page's reaction time during a user's complete visit – in contrast to First Input Delay (FID), which only measures the response time for the first user interaction. Usually, the longest overall response time is displayed as the INP.
But a word of caution: Both metrics are still experimental and more field data has to be gathered for both. So for now, take these metrics with a grain of salt.
Is Page Experience going to get more important in the future?
Latest developments indicate that the relevance of Page Experience for Google isn't going to decline.
With the new features in Search Console and PageSpeed Insights, you have even more ways to analyze your site's user experience. And even if the Core Web Vitals still don't have that much influence on search results, you should try to keep these metrics in the "good" range. At the very least, your users will thank you for it!

In addition, the introduction of Page Experience as a ranking factor is a sign of Google's efforts to make website user experience measurable and incorporate it into its algorithm. Even if this factor hasn't been given much weight so far, it makes clear which major goal Google has been pursuing for a long time: to provide users with the best possible search experience. And a good page experience is essential for that.
Bottom line: If you want to achieve sustainable success in search, there's no getting around optimizing your user experience (whether you're measuring it with Core Web Vitals or with another method).
For optimizing your Page Experience metrics, we recommend taking a look at our Core Web Vitals Guide where we explain the most common issues leading to poor results and how you can fix them.
Also, watch this space for an upcoming article dedicated to the topic of user experience in general. You can sign up for our newsletter at the bottom of the page so you don't miss it. 🙂
Let's continue with the next major update which had a more specific focus…
March 2022 Product Reviews Update
March saw the rollout of the third product reviews update, building on its two predecessors in 2021.
Our March 2022 product reviews update is now rolling out for English-language pages. It will take the next few weeks to complete. We've also extended our advice for multi-product reviews. Check out our blog post for details: https://t.co/CSZaaFHgXN

— Google Search Central (@googlesearchc) March 23, 2022
The goal of this update is to display more high-quality product reviews and test reports in the results for product-related search queries. This way, Google wants to reward content creators who provide truly helpful product reviews on their sites. Google has published a set of guidelines that can help you write high-quality product reviews.
The updates affect reviews of individual products as well as listicles and comparisons of multiple products. To this point, however, the updates have only been rolled out for English web pages. Google says that they'll publically announce when they're ready for other languages.
If your content strategy includes product reviews or comparisons, it's definitely worth taking a look at the guidelines now and optimizing your content accordingly. Even if these updates haven't been rolled out for your language yet, it will help you prevent any negative effects in the future.
May 2022 Core Update
The latest update in 2022 (so far) has also been the biggest: On May 25, around 6 months after the last big core update, Google started rolling out the May 2022 core update.
Today, we're releasing a broad core update, as we do several times per year. This update is called the May 2022 core update. Learn more: https://t.co/7kFklwdkAb

— Google Search Central (@googlesearchc) May 25, 2022
Just in case you're not familiar with core updates: Google's goal with core updates is to improve the overall quality of search results. In contrast to the Page Experience update, for example, these updates don't target individual ranking factors or pages. Instead, they're about improving how Google assesses the quality of content in general.
After each core update, Google provides the same recommendations for affected websites, which primarily explain how to improve your website's "E-E-A-T" (Experience, Expertise, Authority, and Trustworthiness).
The effects of the May 2022 core update were clearly felt within 24 hours. But according to Semrush, the update had a smaller effect than the November core update – which follows the presumed trend of the impact of core updates getting smaller.
Just like they do after every core update, SEOs from around the world shared data about affected websites and carried out their own analyses to find out whether certain types of websites were particularly affected. While these analyses should be treated with caution, they can still reveal interesting tendencies.
Here's a quick overview of analyses and insights on the May 2022 core update.
Video instead of text: With the update, video websites like TikTok and YouTube gained 25% more visibility on average.
Specialists instead of generalists: Specialized niche websites were favored compared to more general websites that cover a broad range of topics. This suggests that Google's algorithm has developed a better understanding of EAT and is now able to identify experts on a topic more accurately.
Better search intent matching: Google got better at understanding users' search intent and delivering matching results.
Marie Haynes also noted the importance of EAT and shared a few cases on her Twitter channel. She found that websites that had already optimized their content for EAT benefitted from the update.
First, a medical advice site.
➡️Written by a doctor who is very well known.
➡️Pages are well structured with headings – easy to skim
➡️Does a very good job of answering the questions a searcher would have for each topic
2/7 pic.twitter.com/PYV9E1G0fA

— Dr. Marie Haynes💡 (@Marie_Haynes) June 14, 2022
Lily Ray reached a similar conclusion: Websites that were negatively affected by previous core updates seem to be slowly recovering after centering their content strategies around EAT.
If your rankings dropped to an unusual extent between May 25 and June 9, you should definitely take a look at EAT. Here on our blog, you'll find an extensive guide to how to improve your rankings with EAT.
But keep in mind that one-time optimizations won't be enough to restore your traffic. Instead, you have to take a holistic look at your website and think about how you can improve its overall quality.
In conclusion
So far, the 2022 updates confirm two major SEO trends that have been emerging for some time: EAT and user experience. At first, EAT was often dismissed as an issue that only applied to YMYL websites – "your money, your life" sites covering sensitive topics like health and finances. But it's become very clear that Google is sticking with the concept. Today, it's relevant (to varying degrees) for every type of content. And the topic of user experience will neither go away in the near future.
So don't wait too long before you start working on these issues! The next Google update may be waiting around the corner.
PS:
Get blog updates straight to your inbox!