Website Structure
From Seobility Wiki
What is website structure?
Website structure, also referred to as site architecture, refers to how a site's pages and its content are structured in relation to other content on the page and between pages. Site structure focuses on how content links to each other, how it's grouped together, and how visitors experience the content. It also impacts how search engine crawlers interact with a website.
Website structure encompasses various disciplines, including web development, UX design, and SEO.
Why is a website's structure important?
Having a good website structure can benefit your website in several ways, including:
Improved user experience
A good site structure can improve the user experience of a website as it helps provide visitors with the information they need while making it easy for them to navigate to other relevant pages.
Easier content management
Creating an orderly site structure makes it easier to keep track of the pages on your site. This helps you find duplicate content easier and identify important pages that might be missing from your site.
Improved search engine rankings and crawlability
A good website structure can impact several aspects of your SEO. By ensuring your pages are linked to relevant pages on the same or similar topics, often called content clusters, it's easier for search engine crawlers to find your pages and to understand what a page is about. Since a good site structure also improves the user experience, it can also help your SEO efforts with improved user metrics.
Hierarchy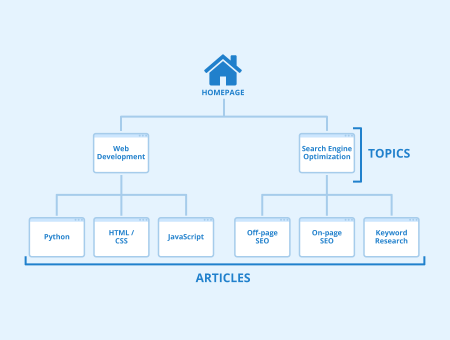 Site structure generally starts with how the main pages interlink. In most cases, the main navigation is based on a hierarchical structure. Hierarchical structure creates a tree-like shape when drawn out. On the right, you can see an example of a hierarchical website structure.
Hierarchical website structure is considered best practice for SEO, but a few other website structures are also used, including sequential structure, database structure, and matrix structure. These are far less common than the hierarchical website structure.
Elements of a website's structure
There are various essential elements that make up a website's structure. Below are some of the most important ones:
URL structure
The URL structure is an important part of the overall structure of a website, as well as important for SEO. Things like trailing slashes, HTTPS, and www redirects are all important to consider when optimizing your URL structure.
Categories
Categories are especially important for blogs, improving navigation as well as topical relevance. The use of categories can also help reduce the number of orphan pages and encourages more internal linking.
A website's navigation is one of the most important aspects of website structure, allowing users to navigate to the page they're looking for as efficiently as possible. A well-organized website navigation improves the usability of a site and can help you get sitelinks on your SERP listings.
Internal links
Internal linking helps website visitors and crawlers move between pages. Internal links are an important part of SEO since they improve the crawlability of a site, as well as passing link juice between pages.
Breadcrumbs
Although not as important as some of the other things mentioned, breadcrumbs show a user where a page is located in relation to the rest of the site. This helps them understand what a page is about and makes navigating to other relevant pages easier.
Sitemap & existing pages
A sitemap is a document that lists all the different pages on a site, helping search engine crawlers discover new content quickly. Although generally considered as less relevant to smaller sites, a site map is still an important part of a site's structure, improving accessibility.
Importance in SEO and marketing
A website's structure impacts all interactions with the site, including user interaction, search engine interaction, or the interaction a site admin or webmaster has with the site. This makes it an important focal point for site owners.
By ensuring your site has a good structure, you can optimize the user experience, making navigation easier. You can also improve your SEO performance by enhancing the contextual relevance of pages, the internal link structure, and the site's crawlability.
Related links
Similar articles
To quote this article, just copy this link:
https://www.seobility.net/en/wiki/Website_Structure