Free SEO tools
Our tools for better search engine optimization
Seobility's free SEO tools will help you to use professional search engine optimization to make your websites successful in the long run and to gain more exposure. Use the SEO analysis tools developed by Seobility to check your website, to find strong and weak points and to optimize your site for search engines. Our SEO tools include SEO Check which will analyze your site regarding onpage factors, Keyword Check which checks whether your website has been optimized for a particular keyword, Ranking Check which analyzes your position in the search results using relevant keywords, and our SEO Compare tool enables you to use keywords to recognize and review differences between your site and a competitor's site at a glance.
---
SEO Check
SEOCheck is another free Tool by Seobility which scans your site for SEO errors, analyzing key onpage criteria. As a useful onpage SEO tool, SEOCheck determines immediately whether your website meets all relevant criteria for a good ranking at Google and other search engines. In a clearly structured evaluation, you will gain an overview of your website's strong and weak points. Data concerning meta information, site quality, site and header structure as well as external and internal links and much more will be analyzed, presenting an extensive overview of potential errors.
Go to SEO Check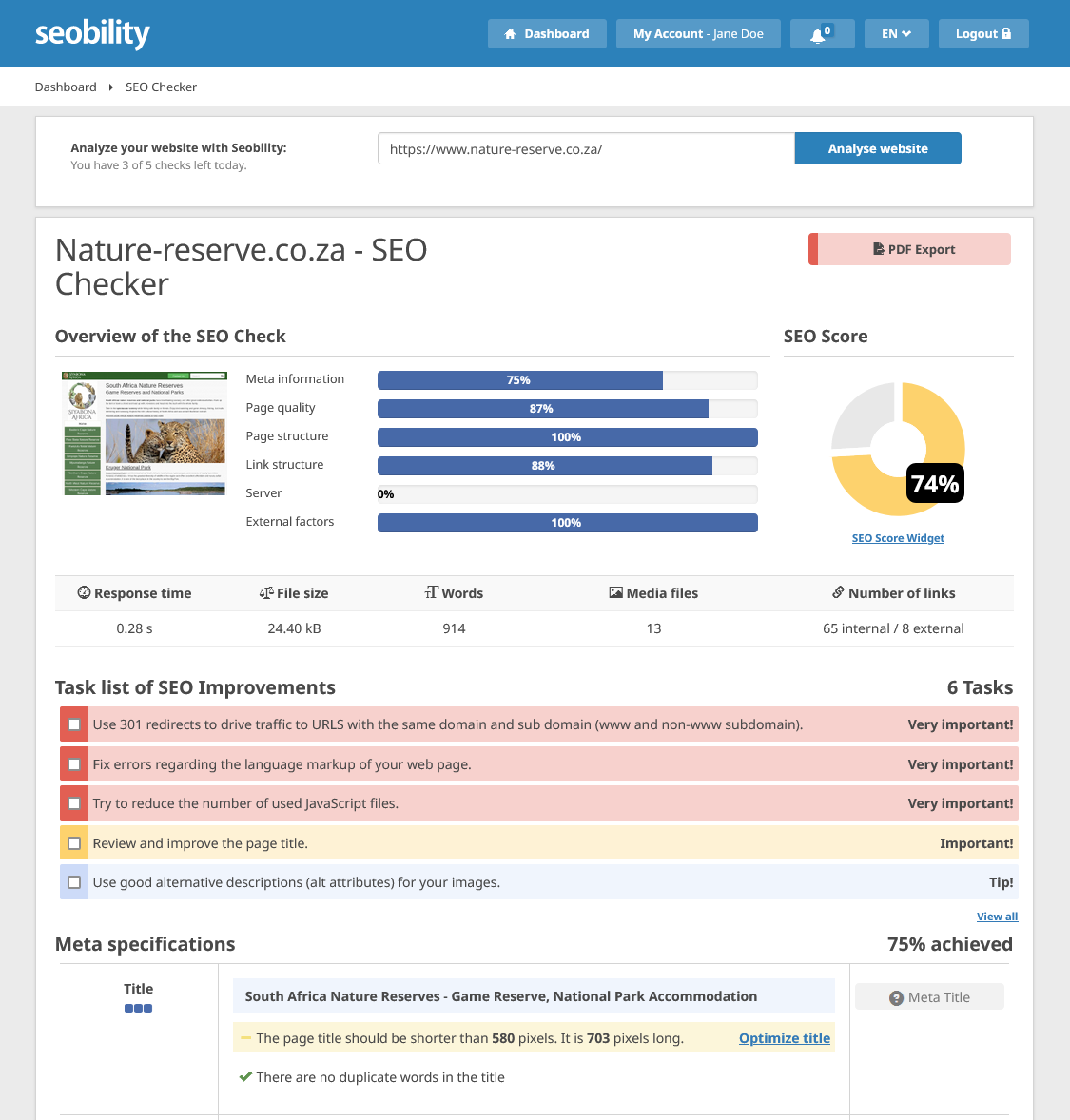 ---
Keyword Check
Keyword Check checks your site for a specific search request. Use KeyWord Check to optimize your website for relevant keywords and to reach a better ranking in search engines. Keyword analysis and keyword optimization is one of the most important steps in onpage optimization of your own website, as well-written content that appeals directly to your audience will not only get more attention from your website visitors but also from search engine crawlers.
Go to Keyword Check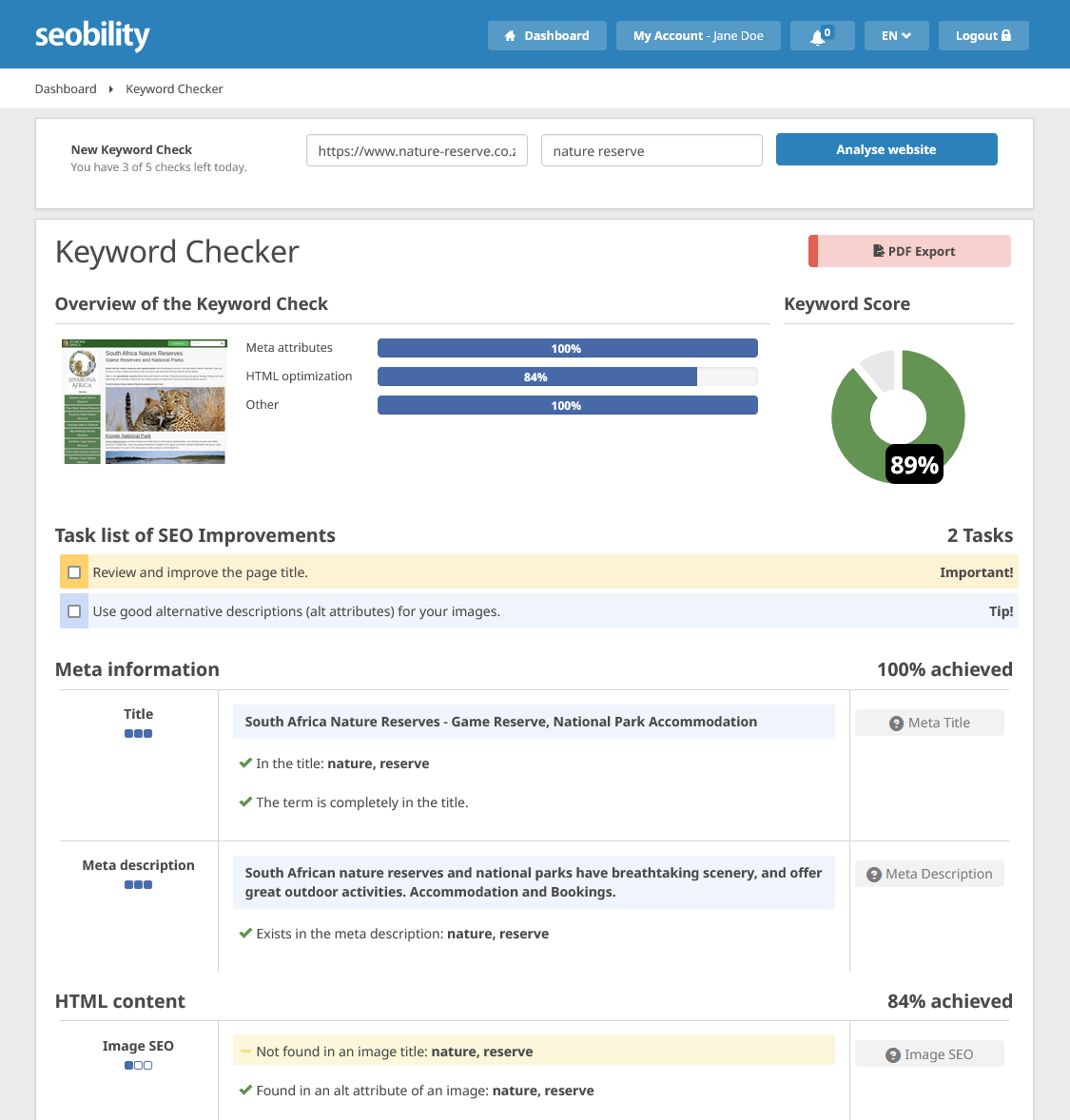 ---
Ranking Check
You would like to know where a website ranks in search engines for a specific keyword? Seobility's Ranking Check is a quick and easy way to determine your keyword position in the search results for different keywords. Just select the required country and a city for the local search and you will receive the top 100 search results both for desktop and mobile search requests.
Go to Ranking Check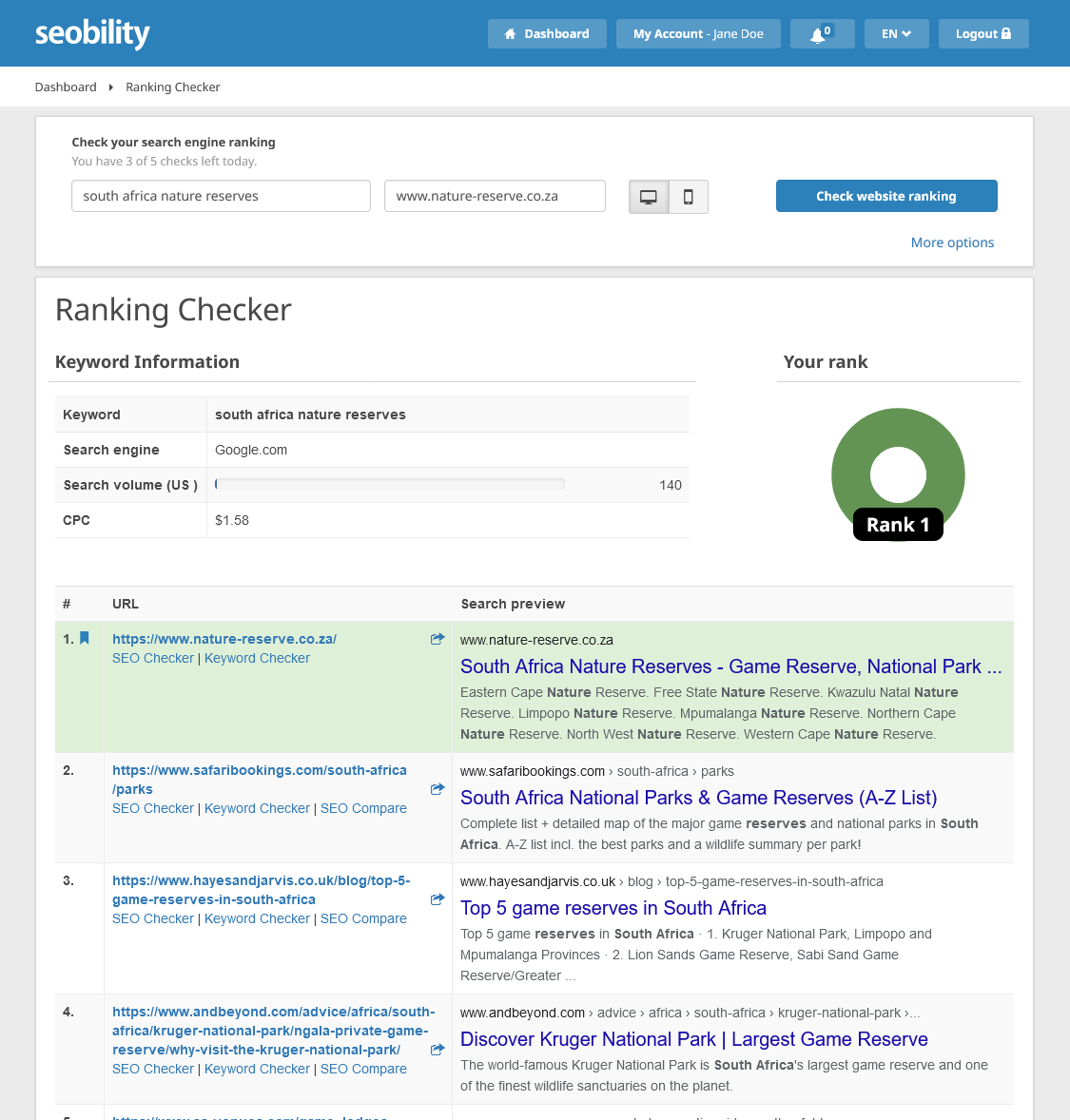 ---
SEO Compare
Use the SEO Compare tool to compare keyword optimization of two websites and analyze specific differences! This will enable you to find potential discrepancies between you and your competitor, and to optimize your website accordingly so that you will attain more exposure in the search results. Moreover, you will be able to compare your landing pages to find out whether they compete for the same keyword.
Go to SEO Compare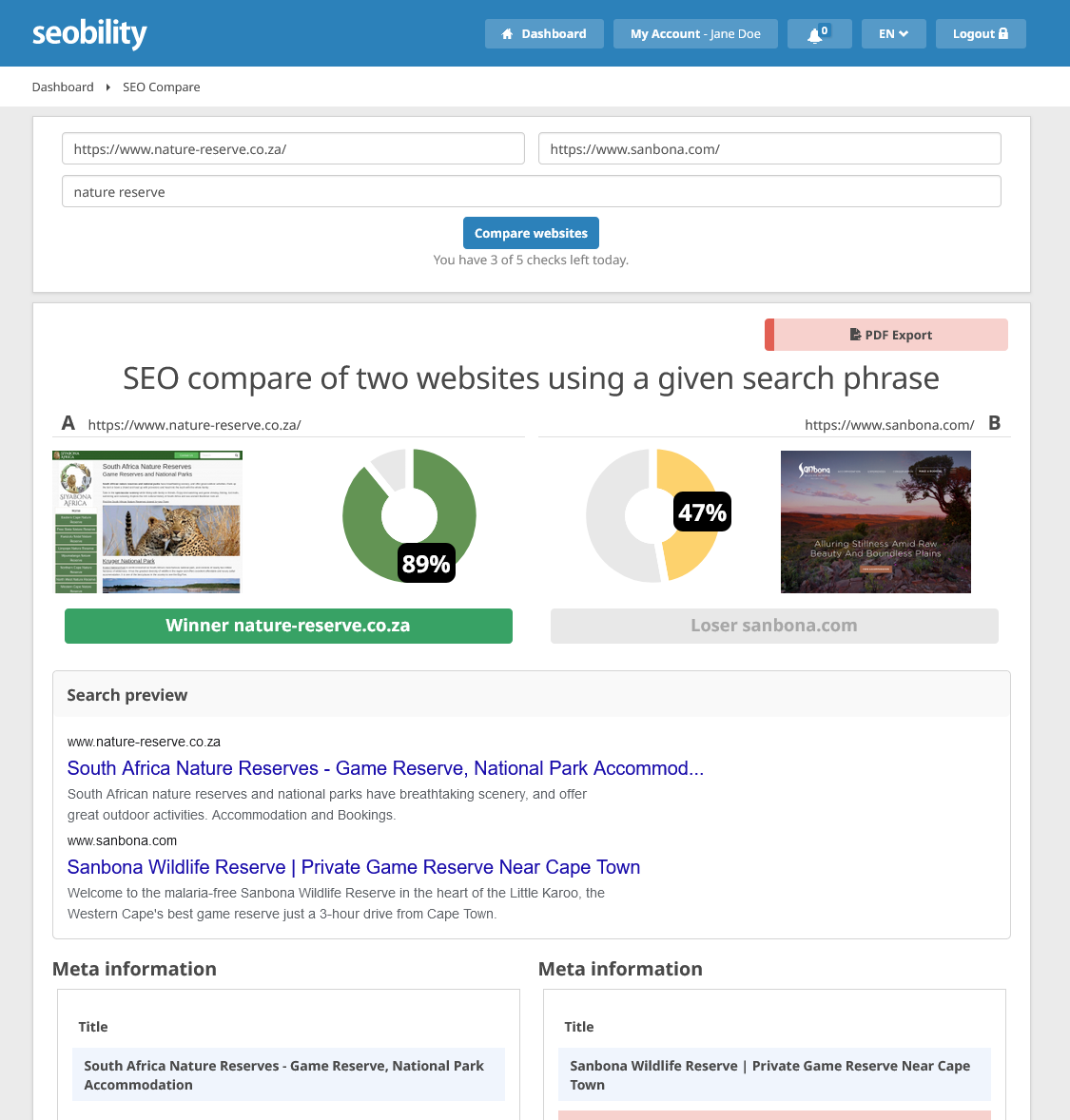 ---
Seobility accounts at a glance
Our free SEO tools will give you an insight into the current status of your website or your webshop. For a permanent optimization and analysis we recommend to use our Seobility accounts. With the aid of these accounts, you can check for pages with errors, problems in onpage optimization, duplicate content, internal link texts and more than 100 additional criteria of your website and display all data in accessible analyses. Furthermore, you can use Seobility for an even better monitoring of your project's success in search engines and to always keep track of your rankings for your key search terms. React quickly if the search results change and adapt your website's search engine optimization accordingly.
Basic Account
€0
1 project/domain included
1,000 sub-pages per project
10 ranking keywords per project
Backlink analysis & link building tools
PDF reports with logo and much more
Premium account
€49.90
3 projects/domains included
25,000 sub-pages per project
300 ranking keywords
Backlink analysis & link building tools
PDF reports with logo and much more
If you have any questions about Seobility or about our plans and pricing please contact us at
unter +49 911 23756261 or [email protected].