Sitelinks
From Seobility Wiki
What are sitelinks on Google?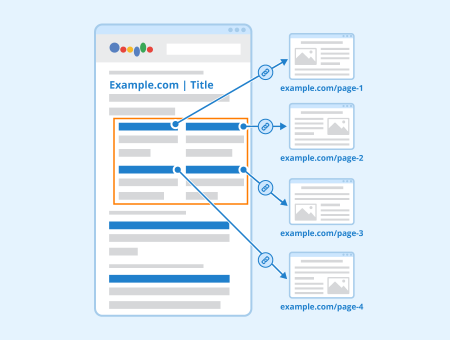 Sitelinks are links to internal pages on your site that appear in Google's SERPs. These deep links allow users to navigate to internal pages on your site directly from the SERPs, improving their search experience.
How sitelinks work
Sitelinks are automatically generated by Google on SERPs where they deem them relevant to a searcher. This is usually limited to branded searches, but they may be shown on other SERPs too if direct links to internal pages on a site may improve the search experience.
Since sitelinks are automatically generated by Google, they don't always link to the pages websites owners want them to. The exact pages Google decides to link to isn't something that website owners can control, but they tend to link to the most prominent pages on a website.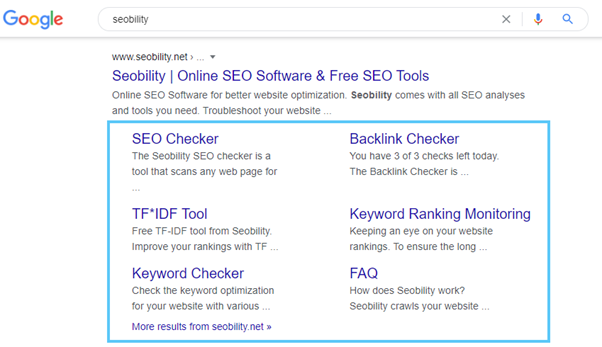 Screenshot showing sitelinks when searching for "Seobility" on google.com. The sitelinks refer to some of the most popular pages on Seobility.net.
Advantages of sitelinks
More prominent search result – By taking up more room, search results with sitelinks offer improved visibility in the SERPs.
Improved flow of traffic – By directing traffic to internal pages, sitelinks can improve the flow of traffic to your website and ensure more of your pages are viewed.
Improved site navigation – As an extension of a website's navigation, sitelinks help users navigate your site more efficiently.
Possibly improves user signals – By taking website visitors directly to pages they're interested in as well as increasing your visibility in the SERPs, sitelinks may improve user signals.
How to influence sitelinks
Although webmasters cannot force Google to show certain sitelinks, there are some things that have been shown to help increase the chances of a page appearing in the sitelinks section of a search result. These include:
Internal links – By increasing the number of internal links pointing to a page, you can show search engines a page is more important.
Website architecture/menu – By placing more focus on certain pages in your menu and overall website architecture, you can stress its importance.
Ensure pages are relevant – Since search engines want to provide the most relevant search results to their users, increasing the relevance of a page to certain SERPs may increase its chances of appearing in the sitelinks.
Rank first for your brand name - By optimizing the homepage for a brand's name, the site owner can increase their chances of getting sitelinks.
XML sitemap - By optimizing a site's sitemap, improved crawlability can be achieved, making it easier for search engine crawlers to crawl the site.
Have a functioning search engine on your site – By having a search feature on your site, you increase your chances of the search sitelink being included in your search result.
The difference between sitelink extensions and sitelinks
Although both sitelinks and sitelink extensions look the same and provide much the same benefits, sitelink extensions refer to the possibility of adding sitelinks to Google Ads.
When SEOs and webmasters mention sitelinks, they mean the sitelinks in organic search. When talking about sitelink extensions, they're referring to paid search.
Importance for SEO
Although sitelinks can't be controlled, they can be influenced to some extent and are therefore a part of on-page SEO. Since sitelinks can increase your visibility in the SERPs and possibly improve user metrics, they may be able to improve a website's SEO performance.
Sitelinks are most commonly shown in branded search results, although smaller versions of them may be shown in other SERPs too. By optimizing your website architecture and internal links, you can increase the chances of a certain page appearing in the sitelinks section.
Related links
Similar articles
To quote this article, just copy this link:
https://www.seobility.net/en/wiki/Sitelinks