Link Juice
From Seobility Wiki
What is Link Juice?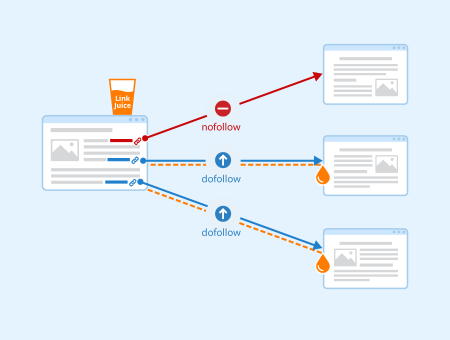 "Link juice" is an SEO term used to describe the amount of authority/value a link passes from the page the link is on, to the page the link points to. It is widely accepted that certain kinds of links pass value from one page to another. How much value a link passes on depends on many different factors, like the linking page's quality, authority, trust, relevance, and various others. Other words commonly used to describe link juice are "link equity" and "(back)link authority."
PageRank was one of the metrics that Google used to determine in what position pages should rank in the SERPs (Search Engine Results Pages) based on the links pointing to them. A high PageRank meant the page had a lot of backlinks from high-authority pages (with a high PR). In turn, a low PageRank meant a page had fewer backlinks from pages with a high PageRank. When doing SEO, it's often said that a link is like a recommendation, and recommendations from trusted pages with a lot of authority are worth more than recommendations from pages with less authority. Google no longer publishes PageRank and the way Google uses links when determining the SERPs has changed a lot since then. The quality of the links, the relevance, and various other factors are now also used when evaluating links. You could say that the term link juice used to refer to how PageRank moves from one page to the other via links. If you got a link from a page with a high PageRank, you would automatically see your page's PageRank go up. This would then impact your rankings positively. Since Google stopped publishing PageRank, various SEO tools have been created to try and measure the PageRank a page has, all with varying levels of accuracy.
How does link juice work
Link juice is passed on through do-follow links which have a high SEO value. No-follow links don't pass link juice, although Google has hinted that they still do have some SEO value.[1] When a page from an authoritative website in your industry has a do-follow link to your webpage, you may see your page climb in the rankings after a certain time. However, link equity isn't just passed from other website's pages to your page, but also from pages on your own website. Internal links can also pass authority and can be very important for SEO. Various philosophies and tactics for moving link juice to your site, moving it around your site, and keeping it on your site/pages have been developed by SEO's over the years. Creating "silo's" is a good example of one of these tactics, which has been tweaked and changed as Google has rolled out various algorithm updates. The effectiveness of these different tactics varies and has changed over the years as Google has made tweaks to its algorithm.
How is link juice determined?
It's important to remember that link juice is a descriptive term used to describe how authority passes through do-follow links. It is not something that can be determined or measured to a great deal of accuracy, especially considering how secretive Google is when it comes to their algorithm and how it interprets links. However, there are some things that SEOs and SEO tools tend to look at when determining how much value a link passes on to the page it links to. Some of these things are:
If a link is from a trusted website with a rich history and a lot of high-quality content, then the link will pass more value than a link from a site with less authority.
The type of link
The "no-follow" attribute is used to show crawlers that a link shouldn't be followed. Although it is general consensus that no-follow links still offer some value, it's do-follow links that pass authority between pages.
The page's content
Various elements of the page the link is from, like the relevance of the text, the number of other links on the page, and the location of the link on the page, among others, can also impact the value of a backlink. For example, a link within the content of a web page passes more link juice than a link at the bottom of the page.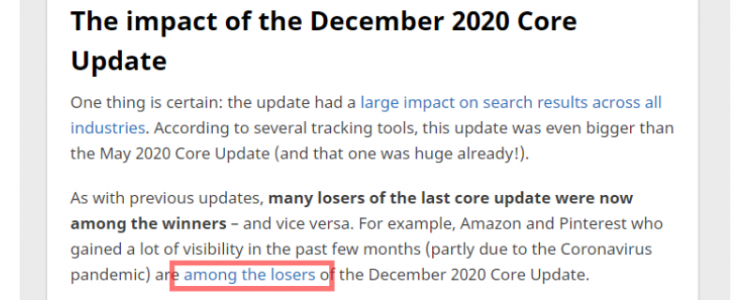 Screenshot of an in-content link that passes link juice in our blog post about the December 2020 Core update
Importance for SEO
Google uses backlinks as part of their algorithm. Although the way backlinks are used seems to be very different than in the days of PageRank, they are still seen as a very important factor for helping webpages rank higher in the SERPs. When more link juice flows to your page, meaning you have more high-quality, relevant, and trusted pages linking to your page, generally, the better your chances are of ranking higher in the SERPs.
References
↑ Evolving "nofollow" – new ways to identify the nature of links Google Search Central. Retrieved 11 December 2020.
Related links
Similar articles
To quote this article, just copy this link:
https://www.seobility.net/en/wiki/Link_Juice