Trailing Slash
From Seobility Wiki
Definition
A trailing slash is the forward slash at the end of a URL. In the past, the trailing slash was used to signal a folder/directory with a URL without the trailing slash signaling a file. Today, it's not typically used for this same purpose.
Although there's no difference between root domain names with or without a trailing slash, the trailing slash does matter for other URLs. For all other URLs, the trailing slash can create two separate identical pages, one with the trailing slash and one without it. This can cause issues for both users and search engines, potentially negatively impacting your site's performance.

An image of the trailing slash at the end of our domain name.
Duplicate content issues caused by trailing slash
When using a CMS, it is uncommon for two versions of a URL, one with and one without the trailing slash, to cause duplicate content issues. This issue is often automatically dealt with by a CMS.
However, this doesn't always happen. That's why it's best to signal which URL is the preferred version. Below are a few best practices:
Redirect – Redirecting all versions of the same page to a single preferred version is considered best practice when dealing with duplicate content issues. A redirect serving the 301 HTTP status code will ensure search engine crawlers know which URL to use and maintain link equity.
rel="canonical" – If no redirect is possible, a canonical tag can be used to signal which is the preferred version of the URL. However, a redirect is still considered best practice and should be used when possible.
Internal links – An internal link audit can help you discover any internal links that point to the wrong version. By ensuring all internal links point directly to the preferred URL, you'll avoid confusion.
Consistency – It's best practice to ensure that the preferred URL structure is followed on all pages. This consistency will improve the likelihood of others linking to the correct version and help search engines understand the preferred URL structure.
Other SEO implications
Since many websites decide to redirect to a preferred version, an extra server request is needed if users navigate to the wrong version. A redirect can cause a slight delay, meaning that it affects a page's speed to some extent.
Setting up the correct URL structure often means multiple duplicate versions link to a set URL structure. Apart from the trailing slash, there are also other things to consider, like the use of www before the URL and the use of an SSL certificate, causing both http:// and https:// versions to be created.
This can cause issues with redirect chains, which impact load time. This also causes problems with link equity since the benefit of backlinks seems to reduce if passed through multiple redirects.
To ensure the impact on a site's speed is as small as possible, it's important to link directly to the final preferred version. Below is an example of this issue and how it can be fixed: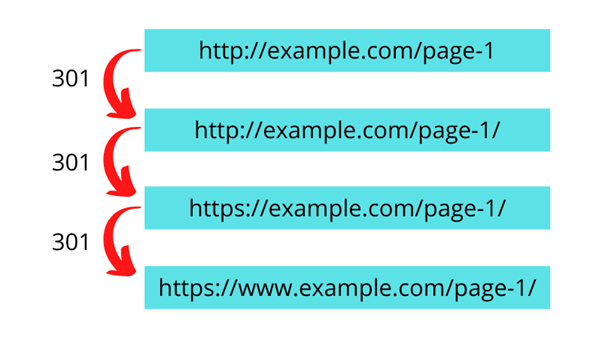 Example of how multiple different versions of a URL can create redirect chains.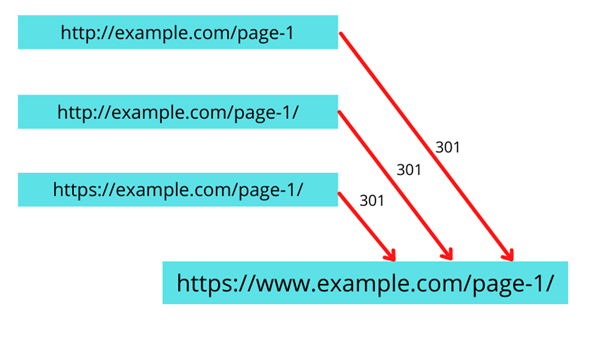 Example of how this issue can be dealt with by linking all versions directly to the preferred version.
How to force the use of correct URL structure
Forcing the use of the correct URL structure is done using a sitewide 301 redirect that ensures all pages on the site redirect to the correct version. In various CMSs like WordPress, this can be done using a plugin.
The .htaccess file can be used if there is no plugin available, or if you'd prefer to work without the use of plugins.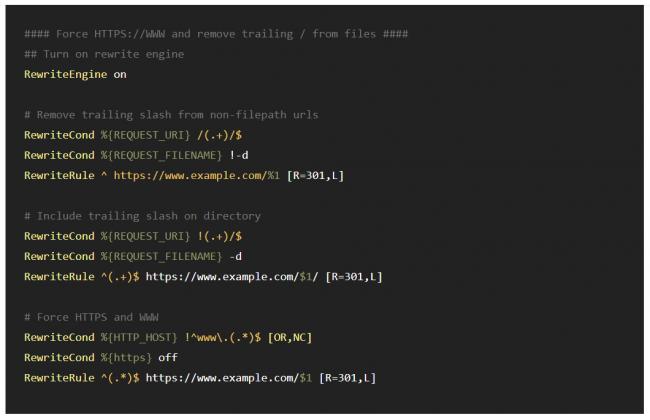 An image showing how a webmaster can redirect directly to the preferred version without creating a redirect chain, as seen on DanielMorell.com
Its importance in SEO
Understanding what a trailing slash is and what problems it can create for your site's performance in the SERPS, and its page speed, is an important part of both SEO and web development. By implementing a correct redirecting practice, these issues can be mitigated and a site's performance can be improved.
Related links
Similar articles
To quote this article, just copy this link:
https://www.seobility.net/en/wiki/Trailing_Slash