Off-Page SEO
From Seobility Wiki
What is off-page SEO?
Off-page SEO includes all areas of SEO that are not directly performed on the site that an SEO or webmaster is trying to rank. Although link building is an important part of off-page SEO, there are also other aspects like social signals, reviews/reputation management, citations, and brand mentions.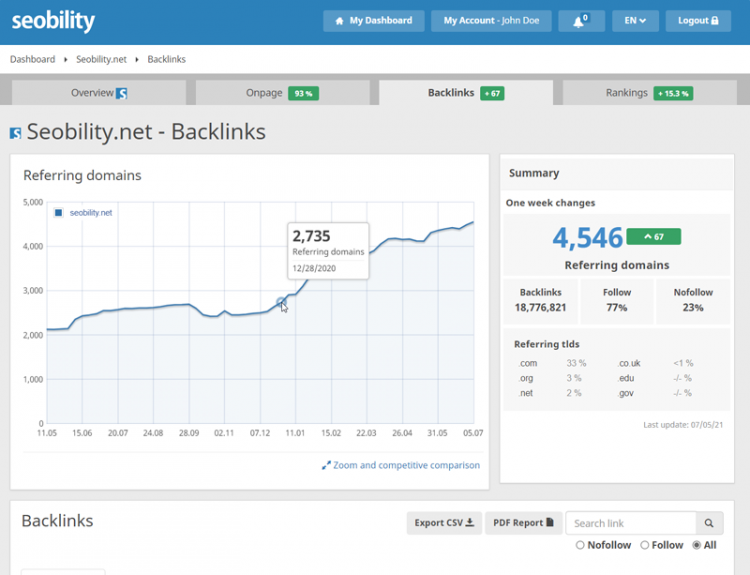 An image of our backlink analysis tool, which can help improve your off-page SEO performance.
The different aspects of off-page SEO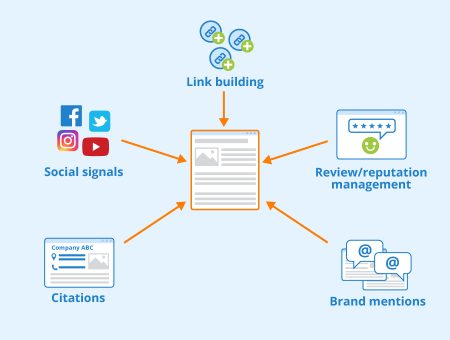 Off-page SEO encompasses various tasks, including:
Linkbuilding
Building backlinks to different pages on your site works to improve your link profile and increase your page's/site's ability to rank in the SERPs. Backlinks also drive referral traffic to your site which helps to improve your user signals and increases your website's overall traffic.
Social signals
Social signals are interactions with your website's pages on social media, for example, sharing a link to one of your blog posts or mentioning your website. See social sharing.
Reviews/reputation
Reviews are especially important for local SEO, like ranking your Google My Business page in the Google Maps OneBox results on the SERPs.
Citations
Citations on directories are important for contextual relevance as well as local relevance. By providing consistent NAP (Name, Address, Phone number) information, search engines better understand where your business operates and what it does.
Brand mentions
Brand mentions can link to the brand's website but don't have to be, and are another part of off-page SEO.
The history of off-page SEO
Off-page SEO first became relevant with the introduction of PageRank, which sought to improve Google's ranking algorithm by viewing backlinks as recommendations from other websites. Although this was one of the reasons that Google managed to become the dominant search engine, it was often abused by webmasters when links were first added to search algorithms.
As backlinks became a ranking factor, various forms of backlink spam were used to push webpages onto the first page of Google. The number of links pointing to a page influenced the PageRank score. Also, the higher the PageRank of a webpage that had a link pointing to your site, the more PageRank that flowed to your site. These things made it relatively easy to manipulate the algorithm.
Over the years, the way that backlinks are used in ranking algorithms has changed. The quality of the pages that link to a page, whether a link is a Dofollow or Nofollow link, the content of the linking page, and various other factors have all gained importance. The introduction of other off-page SEO factors has also taken some of the focus away from building links solely for ranking purposes. Things like citations, brand mentions, and social signals have all become a part of off-page SEO campaigns.
Its relevance to SEO and marketing
Off-page SEO is an important part of SEO campaigns. Various search engines have admitted to using links as a ranking factor, although Google was the first to implement it in their algorithm. Since then, various other off-page factors have started becoming more important, as search engines continue to try and improve their search results.
Although off-page SEO is generally seen as purely SEO-related work, it overlaps various other forms of marketing including social media marketing, influencer marketing, and branding. Brand mentions and link building using guest posting is a part of an earned media strategy, as well as falling into the influencer marketing category.
Over the years, integrated marketing campaigns that combine multiple marketing channels have become the norm, blurring the lines between different marketing disciplines. Off-page SEO is an aspect of SEO that clearly overlaps other marketing disciplines.
Related links
Similar articles
To quote this article, just copy this link:
https://www.seobility.net/en/wiki/Off-Page_SEO