Social Media Marketing
From Seobility Wiki
Definition
Social media marketing is a strategy that uses social media platforms to reach and directly engage with a company's target market. While traditional marketing approaches, such as advertising, are utilized in social media marketing, the dynamics of this medium's usage create unique marketing opportunities. Companies can get direct feedback – positive or negative – regarding their brand or products. Social media platforms can be monitored to measure brand perception and reputation based on mentions. Most importantly, unlike 'traditional' forms of media, they have no geographical limits. This truly global reach cannot be ignored by businesses.
Social media penetration over the past few years has been remarkable. Almost everyone with an online presence is signed up to at least one of the popular platforms. With adverts, engaging content, the right social media channel, and an effective strategy, a business can increase its brand awareness in the markets it operates in – winning new customers and more market share in the process.
Another goal is to increase customer loyalty, since retaining a customer is more profitable than recruiting new clients. Moreover, a loyal customer will act as an unofficial (and unpaid) brand ambassador for a business. One of the best strategies for customer retention is by directly interacting with them, and social media marketing is the best way to do so. Brands can deliver content directly to their loyal following, and give them an opportunity to provide the company with feedback and suggestions.
Consumers are increasingly choosing to shop with brands whose values align with theirs. With the visibility that social media offers, there is no better way for a brand to improve its corporate image and brand perception. This could be through directly supporting popular issues like environmental protection and equality or through donating or running socially responsible programs. Social media can also be used for damage control, in case an incident paints the company in an unfavorable light. There is no faster and more effective way for a company to get its message out to the world than directly through these platforms.
Social media marketing can also be used for crowdfunding and crowdsourcing, as customers (and other members of the general public) are valuable resources. Crowdfunding refers to directly seeking cash donations from the public, usually to finance the development of a popular product or to expand operations. This works best for smaller businesses with an 'underdog' brand perception. Crowdsourcing collects ideas – rather than finances – from a business's support base. This could be ideas to name upcoming products, product design input, or even new markets to expand to. The insight gathered from an effective crowdsourcing campaign is valuable since it comes directly from the targeted consumer segment(s).
One of the most powerful, yet overlooked functions of social media marketing is monitoring. A business can analyze how it is mentioned on the most popular platforms to have an accurate view of the market's opinions regarding its products and how the brand is perceived. Platforms like Facebook, Twitter, and LinkedIn have native tools built in to support this. Coupled with effective data analysis, monitoring can help a business craft strategies to drive up brand recognition, brand perception, and revenues.
Strategies
Social media strategies can be either be considered passive or active based on the level of interaction employed.
Passive social media strategies are all about anticipation and positioning. They require a brand's marketing content to be placed where they will be visible to customers seeking their products and services. A good example is having promoted posts and adverts on popular platforms like Facebook. They are 'passive' in that the customer is expected to act on them; the business does not influence how this content is distributed once it is posted. A lot of planning has to go into this type of content to ensure that it will be visible and of value. Other good examples of passive strategies include having informational user guides for your products on your social media pages and anticipatory frequently asked questions regarding your products and brand.
Active strategies include content that requires a business to actively engage its social media user base. They are usually more expensive and time-consuming than passive strategies but can be potentially more effective in terms of recruiting new customers and getting more value from the existing client base. This includes target marketing where a business chooses the users who will see their social media marketing content. This is a strategy supported by most platforms, and Facebook is particularly good at it. Other strategies include holding competitions where winners get giveaways, engaging with followers, and using influencers to promote the brand's message to their followers.
Success factors
The most important success factor in social media campaigns - just as with any marketing campaign - is careful planning. A business needs to understand its target audience, the market dynamics in the economies it operates in, its competitors, as well as its capacities in terms of budget and marketing expertise. Before deploying any social media marketing strategy, it needs to have clear and measurable goals. It is important to include experts as key decision-makers during the planning phase of a social media marketing campaign.
Another important factor is good content because social media marketing involves more than just placing advertisements, or having promoted posts. It offers a unique opportunity to provide content that engages a brand's user base. Having informative content encourages users to interact with a brand. Content with value is also more likely to be shared by users, which amplifies its reach.
In addition to fitting content, the tone has to be right. Every brand needs to have a coherent communication strategy across all its platforms, be they digital or analog. A customer should never encounter contradicting messaging when interacting with a company on multiple platforms.
The unique selling point that differentiates social media marketing from other forms of digital marketing is interaction. If this is not the cornerstone of a brand's marketing efforts on these platforms, then they are being underutilized. Brands should directly reach out to their clients, and actively listen to their feedback – be it positive or negative. Interaction should be meaningful, with insights gained being used in the planning of future social media marketing campaigns and other relevant strategic decisions.
Major social media platforms have a global reach, Facebook, the clear market leader, has over 2.6 billion global users as of March 2020. This is a big opportunity, and no other marketing channel can offer this level of reach. This is why such platforms can be used by small businesses and multinational conglomerates.
Another advantage of social media marketing is that it is relatively cheap. At the most basic level, a business can use these platforms at no additional cost. Registering and using an account is free. Accessing premium marketing tools is also quite affordable, and the cost is usually scaled to the coverage a business wants to achieve. Given the level of coverage offered, no other form of marketing can match the return of investment offered.
The fact that social media give users the opportunity to share posts and content from a business (or another user) with their contacts is another opportunity for online marketing. Content that is widely shared ranks highly on search results within the platforms and search engines, therefore, a business should prioritize making their content shareable in order to increase its visibility.
Social media is also special in the way communication works. Traditionally, marketing has mostly been viewed as a one-way communications channel from the business to the consumer. Social media allows consumers a direct communications line to the business, and between themselves. This creates a complicated dynamic that can both be an opportunity or a risk.
An additional factor that can also be opportunity or risk is that a business can directly engage its following and build lasting relationships. If not properly leveraged, it can be a risk since negative feedback also gets a global audience. This is why proper planning and execution are important when it comes to social media marketing.
One of the biggest risks for social media marketing is the reduced level of control a business has over its content. Proper planning and effective execution are vital before any digital content is disseminated. A single post with insensitive or offensive content can be shared widely, irreparably damaging a business's reputation.
Deathwish Coffee's Instagram shows what good social media marketing can look like. Their posts are creative, sometimes provocative and it works out for them. They know their target audience and create suitable content.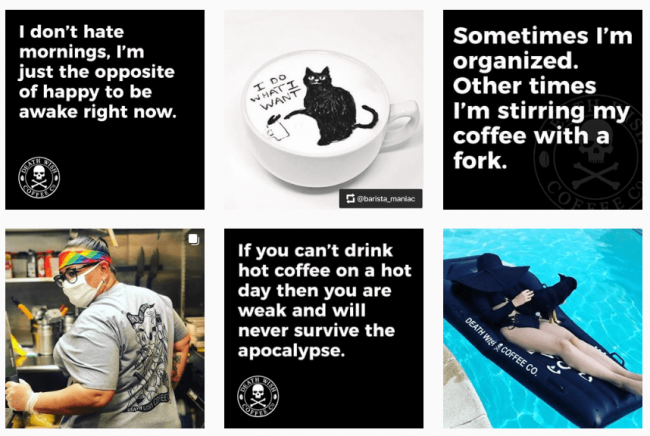 Screenshot of Deathwish Coffee's page on Instagram.com
Related links
Similar articles
To quote this article, just copy this link:
https://www.seobility.net/en/wiki/Social_Media_Marketing