Google My Business
From Seobility Wiki
What is Google My Business?
Google My Business (formerly known as Google Places) is a service that complements Google's maps feature and search functions. It is a kind of digital yellow pages where local businesses can create a company profile and enter various information about their enterprise.
Unlike classic Google Search, Google My Business is not about gathering relevant websites for specific keywords. Instead, it focuses on offers that are linked to local addresses. These are integrated on the first page of organic search results and in Google Maps.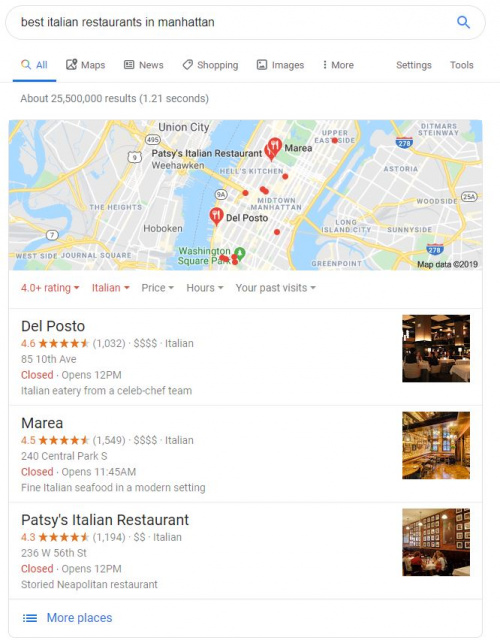 Screenshot with Google My Business entries on the first page of organic search results on google.com
The local component makes Google My Business a useful feature for companies that do not operate exclusively online but are connected to local business addresses. Gastronomy, specialist shops, or the service sector are some examples of companies that can benefit from it. The increasing number of mobile users that search for local shops online makes it important for local businesses to include Google My Business in their marketing strategy.
Although companies have to create a Google My Business profile by themselves, Google automatically supplements this profile with entries from public sources such as company registers, rating platforms, or local directories.
Importance of Google My Business in online marketing
Google My Business not only leads more potential customers to your website but also provides information about your company in Google's search results, such as opening hours, phone number (can be dialed directly when using a smartphone), directions to your location, and rush hours. It also shows your company's location as a map excerpt. As these entries usually appear prominently on the first page of Google's search results, they are particularly important for online marketing.
Buying ads in Google My Business is not possible which is why it is important to rank high in local search results organically. A well-designed listing and website are important for your ranking, as well as positive online reviews, e.g. in social networks. In most cases, it is much easier to achieve a high ranking in local search results than it is for classic organic search results. Therefore, achieving a high rank on Google My Business is an essential goal of local SEO (search engine optimization for local search results).
Creating a listing on Google My Business
To create a listing on GMB, you first need a Google account. You can then visit Google's website (or use the Google My Business mobile app) and create a listing for your company or claim an automatically created entry as yours. Google will send you a confirmation code and after completing that step, you can start filling your entry with information. During this process, Google guides you through various menus and gives tips on what a perfect entry in GMB should look like. This includes, for example, answering as many questions about your business as possible. These questions are not just about your address, a link to your website and opening hours, but also require information about your industry and details such as "Wi-Fi available" or "child-friendly". Optionally, you can add a short description, pictures, and keywords. You should use all of the offered options and enter the information accurately to provide actual value to your potential customers.
Optimizing your Google My Business entry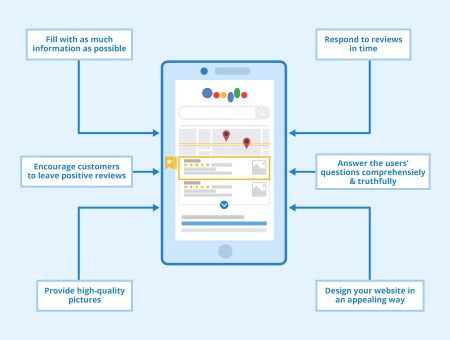 As mentioned before, the most important thing is to fill your Google My Business listing with as much information as possible. This also includes answering users' questions comprehensively and truthfully. Google informs you about each question that users ask. As most customers expect quick responses, you should react in time, even if you have to deal with negative feedback. In such cases, it is important to be insightful and initiate the necessary improvements in your company.
Marketing can also contribute to the optimization of your GMB listing. One approach could be to encourage customers to leave positive reviews. Even if they don't review your website on Google but on other review platforms, Google takes them into account when ranking your entry. Sometimes, these reviews are even displayed in Google's search results. Handing out flyers in your neighborhood or offering free drinks in return for public feedback are classic methods to gain your first reviews.
Furthermore, you should provide high-quality pictures in your My Business profile and design your website in an appealing way. If you consider all these factors, your Google My Business listing can be an essential factor for your company's success in online marketing.
Related links
To quote this article, just copy this link:
https://www.seobility.net/en/wiki/Google_My_Business