Website Traffic
From Seobility Wiki
Definition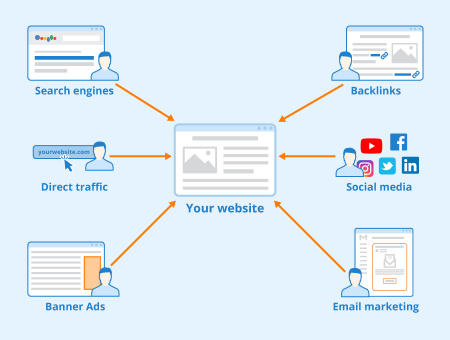 The term "traffic" refers to the number of visitors to a website in a specific period of time. A website's traffic can be accurately logged and is divided into regular visitors and one-time visitors. Regular visitors are loyal customers who provide steady traffic, while one-time visitors are looking for information on a specific topic and are usually directed to the website via search engine queries. A website's number of visitors is an important indicator of how interesting it is for your target group.
The purpose of a website is usually to attract as many visitors as possible. Higher traffic often results in higher advertising revenues or sales, which is why a website's number of visitors and its financial success are often closely related. The quality of your site plays a decisive role in ensuring regular traffic. Both the content and the design must be of high quality and provide value to visitors. The popularity of a website is often measured by the number of unique visitors i.e. individual users who visit a website, whereby several visits of the same person are only counted once.
Traffic generation through search marketing (SEO and SEM)
Search marketing is a key component of a well-planned online marketing strategy. It is particularly important that your website is ranked as high as possible for relevant keywords in the search results as most users tend to only look at the first page of results. Websites that are at the lower ranks typically receive only small amounts of traffic.
Search marketing includes
Search engine optimization (SEO)
Search engine marketing/advertising (SEM)
SEO deals with on-page and off-page measures that aim to improve the ranking of websites in organic search results. Ideally, a website is displayed at top positions for certain queries, which leads to higher traffic.
SEM is the second field of search marketing and uses search engines as a strategic marketing tool. Search engine providers sell prominently placed advertising space in their SERPs. These spaces are integrated into the search results in such subtle ways that users often perceive them as particularly relevant results and click on them. SEM is, therefore, an effective means to generate traffic.
Traffic quality
In addition to the number of visits, the quality of traffic plays an important role. Quality refers to how valuable that traffic is to your website and can be evaluated by different factors such as the number of conversions taking place. The most important sources that can significantly influence the quality of traffic are search engine results, banner advertising, email marketing, links, and recommendations. In the context of search engines, you can differentiate between organic traffic and paid traffic. Organic traffic includes all visitors that come to your website through search results you did not pay for. This kind of traffic is important for every website and is directly influenced by the quality of your content and SEO measures. Paid traffic, on the other hand, refers to visits that you paid for. If you place ads on social media or Google and somebody accesses your website by clicking on one of these ads, this is referred to as paid traffic.
Traffic Analysis
There are various tools you can use to analyze your website's traffic. Because of its position as the market leader, Google Analytics has become the standard tool for this. Google offers detailed information about all relevant parameters concerning advertising, content, and revenue. This data allows you to adjust your strategies and optimize your website for search engines to generate more traffic.
Analyzing incoming traffic is important for both advertisers and publishers. A publisher is someone who operates a website and integrates paid third-party ads on his website. A commonly used tool for finding suitable advertising partners is Google Ads. The Ads network acts as a marketplace for ad campaigns and provides the technical infrastructure. Advertisers can use it to estimate their campaign's potential reach while publishers get an estimate of how much they can charge for placing ads on their website.
Related links
Similar articles
To quote this article, just copy this link:
https://www.seobility.net/en/wiki/Website_Traffic