Nofollow Links
From Seobility Wiki
What are nofollow links?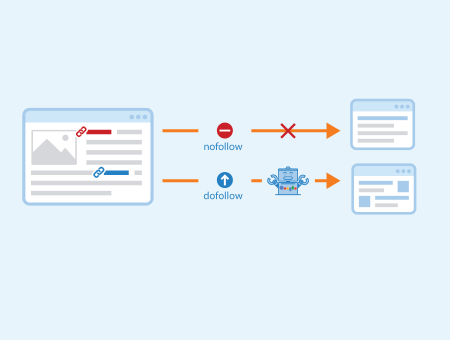 Nofollow links are links with the rel="nofollow" tag, that tells search engines not to follow the link. This reduces their effectiveness at improving your search engine rankings since search engines don't use them as a strong ranking signal.
In the past, when PageRank was still made visible by Google, Nofollow links did not pass PageRank which showed they weren't very effective at improving a site's off-page SEO. Since PageRank is no longer made visible by Google, the difference between links with and without the nofollow attribute can only be seen through correlative research on the SERPs, or in-the-field tests.
Why the nofollow tag exists
The nofollow tag exists to tell search engines that a link shouldn't count towards a website's ranking. In the early days of SEO, backlink spam used to be an easy way of increasing rankings. This allowed black hat SEOs to build a large quantity of low-quality links, like blog comment links, in order to manipulate the search engine algorithms. This often happened at the expense of the sites the links were being placed on.
However, in 2005, the nofollow attribute was introduced to help reduce link building spam, allowing website owners to ask search engines not to count a link towards the site's ranking.
Backlinks pass link juice which influenced the PageRank of a domain when it was still made public by Google. When PageRank was visible, links with a Dofollow attribute clearly passed PageRank onto the page that was linked to, showing that Google used the link. Links with the nofollow attribute didn't pass PageRank on to the page they linked to.
The nofollow attribute allowed webmasters to indicate to search engines that they did not want their site to be associated with a link. Originally used to tackle blog comment spam, they have since started being used for a wider range of situations when a link hasn't been earned.
When nofollow links are used
For links in blog comments and other user-generated content
For links in ads and banners
For paid links
When the website owner doesn't want their site associated with the site that's linked to

An example of a nofollow link in the comments on our blog
Nofollow vs Dofollow
The Dofollow attribute is the opposite of the nofollow attribute and is used when the website owner does want the link to count towards the other site's search rankings. It is used when a link is considered a pure referral, for example, a reference/source in an informational post or paper, or an editorial link in a blog.
SEO benefits
Although Google always claimed that most nofollow links do not count towards a page's rankings, Google has recently changed the way that nofollow links are used, now seeing them as suggestions. This means that nofollow links do have an effect on a page's rankings, although it is still considered less of an effect than Dofollow links have.
Importance for SEO
The nofollow attribute is an important part of SEO, both from an on-page perspective as well as from an off-page perspective. Although less beneficial than Dofollow links, nofollow links still have some SEO value and can help your website rank higher in the SERPs. On top of the direct ranking benefits, correct implementation of the nofollow attribute if you offer paid links/advertorials on your site can help your site avoid penalties. Understanding search engine guidelines on the use of the nofollow attribute is therefore an important part of on-page SEO too.
Related links
Similar articles