Black Hat SEO
From Seobility Wiki
Definition
The term black hat SEO is used in online marketing to describe all measures of search engine optimization that deliberately ignore or circumvent the guidelines and specifications of search engines such as Google. The methods include link spamming, for example. Black hat SEO aims at achieving higher rankings for a website in search result lists (SERPs) as quickly and easily as possible.
Black hat SEO is the opposite of white hat SEO. Both names are derived from historical Western movies: the hero wore a white hat, while the villain was wearing a black hat.
Methods of on-page optimization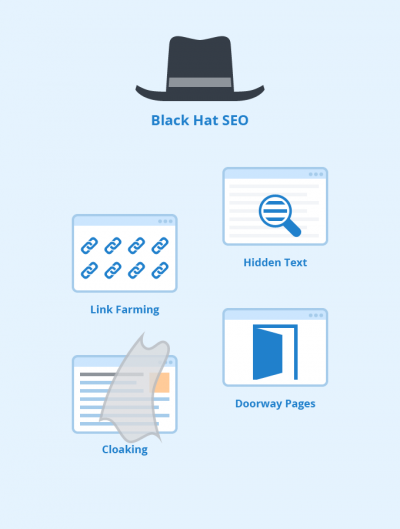 On a web page, different methods of black hat search engine optimization can be implemented. One of the most popular on-page SEO methods in this context is cloaking, i.e. showing users and search engines different content. While search engine crawlers, for example, access a static HTML page, users are redirected to a page with completely different content using techniques that are difficult or impossible to track, such as JavaScript or Flash. In its webmaster guidelines, Google explicitly opposes cloaking.
Keywords with appropriate density are important for ranking, which is why some webmasters use keyword stuffing as another black hat SEO method. In doing so, important keywords are placed on a website in large quantities in order to suggest a high relevance for a topic to search engines. However, this can quickly deter visitors, as texts with exaggerated keyword stuffing are difficult to read. However, it's possible to deliberately hide such texts so that only search engines, but not users, can see them. Keywords and other texts can be hidden, for example, by designing the font in the same color as the background or by defining a font size of zero. CSS properties such as visibility:hidden can also be used. This method of black hat SEO is called hidden text.
Methods of off-page optimization
Backlinks are the decisive factor for off-page optimization because if other websites link to a certain web page this indicates its importance to Google and Co. Building high-quality organic backlinks, however, is a complex process. For this reason, black hat SEO has a strong focus on fast link building, which can be achieved via link farms, for example. A link farm is a website that contains little or no content of its own, but many links to external sites. Such a directory is set up exclusively for the purpose of linking and otherwise offers no added value.
Similarly, doorway pages are optimized for important keywords and provided with external links. Their only function is to redirect to the actual website. Links can also be generated in large quantities with comparatively little effort in internet forums or comments on media pages or blogs.
Another link building method of black hat SEO is the purchase of expired domains. These are websites which the original owner gave up or which were canceled. Since they still have the trust of Google, the buyer can publish new content including high-quality backlinks to his own page under the known domain.
Private Blog Networks (PBNs) are another black hat method to build backlinks. These are networks of blogs dealing with different topics. These blogs can then be used to build high-quality dofollow backlinks to a specific website. Since Google rates links from blogs higher than those from other sites, this is a commonly used black hat SEO method.
Advantages
While it is often claimed that black hat SEO is prohibited or illegal, this is not the case. The specifications of search engines are merely guidelines, not legal regulations. Every webmaster can, therefore, use the methods freely. If the algorithms of search engines do not recognize the black hat manipulation, the ranking of a website can improve significantly, which leads to higher traffic and benefits for online marketing.
Disadvantages
Google tries to counteract the methods of black hat SEO by various measures, such as the penguin update from 2012. For this reason, ranking improvements that can be achieved by such methods usually only last for a short time. If a website violates the regulations several times, Google will punish this. If a crawler detects black hat methods, the website concerned can be significantly downgraded in the search result lists or completely removed. Thus, this type of search engine optimization can quickly miss the intended goal and negatively affect online marketing.
As Google continues to develop its algorithm, taking user behavior into account, breaches of webmaster guidelines are discovered more quickly. For example, the time users spend on a website can provide information about the quality of its content and thus reveal measures such as hidden text or cloaking, which pretend that the page is highly relevant to specific search terms. If users visit such pages, their expectations of the website's content are disappointed and they leave fairly quickly. These short dwell times signal to Google and Co. that the content is not relevant for the respective keyword, which leads to a devaluation in the SERPs even without direct identification of the black hat methods.
Black Hat vs. White Hat
In contrast to black hat SEO, methods of search engine optimization that comply with search engine guidelines are referred to as white hat SEO. However, not all measures can be strictly classified as white or black hat. For one thing, webmasters have no control over which pages link to them. Occasional black hat SEO methods, such as links found in a directory of URLs downgraded by Google, therefore do not automatically lead to the exclusion of a web page from the SERPs.
In addition, there are measures that do not aim to deceive search engines but still do not fully comply with their guidelines. An example would be a provider that offers several versions of his website, such as an additional barrier-free version with a simplified structure. From a technical point of view, this could be misunderstood as cloaking, even though it offers actual benefits for the visitors. Such methods are increasingly referred to as "Grey Hat Search Engine Optimization".
The methods that can be clearly assigned to one of the two areas are compared in a table below:
| Black Hat SEO | White Hat SEO |
| --- | --- |
| cloaking | unique meta title and description |
| keyword stuffing | natural keyword density |
| hidden text | content marketing |
| link farming | organic link building |
| doorway pages | backlinks from relevant websites |
| link spamming | correct spelling and grammar |
| expired domains | clean technical setup |
Related links
Similar articles
To quote this article, just copy this link:
https://www.seobility.net/en/wiki/Black_Hat_SEO