Blacklist
From Seobility Wiki
Google is the world's leading search engine and wants to provide its users with a safe online experience. One way to help achieve this goal is to identify potentially harmful websites and blacklist them.
Definition
A blacklist is generally used to collect different things that violate certain rules. For website operators, the safe browsing blacklist kept by Google is of particular interest in the context of search engine optimization (SEO). Google keeps a blacklist for websites and IP addresses that pose a security risk to users, for example by distributing malware or containing illegal content.
Blacklist Checker
Check if your website is blacklisted
How does a website get on Google's blacklist?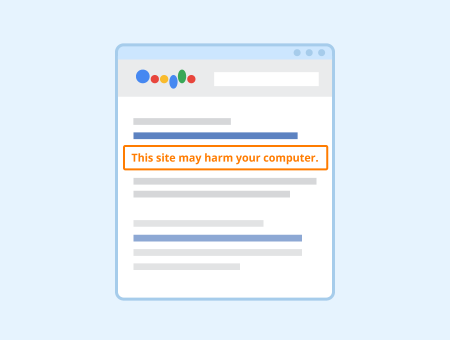 Google blacklists websites that may cause security problems or that are in violation of legal requirements.
If this is the case, the affected page will be marked with the note "This site may harm your computer" in the search results. In most cases, the website operator will be informed about the entry. This can either happen via Google Search Console or via email. Browsers that use Google's safe browsing API often generate a warning page when accessing a blacklisted domain to warn visitors about potential security problems.
In addition, internet users can report a website to Google that appears suspicious to them. Google then checks the reported domain and adds it to its blacklist if the suspicion is confirmed.
How can I determine whether a page has been blacklisted?
A simple way to do an initial check is to query the site on Google. If a site query (e.g. with site:example.com) displays the warning message in the search results, this is a clear sign of a blacklist entry.
In addition, Google offers webmasters various analysis tools for their websites in its Search Console. If security problems occur, administrators receive a direct message via Google Search Console. Webmasters can also find a tool to check whether a website has been removed from the index for copyright infringement at www.google.com/transparencyreport/removals/copyright. In addition, there are several free tools available on the internet that let you find out if your domain is blacklisted.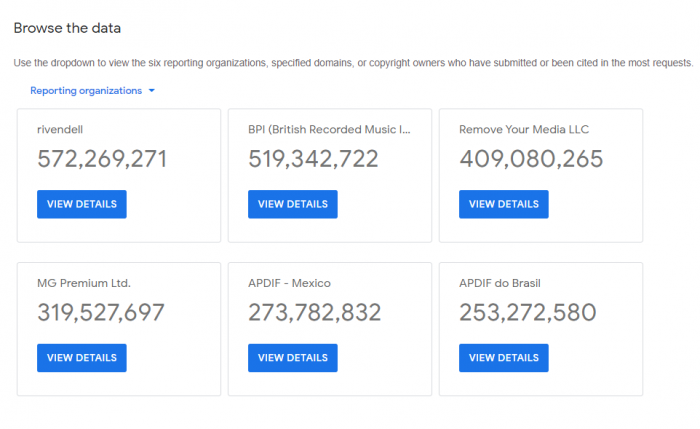 Screenshot of the transparency report of google.com
Reconsideration request
If your domain has been removed from Googles index and you want Google to add it again, you have to submit a reconsideration request. Prerequisite is that you removed all critical content and fixed all security problems on your website. You should justify your request with as many details as possible in order to facilitate the work of the employees at Google and thus speed up the whole process. Depending on the amount of work involved, it may take between one to five days for a website to reappear in Google's index.
Other types of blacklists
Malware
Google is not the only company that collects websites on a blacklist that pose a security risk to users. Several organizations specialize in managing and publishing blacklists of IP addresses and URLs of systems and networks suspected of spreading malware and causing security problems. Many of these lists are publicly accessible and free to use, but some have usage restrictions.
Content
Content Management Systems (CMS) allow users to create their own content-blacklists to prevent certain unwanted content from being displayed, for example in comments published by users. The simplest form of a content blacklist is a word filter.
Email
Another type of blacklist that is particularly relevant for email marketing are email-blacklists. These are usually publicly accessible and contain domains and/or IP addresses that distribute spam emails or are suspected of doing so. The domains or IP addresses in question are blocked by the email provider and e-mails sent from these sources won't be delivered. Since different email providers (Gmail, GMX, etc.) use different blacklists, a domain that is on one of those lists is not necessarily blocked by all providers.
Related links
To quote this article, just copy this link:
https://www.seobility.net/en/wiki/Blacklist