Voice Search
From Seobility Wiki
What is voice search?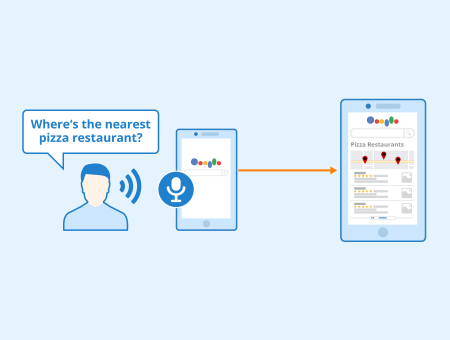 Voice search is a search engine feature that allows users to search using their voice instead of by typing. Although certain forms of voice search have existed for a while, it has become popular only recently due to increased reach and innovation in natural language processing that allows computers to better understand what is said.
Voice search is becoming an ever-larger part of search, with more and more devices and search engines offering voice searches. Today, around 27% of smartphone users use voice search according to Google.[1]

A screenshot of thinkwithgoogle.com with voice search statistics
Where voice search is possible
First introduced in 2008 by Google, closely followed by Apple's and Google's voice assistants in 2011, voice search is now available on a range of devices. That being said, most voice searches are performed through Google Assistant, Apple Siri, Amazon Alexa, or Microsoft Cortana, since most devices work with these voice search providers.
Google Assistant – Google Assistant offers voice searches on Google-related products, including Google smart speakers, Android smartphones, and other Android products.
Apple Siri – Siri works on Apple's products, from smart TVs and speakers to the iPhone and other Apple devices.
Amazon Alexa – Alexa is the assistant offered by Amazon and works on Amazon's own products, including Echo and Alexa devices.
Microsoft Cortana – Cortana works on most devices that can run Microsoft products, including Android phones and iPhones, and Windows 10 PCs. Cortana works with Alexa, so optimization is the same for them both.
Advantages & disadvantages of voice search
There are various clear advantages to voice search, including improved usability and the possibility to search when a user isn't able to type a search term directly. It also allows things to be bought with minimal friction, increasing the sales to companies featured in voice search.
However, there are also some clear disadvantages, most notably the limited variation voice searches can offer searchers. When answers are returned through a smart speaker or assistant, the information provided is limited. Users often get a single answer from a single site, as opposed to the possibility to browse various different answers on various sites.
This also has implications for SEO, as it further concentrates search traffic, limiting the traffic to pages that don't control the featured snippet or rank well for local SEO terms. Even though this can be a strong advantage to the businesses that are featured in voice search, it has a negative impact on other businesses.
Long-tail keywords & voice search
One of the big impacts that voice search has had on the search landscape is the increased use of long-tail keywords. Since voice searches are spoken searches, they commonly use real sentences and phrases instead of shortcuts that may be used when typing.
This has greatly increased the number of searches for long-tail keywords, which has spread search traffic over a greater range of search strings.
Optimizing for voice search
Although the exact method used to optimize for voice searches will depend on the assistant you plan on targeting, there are a number of best practices used when optimizing for Google voice search. A few of the most common ones are mentioned below.
Optimize for long-tail keywords – Since most voice searches target long-tail search strings, it's important to optimize for long-tail keywords for a site to increase traffic from voice searches.
Optimize for featured snippets – By using structured data and using a clear page structure, a site can increase its chances of controlling the featured snippet.
Crawlability and speed – Making sure the site is highly accessible to search engine crawlers is an important part of SEO in general.
Short questions and answers – By using short questions and answers on a page, a site makes it easier for search engines to find the answer, allowing them to return it to the searcher.
Build a strong reputation – Search engines need to trust content in order to serve it to a searcher, making website reputation important for voice search optimization.
Optimize audio and video content – Other forms of content can also be searched using voice search.
Knowledge graphs & GMB – If a site is featured in the Google Knowledge Graph and has a Google My Business listing, it has a better chance of being featured in (local) voice searches.
Relevance to SEO
Voice search has become a major part of SEO over the past few years, with more and more searchers opting for voice search as opposed to regular search. Voice search also adds a level of uncertainty to SEO, as it raises questions about potential copyright infringements by the devices, as well as questions about the direction voice search is headed in the future.
Many SEOs and marketers believe that voice search devices will be monetized in the near future, which would turn voice search into a paid search channel as opposed to part of organic search. With a strong shift towards voice search, which reduces the number of normal searches, voice search is currently one of the most uncertain aspects of SEO and an important field to keep an eye on.
References
↑ Voice Search Mobile Use Statistics Think With Google. Retrieved 01 March 2021.
Related links
Similar articles
To quote this article, just copy this link:
https://www.seobility.net/en/wiki/Voice_Search