Local SEO
From Seobility Wiki
Local SEO – Definition & explanation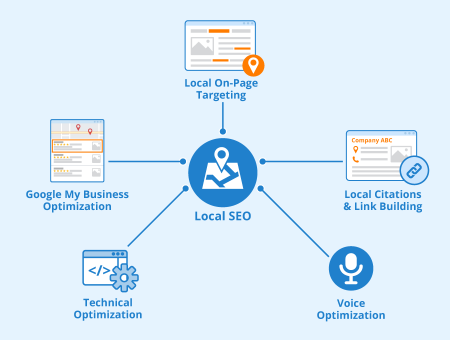 Local SEO is the process of optimizing your website for local search results, increasing your local organic search reach. Local SEO focuses on ranking higher for relevant location-based keywords in both the normal organic search as well as the Local Pack.
Although local SEO is generally most effective for local businesses that target a specific geographic area, it can be used by businesses targeting a larger area too.
Local SEO and Google Maps
Local SEO encompasses optimizing various different properties, with the main one being your website. Other properties include business listings on popular platforms, like Google My Business listing, Yelp listing, and other relevant off-site listings that can drive traffic and sales.
Your Google My Business listing is an important part of local SEO, as it can allow you to rank in the map pack. This is the Google Maps OneBox listing that appears in local search results. It provides three suggestions to users underneath a Google Maps feature in the search results, with the locations marked on the map.
Since the map pack appears at the top of most local searches, it's a major part of local SEO.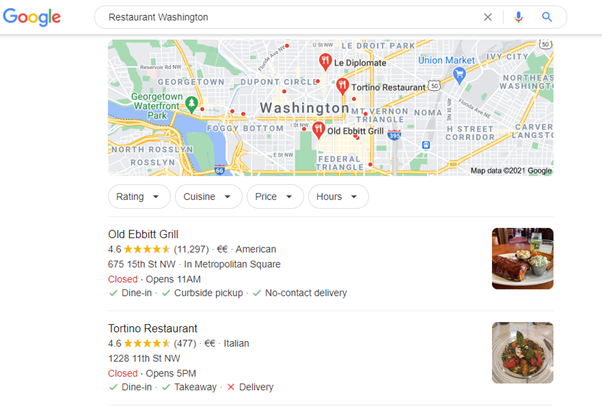 An example of the map pack in the SERPs for the Google search for "Restaurant Washington"
Different aspects of local SEO
Local citations & directories
Local citations are an important part of creating geographical and topical relevance. These are listings on directories and locally focused sites that include your NAP (Name, Address, Phone number) information.
Not only are directory listings an important part of your local off-page SEO, they can also rank and help drive traffic to your site if optimized correctly. This provides local businesses with multiple properties to use in their local SEO strategy.
Google My Business (GMB)
Although Google My Business is generally considered a directory, given the prominent place it gets in local search results on Google, it's often an important focal point of local SEO.
Getting more reviews, optimizing the listing's content, building links to the listing, ensuring your site provides the same information as your listing and keeping your listing up to date are just a few ways that local business owners try to optimize their GMB listing.
Local on-page targeting
By clearly displaying the area you serve as well as optimizing your pages for local keywords, among other things, you can optimize your pages for local searches.
Technical & voice optimization
Technical and voice optimization includes things like schema, optimizing for longer conversational keywords, and optimizing for rich answers, among others.
Its relevance to SEO
Local SEO is an important way for local businesses to drive leads to their business. By optimizing their site and other online properties for local searches, local businesses can increase their website traffic, leads, and sales in the local area.
Local SEO also has multiple marketing and branding benefits, including more visibility for branded searches and more visibility in your local area.
Related links
Similar articles
To quote this article, just copy this link:
https://www.seobility.net/en/wiki/Local_SEO