Google Knowledge Graph
From Seobility Wiki
What is Google's Knowledge Graph?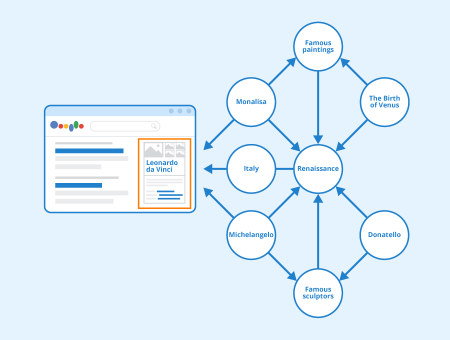 The Google Knowledge Graph refers to the knowledge base that Google uses in its search algorithm. A knowledge graph is a way of structuring data/concepts/things that allows for a better understanding of their meaning and the relationships between them.
In SEO, search engines like Google use knowledge graphs that leverage metadata and links to help them understand a search string (and other words on a page) as well as the relationships a search string has to other concepts.
Although this definition gives you a reasonable indication as to what a knowledge graph is for SEO, it's important to note that there is no universally approved definition of a knowledge graph and that in machine learning, more complex and accurate definitions should be used.
Things not strings – Google Knowledge Graph
In May of 2012, Google introduced their Knowledge Graph[1]. Although various knowledge graphs already existed at the time, like Freebase and DBpedia, Google opted to build their own, which leveraged various other knowledge graphs including DBpedia and Freebase as well as metadata provided by websites themselves.
This helped them improve their search engine's understanding of the search strings, or as they called it, "things not strings." Google Knowledge Graph was introduced to enhance search in three main ways, namely:
Find the right thing
It helped Google understand ambiguous search strings and offer links to searches for things with the same name but a different meaning.
Get the best summary
Since it helps Google understand what you're searching for, it helped them provide you with relevant summaries that provide more information directly on the SERPs.
Go deeper and broader
By providing links to relevant searches and sites, you can find more information faster and learn things you otherwise might not have.
Users saw Google's implementation of its Knowledge Graph in the knowledge panel that was displayed on SERPs. This knowledge panel was displayed on the right-hand side of the SERPS and displayed information about the search as well as related searches and concepts.
The knowledge panel
Although Google is best known for its knowledge panel, variations are also offered by other search engines like Bing and DuckDuckGo. Knowledge panels are sometimes called knowledge graphs by SEOs, since it's a direct visible result of a search engine's knowledge graph. Knowledge panels can contain a wide range of information, for example:
A summary of the concept/person/object
Facts and extra information related to the search string
Links to concepts/objects/people related to the search string
Links to social media channels or other sites you can find more information on the topic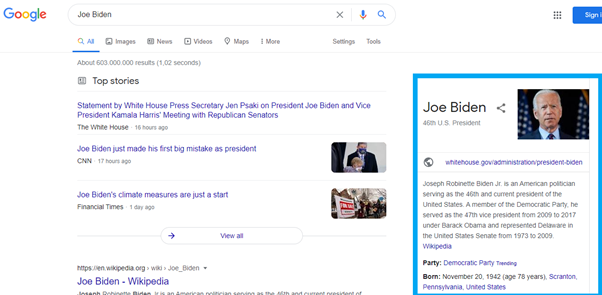 An image of the Google search results when searching for "Joe Biden," with the knowledge panel highlighted in blue.
Examples of other knowledge graphs
There are various knowledge graphs that exist, although most are not known to, or used by the general public. Below are a few examples of knowledge graphs:
Freebase - Freebase was a database of structured data that was acquired by Google in 2010, and was used in the Google Knowledge Panel.
DBpedia - DBpedia is a database of structured data that is extracted from Wikipedia.
Wordnet - Wordnet is a database of semantic relations between words that is used in computational linguistics and natural language processing.
Geonames - Geonames is a database of countries and place names founded in 2005. Its sources include Ordnance Survey, GNIS and Geobase, among others.
Its relevance to SEO
Although a deep understanding of the Google Knowledge Graph/knowledge graphs in general and how they work is beneficial for SEOs and webmasters, the technical side of knowledge graphs is more geared towards machine learning and natural language processing than SEO. However, a basic understanding of how the Google Knowledge Graph works can help you understand how Google and other search engines structure data. This knowledge can be used to help Google understand your webpage and what it's about, which can help you improve your rankings.
Other important concepts related to the Google Knowledge Graph are metadata and schema. These concepts, which are also used by other search engine knowledge graphs, have become important parts of SEO over the past few years. Using metadata and schema, you can structure the data on your site in a way that search engines easily understand, as well as add extra information/context.
References
↑ Introducing the Knowledge Graph: things, not strings Google Blog. Retrieved 01 February 2021.
Related links
Similar articles
To quote this article, just copy this link:
https://www.seobility.net/en/wiki/Google_Knowledge_Graph