Featured Snippets
From Seobility Wiki
What are featured snippets?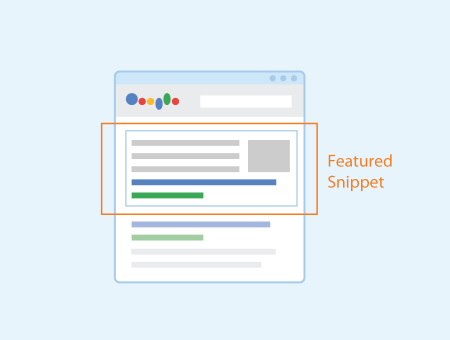 Featured snippets are search results that are displayed above Google's organic results and below paid ads - a spot referred to as "position zero". These snippets are also known as "answer boxes" because they aim to answer a user's search query directly in the SERPs, without the need to visit another website. The content displayed in featured snippets is an excerpt from a website and includes the page title and the URL. Contrary to regular search results, featured snippets show the answer to a query first with the URL following below. Because featured snippets show all the desired information without the need to click on a link or scroll through a website, they are particularly useful for users on mobile devices and for voice search.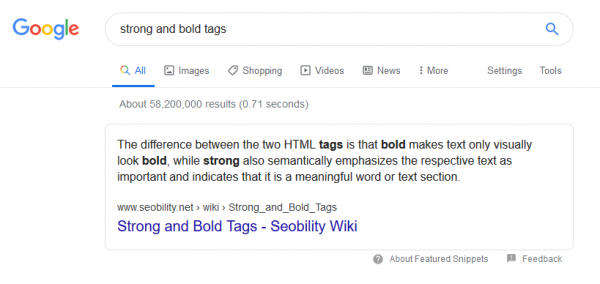 Screenshot of a featured snippet of google.com
Types of featured snippets
Google uses different types of featured snippets, such as:
Paragraph: Google displays text to provide the answer to a query
List: bulleted or numbered lists, often used for recipes or step-by-step guides
Table: snippets in the form of a table, can be used to summarize data
Video: featured clips are frequently displayed when searching for "how to" guides or similar
The most common types are paragraphs and lists, followed by tables and videos.
Google's alternatives to featured snippets
Besides featured snippets, Google uses some other formats to answer search queries directly in the search results. One difference to featured snippets is that these answers do not necessarily give credit to specific websites and do not always contain a URL. For simple questions that can be answered shortly, Google displays a box above the organic search results, containing said answer.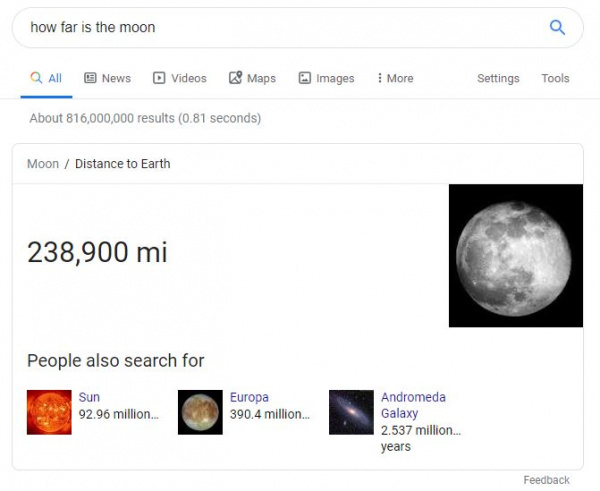 Screenshot of google.com
Another instrument to provide quick answers is the Google Knowledge Panel. It answers simple search queries by displaying the desired information in a box to the right of the organic search results. This is often used for queries about famous persons or organizations.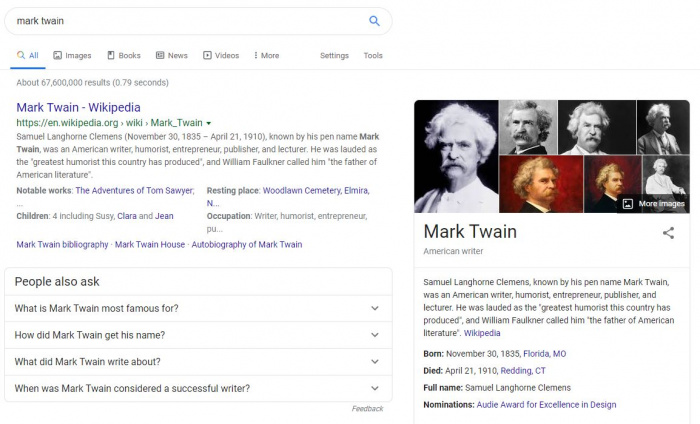 Screenshot of Google's Knowledge Panel on google.com
Where do featured snippets come from?
Google pulls the content of featured snippets from a website that is ranked on the first page of the search results. The algorithm analyzes web listings and displays what it thinks to be the most useful content to answer a specific query. Search queries that contain a question are most likely to result in a featured snippet.
Risks and benefits
The purpose of featured snippets is to answer users' questions in a quick way by displaying relevant information that suits their search query. Because users get all the desired information in the SERPs, featured websites might not receive a large number of clicks.
However, featured snippets still have their benefits for companies and brands. Since the website that gets featured does not have to be rank one in the search results, it might receive website traffic it would never have gotten otherwise. In addition, since January 2020, a website will not appear twice on the first page of the SERPs, thus, a site can only either be featured or appear on the first page of organic search results, not both. A website that gets chosen as a featured snippet will be pushed out of the top 10 organic listings and might not even appear in the top 100 results at all.
Another positive aspect of featured snippets is that even without being clicked, the website, brand, or company can still attract attention and increase their reach. Featured snippets display the website's URL and page title, therefore, users might remember the name of the business or website that brought them the desired information.
A third benefit is that Google uses featured snippets for voice search. Voice assistants read these snippets out loud and cite the source, which can help with brand recognition.
These benefits show that even though the primary goal of featured snippets is to be useful for search engine users, they are profitable for online marketing, too. Thus, you should not ignore them in your SEO strategy.
How to optimize for featured snippets
While you cannot specify paragraphs for Google to use as featured snippets, there are some means to increase the chances of your website being featured in the search results.
Only the first page of the search results is considered for featured snippets, which means the first and most important step is to provide good content in order to rank on page one.
Another strategy is to identify the questions that potential visitors have and provide content that answers these questions. This content should be written and structured in a way that allows Google to easily extract the answer from your website. Additionally, a good answer should not be longer than 50 words. It can also be beneficial to repeat the chosen query in one of your headlines and answer it in the paragraph below.
Related links
Similar articles
To quote this article, just copy this link:
https://www.seobility.net/en/wiki/Featured_Snippets