Local Pack
From Seobility Wiki
Definition
The Local Pack (also called Local Snack Pack or Local 3-Pack) is part of Google's SERPs and extends the search results with three highlighted listings of local businesses. These entries are used whenever Google suspects a local intent behind a user's search query, for example, for keywords such as "hairdresser nearby". The Local Pack usually contains a Google Maps integration, the NAP (name, address, phone) data of the companies displayed, as well as a link to the associated websites. This data is taken from Google My Business and is displayed prominently above the organic search results.
At the bottom of the Local Pack, you'll usually find a button that opens Google's Local Finder. The Local Finder lists all local businesses relevant to a given search query and highlights their location on a larger version of the map.
In the past, the Local Pack included seven listings, but nowadays Google only shows three companies on both mobile devices and desktop PCs.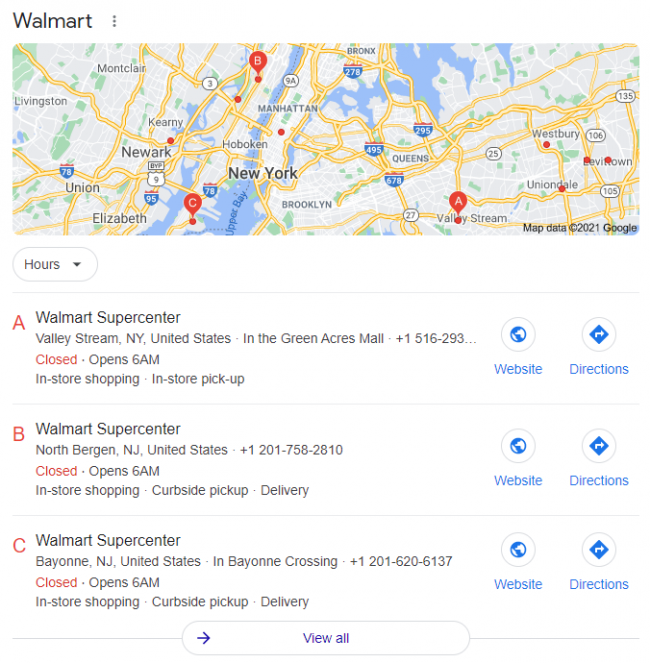 Example of a Local Pack in Google's SERPS when searching for Walmart in New York.
The Local Teaser resembles Google's Local Pack in terms of looks and features. While the Local Pack includes a phone number, a link to the website, and the option to access Google's Route Planner, the Local Teaser displays a photo of the respective business and often a short description instead. This format is primarily used for restaurants, entertainment venues, or hotels.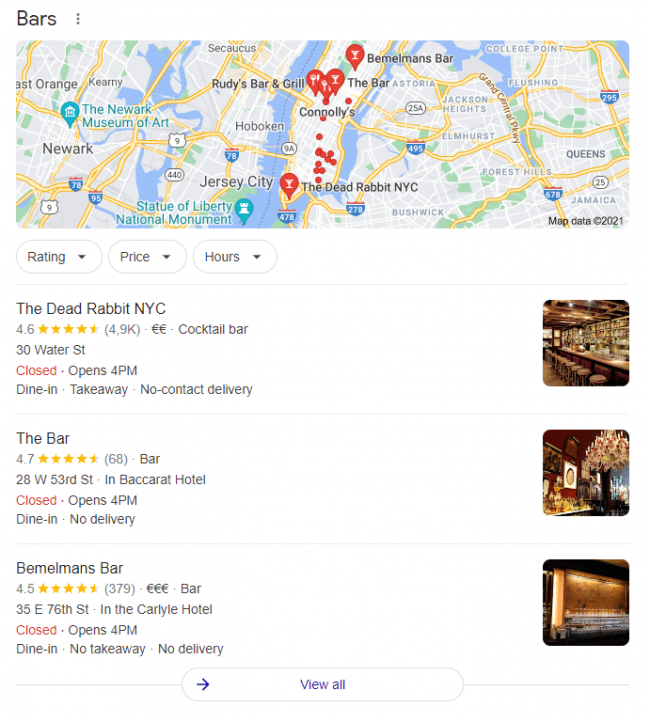 Example of a Local Teaser in Google's SERPS when searching for bars in New York.
How to optimize for Google's Local Pack
Companies that want to get listed in Google's Local Pack first need to create a Google My Business profile. This is mandatory because the Local Pack displays companies rather than websites. The Google My Business profile should be verified and filled with as much information as possible. In addition, it should be regularly updated to inform customers about recent developments and to reflect that the profile is taken care of.
To increase the chances of being featured in the Local Pack, you can use several local SEO tactics, such as building local citations or performing on-page SEO for local keywords.
Other important factors influencing the display and order of listings in the Local Pack are the company's Google Reviews and the searcher's location. Google takes the user's location into account in order to display relevant and nearby businesses, if possible, and thus ensure high-quality results
Businesses that don't want to invest in local SEO have the option to place ads within the Local Pack via Google Ads.
Benefits of being listed in the Local Pack and importance for SEO
Although the Local Pack is particularly important for certain industries (e.g. restaurants, physicians, etc.), it offers opportunities to any business that targets a local market. Thanks to its prominent display above organic search results, an entry in the Local Pack guarantees high visibility and can help attract more potential customers and increase website traffic.
Other benefits for customers and businesses include the possibility to get directions via Google's Route Planner, and the display of reviews and opening hours. With these features, local retailers can make it easier for consumers to contact or visit the store.
On mobile devices, the Local Pack also offers the option to call a business directly from the search results, making it even easier to get in touch.
However, the local pack can also have negative SEO effects for companies that don't run a local business. As the Local Pack is displayed above organic results and takes up a lot of space, it can result in less visibility and traffic for these organic listings compared to keywords without local results. SERPs including a Local Pack direct up to 44% of clicks on local results, while organic results only account for 29% of clicks. [1] This is why it's important to consider SERP features such as the Local Pack during keyword research.
References
↑ The New Snack Pack: Where Users are Clicking & How You Can Win MOZ. Retrieved on September 22, 2021.
Related links
Similar articles
To quote this article, just copy this link:
https://www.seobility.net/en/wiki/Local_Pack