Local Citation
From Seobility Wiki
What is a local citation?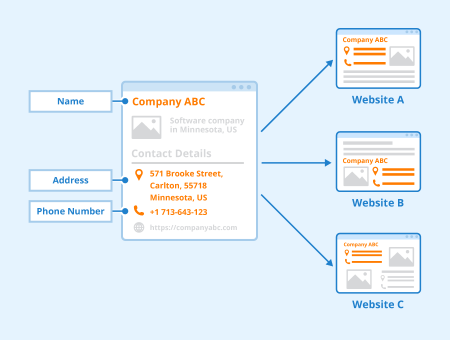 Local citations are mentions of your business's NAP (Name, Address, Phone number) details on business directories and other sites relevant to your company. Although local citations are often accompanied by a link to your website and are a part of off-page SEO, citation building and backlink building are considered two different things.
Local citations are an important part of local SEO as they provide geographical as well as topical relevance to your company's website.

An example of a local citation on Yelp, with the NAP details highlighted in blue.
Aspects of local citations
The most important aspect of local citations is the NAP details. Not only is it important that the NAP details are visible to search engine crawlers, but it's also important that they are consistent across all citations as inconsistent or inaccurate data can cause visitors and search engines to mistrust the information provided.
Although the most important part of local citations is the NAP details, many directories offer companies the possibility to add more information to their listings. This helps provide visitors with more relevant information on the company. Extra information may include:
Images/videos
Reviews
A link to the company's site
A business profile where more information about a company can be included
Opening hours
Links to a company's social media profiles
Relevancy
Both geographical relevance and topical relevance can be improved through local citations. Geographical relevance is improved by building citations in local and national directories, as well as by adding your NAP details to citations.
Topical relevance refers to citations on websites in your industry or related industries. For example, a freelance web designer may build citations on freelance directories and web design directories.
Major directories like Yelp, Google My Business, and a few others, are almost always considered valuable citations. However, citations on smaller/niche sites are considered far more effective when they offer a high degree of relevance.
Advantages of local citations
Extra referral traffic – Some of the major directories including Google My Business and Yelp get a lot of traffic. People use these directories when searching for companies, making them effective at driving relevant traffic to your site.
Improved local rankings – Local citations improve local rankings, helping improve a company's visibility in search.
General ranking benefits – Improved relevance, as well as occasional links, may provide ranking benefits for non-local keywords too.
Its relevance to SEO
Local citations are a big part of local SEO and off-page SEO. They're particularly important for companies that serve a specific geographic area, like a city, town, state, or even a country.
However, citations can be beneficial to online business too. They can help to establish topical relevance which can help search engines understand what a website or web page is about.
Related links
Similar articles
To quote this article, just copy this link:
https://www.seobility.net/en/wiki/Local_Citation