Web Directory
From Seobility Wiki
What is a web directory?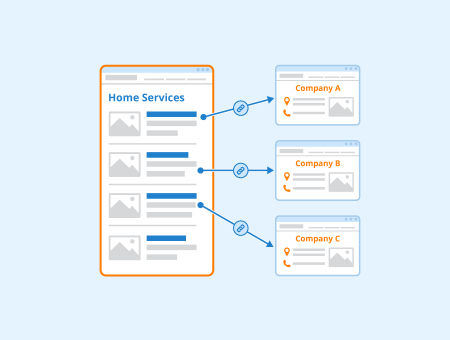 A web directory is an online directory that provides information on websites, companies, or industry-related content. Although web directories commonly focused on general website links in the past, modern web directories focus on specific industries like local businesses, travel, and secondhand products, among many others.
Web directories are becoming an increasing part of vertical search, as most directories have a search engine on their site.
What web directories are used for
Web directories are used for a variety of reasons, including an improved search experience, more relevant search results, and more variety within a broader topic. In marketing and SEO, their main benefits include driving traffic to a website, improving a company's reputation, and increasing a site's visibility in the SERPs.
In the past, web directories were an important part of the link-building process as they allowed for the creation of backlinks to a site. Today, they're used more for building local citations and increasing topical relevance as opposed to solely for building links. Nevertheless, they remain an important part of off-page SEO.
Examples of web directories
Yelp – Yelp is a web directory that focuses on local businesses, providing its users with information on local restaurants, stores, destinations, and other local companies.
Google My Business – Google My Business is a web directory that focuses on physical business locations, showing searchers reviews, posts, and general information on a company. Google My Business results are shown in Google Maps as well as the Maps OneBox results.
Yellow Pages – Yellow pages is a directory covering all businesses, providing contact details to its users.
BOTW.org – Best Of The Web is a directory that contains links to a range of different websites.
Foursquare – Foursquare is a directory that allows users to discover local businesses.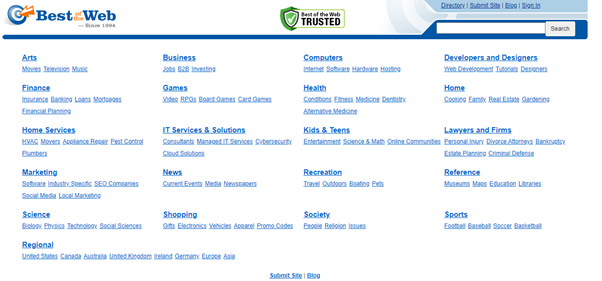 An image of BOTW.org which is a traditional web directory that is still used today.
Its relevance to SEO
Web directories are commonly used in local SEO campaigns since they're a great place to build local citations.
Although their use is often limited to local SEO, directory listings can increase the number of branded web properties a company has, helping it take up more space in the SERPs. This can help with reputation management and prevent competitors from ranking for a company's branded keywords.
Since directories are commonly used for collecting reviews, they can also be important aspects of customer service and can provide a direct conversational marketing channel.
Related links
Similar articles
To quote this article, just copy this link:
https://www.seobility.net/en/wiki/Web_Directory