Deep Linking
From Seobility Wiki
The definition of deep linking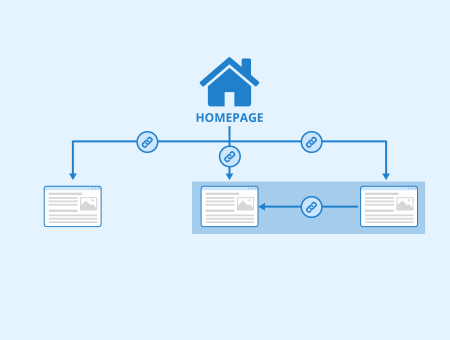 Deep linking is the practice of linking to pages deep within a website, as opposed to the homepage and main category pages. Deep linking can help create a more balanced backlink profile by building links to a wide range of pages on your site, helping "link juice" flow to all pages on your site.
Deep linking can be done to individual blog posts, product/service pages, or other pages that are found on your site. Even though commonly referred to in the context of off-page SEO, it's also an important part of internal linking.
Advantages of deep linking
There are various important advantages that deep linking provides websites. A number of these are:
A more even distribution of backlinks
Deep linking allows website owners to build backlinks to pages deeper within their site, improving the distribution of their link profile instead of solely focusing on the homepage.
The links generally add more value
Links to blog posts, content, services pages, and other internal pages generally add more value on other websites than links to a site's homepage.
Drive traffic to internal pages
Since deep links generally add more value to the site that's linking to a website, they often drive more traffic. This improves the visibility and traffic going to internal pages.
Improved ranking
If the links are coming from authoritative domains, it's common to see the pages that the deep links were built to rise in the SERPs. This helps improve the search engine performance of the page.
Examples of deep linking
Although deep linking generally refers to any links built to internal pages on a website, below are a few examples of deep links.
A reference link to a research paper
A link pointing to a blog post for more information on a sub-topic
Links to free tools on a site
Links to FAQ pages
Built vs natural deep links
Deep links can be created organically by creating high-quality content but can also be created through guest posting, outreach, and other link building practices. Building links solely for improving your ranking in the SERPs is against search engine guidelines. However, if the links add value to the site they're on they are generally considered white hat.
Black hat deep linking also exists. It usually makes use of link schemes, guest posting at scale, or other forms of manipulative link building. These links are often built from bad neighborhoods and the ranking improvements are generally short-lived as sites with spammy link profiles are generally penalized by search engines once discovered.
Mobile deep linking
Mobile deep linking is the process of linking to pages within an app. Mobile deep linking can link people to specific pages within an app if the user has the app installed. There's also deferred deep linking, which directs users who don't have the app to the download page and users who do have the app to the specific page linked to. This can help increase the number of app installs.
These links help to improve the user experience, can help to increase app installs, and allow Google to index the links.
Its relevance to SEO
Building relevant links that add value to users and drive traffic is an important part of off-page SEO. Although mass link building and building links solely for improving search rankings is considered black hat, white hat link building is still an important part of SEO.
Deep linking helps balance your link profile and makes it possible to build links that are more relevant to the webpages they're on. This helps improve the performance of the page and increase the referral traffic.
Related links
Similar articles
To quote this article, just copy this link:
https://www.seobility.net/en/wiki/Deep_Linking