Banner Ads
From Seobility Wiki
General information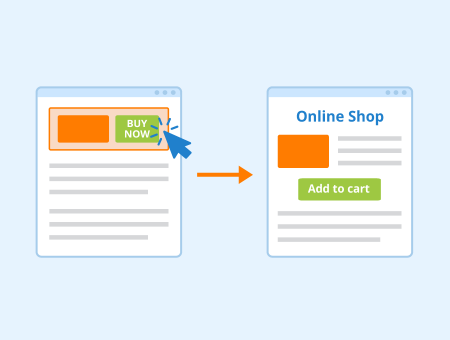 Advertising banners are among the most frequently used forms of advertising in online marketing. They are filled with text, illustrations or animations to attract users' attention and make them click the banner. A link that is connected to the banner then takes users to a website that contains further information or purchase options. This type of marketing can be used for classical product advertising as well as for image advertising of associations or initiatives.
In the past, when computers had little storage space and internet connections were very slow, so-called static banners were used in advertising. Text, images or a combination of both were displayed without movement or other special effects. Today, the advertising industry usually uses banners of a newer kind, which allow more creative design and can, therefore, attract more attention.
Animated banners (based on GIF, Flash, or Video) are widely used as they make advertising more vivid. This way, more information can be put into a banner. At the same time, the human eye is stimulated much more strongly than by static banners.
Through the use of HTML 5, Java, and streaming, other forms of banner advertising such as microsites or flying ads are possible. Basically, all digital formats can be used in marketing nowadays. For example, simple games, films, or music can be used to stimulate interaction on the internet.
To make the distribution of advertising banners easier, around a dozen predefined formats have established internationally. The best known are probably still the so-called full banners, which measure 468 * 60 pixels and are mostly used at the top of a web page, i.e. above the actual content of the web page. Super banners with 728 * 90 pixels are even bigger and can also be used as an expandable version. As soon as the banner is touched with the mouse pointer, the advertisement unfolds as an overlay.
The term skyscraper refers to the format of 120 * 600 pixels, so the banner is designed for portrait format. Skyscrapers, which are also available as expandables, are usually placed at the right or left edge of a web page. A similar format is the halfpage ad, which is 300 * 600 pixels.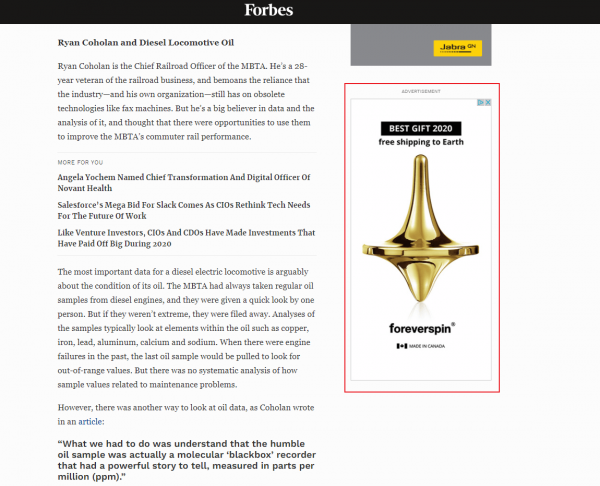 Screenshot with halfpage ad of forbes.com
So-called wallpapers build a frame around a web page and are designed in variable sizes.
Rectangles, on the other hand, with formats of 180 * 150 pixels and 300 * 250 pixels, are designed to be surrounded by text on at least three sides.
Banner ads are popular in the advertising industry and among website operators because the common formats described above are easy to distribute. Web designers usually include appropriate areas for them when planning a website. Thus, banner ads can be delivered to many different websites automatically and there is no need to adapt ads for each website.
However, many internet users feel disturbed by intrusive banner advertising and therefore use AdBlockers. These prevent the display of banner ads which poses a threat to the financing model of many websites, especially large publishers. This is the reason why such websites often require their visitors to switch off AdBlockers.
Because of this, the Coalition for Better Ads, which was founded in 2016, tries to define standards for online marketing that produce a compromise between user experience and advertising. As part of this initiative, the advertising industry committed itself to eliminate elements that are perceived as annoying, such as autoplay of videos and sound.
Another disadvantage of banner advertising is that it is only suitable for responsive design to a limited extent. Responsive design means that web pages automatically adapt to different screen sizes. However, since banner ads were originally designed for desktop computers, they don't look very appealing in a smaller version on smartphones. You also shouldn't underestimate the risk that is created by delivering banner ads automatically. For a reputable company, for example, it is rather unfavorable if your banner ads appear on shady or politically radicalized websites.
If you want to check how successful your banner advertising is, you can analyze several performance indicators.
Besides the number of ad impressions, it is important to measure how often a banner was actually clicked (= click through rate). Through the use of cookies and similar tools, it is also possible to measure your conversion rate. It shows how often a click has ultimately led to further interaction, such as ordering a product or subscribing to a newsletter.
With the help of such parameters, the advertising industry, ad servers and website operators determine the prices for banner advertising.
Banner advertising and search engine optimization
Google and other search engines are skeptical about banner ads. Google's algorithms calculate the relationship between ads and content on every website. If there are too many banner ads on your website, this can have a negative effect on your rankings as Google might get the impression that your website is dubious. However, search engines do not analyze the actual contents of banner ads, so these do not play a role for SEO.
Related links
To quote this article, just copy this link:
https://www.seobility.net/en/wiki/Banner_Ads