Search Volume
From Seobility Wiki
Definition
In online marketing, the term search volume refers to the number of search queries for a specific keyword, i.e. how often a specific search term was searched for in a specific period of time. However, since this volume usually fluctuates greatly, this measure is only an estimate, but not an exact key figure. In most cases, search volume data refer to Google search queries.
Search volume is particularly important when it comes to search engine optimization (SEO) as it can help you to choose the keywords for which you want to optimize your website.
How to determine the search volume of a keyword
In order to determine the search volume of a certain term on Google, the two free tools Google Trends and Google Ads Keyword Planner can provide helpful data.
On the "Explore" subpage, Google Trends offers the possibility to find out about users' interest for a wide variety of keywords in a specific period of time. In addition, the search can be restricted regionally, for example to a specific country or city. Also, similar keywords are displayed with their volumes. The data is visualized using diagrams and illustrations. You should use this tool in particular if you want to carry out a global analysis and comparisons between different search terms. However, it's not suitable to determine absolute figures.
The Google Ads Keyword Planner, on the other hand, is much more accurate but can't be used without a Google Ads account. With the Keyword Planner, you can make much more detailed settings and search for keywords by region, time or by excluding a specific keyword. You can check search volumes of a keyword within the last 12 months; in addition, similar search terms with their corresponding volume are displayed. Although the data in the Keyword Planner are more precise, note that the numbers here are only an approximation as search volume can change regionally and seasonally over the year. Nevertheless, the Keyword Planner comes quite close to real values which are important for the optimization of your website.
A third tool provided by Google is the so-called Google Zeitgeist. In this tool, annual statistics are published that show the most frequently searched keywords collected in one year. These data, together with the Keyword Planner and Google Trends, can also be interesting because they show important trends.
Importance of search volume for search engine optimization (SEO)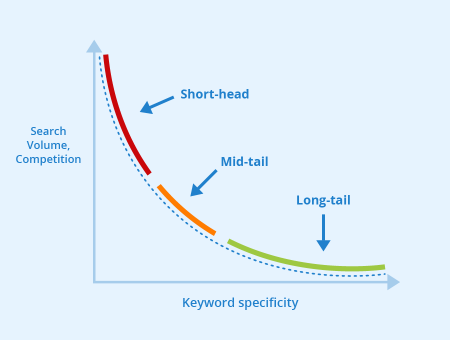 When researching and compiling keywords for which you want to optimize your website, the search volume on Google is of great importance.
Here, you have to distinguish between keywords with a high search volume (so-called money or brand keywords) and very specific search terms with a low search volume (long-tail keywords). The main question for you is whether to focus on search terms with a high or rather low search volume for SEO.
Money keywords are very popular and therefore the competition for such a keyword is very strong. At the same time, they offer great potential for the visibility of your website on Google due to the high search volume.
The opposite is true for long-tail keywords, which are less attractive for competitors because they tend to have a lower search volume. Due to this weaker competition, however, they offer the big advantage that a high ranking can be achieved with a small budget and little effort.
Basically, it makes sense never to base the search engine optimization of your website solely on the keyword with the highest search volume, as it can be very difficult to achieve a high ranking here. This is much easier with long-tail keywords or keywords with a low search volume. In most cases, a combination of company and product relevant search terms with different search volumes is therefore recommended. In addition, you should monitor the search volumes of your keywords over time so that you can react to possible changes in the data in a timely manner.
For a better understanding of the topic, take a look at the following example: An online shop has two different product categories, ABC and XYZ. With the help of the Keyword Planner and Google Trends, the shop operator now finds out that the search volume of the keywords of category ABC is almost twice as high as for the second category, XYZ. However, using Google Ads data, he can also see that the competition for the popular category ABC is very strong. He thus tries to achieve the best possible result by optimizing his website for few money keywords but cleverly selected long-tail keywords. This way, he achieves a good ranking in category XYZ, but at the same time does not completely abandon meaningful keywords for category ABC.
Related links
To quote this article, just copy this link:
https://www.seobility.net/en/wiki/Search_Volume