Google Analytics
From Seobility Wiki
What is Google Analytics?
Google Analytics is a powerful web analysis tool that can be used to monitor a wide array of statistics relating to a website's traffic. The data collected is mostly concerned with traffic acquisition (directing traffic to a website) and visitor behavior. This data, once analyzed, provides insights into the visitors' experience, and how to optimize the website and other marketing aspects. The service does not exclusively analyze websites, it can also apply to mobile apps. Google Analytics is designed to provide highly customizable reports offering users the data they need to shape their online marketing strategy and meet their goals.
Setup and operation
Google Analytics is free for most small and medium-sized businesses. The paid version's (Analytics 360) most affordable package costs $150,000 per year, this is for large corporations. A business can set up Google Analytics in four easy steps:
Step 1: Getting a Google account. You can use your personal Google account, but it is advisable to have a separate business account.
Step 2: Signing up for the service on the Google Analytics webpage. The details required will be the address of the website(s) you want to collect data on. After signing up, the website will be assigned a unique tracking number.
Step 3: Incorporating the tracking number on the website's code. This is much easier to achieve on websites that are hosted on CMSs (Content Management Systems) such as WordPress and Wix which have modules to integrate Google Analytics on their dashboards. This code will be used to monitor traffic data on the website(s) registered on Google Analytics. The tracking number should not be shared with unauthorized third-parties.
Step 4: After verifying that the system is correctly set up, you can now configure it to collect the traffic data that needs to be monitored to ensure the site performs as per the set traffic goals.
Operating Google Analytics relies on one key concept: goals. These goals can be accessed from the admin panel on the analytics dashboard and broadly categorized into four groups:
Destination: These are goals concerned with reaching a certain page of the website, e.g. the checkout page on an e-commerce website.
Duration: These are goals concerned with the amount of time visitors spend on the site.
Pages/Screens per session: These are goals regarding the number of pages a visitor views in a session. For a news website, a realistic goal might be 4 pages.
Event: These are goals concerning a visitor's response to the set call to action, e.g. watching a video or purchasing the marketed product.
The Google Analytics platform generates an overwhelming amount of traffic data. It is important for a business to customize their dashboard view to only include data that is relevant to its strategic goals and individual performance needs.
Part of the operation process includes linking up the analytics account to the other Google services a business might be signed up to. These include Google Ads, Google Tag Manager as well as Google Search Console. It is easy to link these services together, and this creates an integrated system that has many sources of valuable data.
Features
Some of the key features online businesses stand to benefit from the analytics framework include:
Reports
Google Analytics allows users to view standard and custom reports on each registered site. Standard reports come defined 'out of the box' and contain information that is relevant for most websites. They include reports on technology (device profile used to access the site), demographics (age, gender, etc) and user profile (number of visits, revenue, etc).
Custom reports are defined by the user. The options are practically endless given the high number of variables collected by Google Analytics, and how flexible it is to combine them to generate the data that is useful to a business. Custom reports are created by defining the dimensions (a combination of several variables) and the metrics to be collected from the defined dimensions.
Real-time analysis
The real-time analysis provides data on the behavior of users who are currently on the monitored websites. It includes information on how they got there, pages visited, time spent, response to call-to-action prompts, etc.
Target audience analysis
Each website, be it commercial or personal, has a certain target audience. These are the population segments that are expected to respond positively to the website content or the products sold on e-commerce platforms. Google Analytics can provide valuable information on how they respond.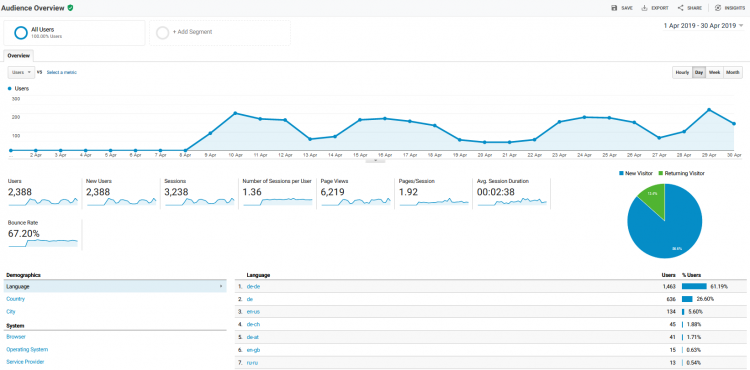 Screenshot with target audience overview of Google Analytics
Acquisition
This refers to the recruitment of new visitors to the concerned websites. Which links, ads or referral websites did they visit from? Which was the first page (landing page) they visited, and which was the last (exiting) page before they left? Other important behavioral data is collected, based on how they interact with the site. This helps craft recruitment and retaining strategies.
Behavior reports
Google Analytics monitors actions that are taken by website visitors and summarizes them in the behavior report.
Conversions
Conversions refer to the percentage of users who respond desirably against those who do not. For an e-commerce website, the important conversion rate would be users who make a purchase against those that leave the site without buying a product.
A/B testing
This is the comparative analysis of traffic data from two options regarding website design, pricing, and other important strategic decisions. The traffic data from both options is collected by Google Analytics and analysis can reveal the option that users respond to best.
Analysis
Data collection is just one step; the data has to be analyzed to reveal patterns and insights on how strategic goals are being met. Google Analytics includes analysis tools to enable their users to optimize their websites.
Importance for search engine optimization and marketing
Google Analytics offers many options to collect and analyze information that makes it valuable for search engine optimization and marketing. For starters, it has tools that monitor the effectiveness of SEO and marketing strategies based on site traffic data. This can even be done on a real-time basis to establish short-term effectiveness.
The insight gained from Google Analytics also helps to optimize a site based on visitor behavior. For instance, if visitors exit after reaching a certain page, this could be a sign that elements in its design and/or content need to be re-evaluated to better appeal to the target audience. Similarly, it can help track the success of any online strategies. Underperforming strategic decisions can then be re-evaluated and successful ones can serve as a template for future decisions.
Advantages and disadvantages
One of the main advantages of Google Analytics is the fact that the tool is free and easy to use. It also offers a lot of possibilities regarding the traffic monitoring for a registered site. Another major 'win' for the system is how easy it is to integrate external data sources and other Google products such as Google Ads and the Search Console.
Regarding its usage, one of its main selling points is the ability to customize reports to suit the unique strategic needs for every site. Google also regularly updates the platform and there are numerous official and third-party tutorials. You do not need to be a digital marketing expert to register your site for the service.
One of the main disadvantages of Google Analytics is the limited number of goals that can be monitored for each site. They are limited to a few predetermined categories. The reporting, especially standard reports, is also limited for the free version. With the paid versions pricing out most consumers, this is a big letdown. Once a user has set a goal for their site, it cannot be deleted. With strategic goals changing fluidly for online businesses, this can be frustrating.
Related links
To quote this article, just copy this link:
https://www.seobility.net/en/wiki/Google_Analytics