Website Relaunch
From Seobility Wiki
Definition
A website relaunch is where the business completely overhauls their site, effectively replacing the existing website with a newer, and better, version. This new website is usually designed and optimized to enable the business to meet its marketing goals. Any business that maintains an online presence has to be vigilant in terms of always updating and overhauling its site to ensure that it appeals to the target audience. However, in certain circumstances, the required changes are just too wholesale to be made on the existing website, hence the need for a new site.
Reasons for a relaunch
While there are many justifications for a website relaunch, from a marketing perspective, there are three main reasons that necessitate the action:
The existing website is not state-of-the-art
Innovation in online technologies occurs at rates that cannot be matched by any other industry. What is 'in' today can easily be considered 'ancient' in a few months' time. While this covers mostly the technological aspect, it can also include the content and design elements of the website. When a website is lagging behind in numerous key technology and design aspects, making small changes just will not cut it – this requires a relaunch introducing a new online platform.
An unsuitable or ineffective structure
There are numerous monitoring tools - such as Google Analytics - that measure visitor behavior and engagement levels. These are important to determine whether the website is interacting with the target audience in an intended manner. If this analysis reveals that the structure does not suit the target audience or if it does not engage them adequately, then changes need to be made to achieve a suitable and effective structure. In such cases, it is better for the new website to distance itself from its previous ineffective design by doing a complete relaunch. This signals the market that real changes have been made, and visitors who had a previously unpleasant experience are encouraged to try out the new site.
Changes to the corporate design
Brands regularly change their corporate design either due to mergers, acquisitions, or just to keep things fresh from time to time. A business's website needs to match the overall aesthetic of its branding. Therefore, it makes sense that any corporate rebranding effort needs to be accompanied by a website relaunch.
Approach
There are three main elements that are changed when relaunching a website:
Design
There are a lot of elements that are covered under the 'design' umbrella. This includes the color scheme, the use (and type) of image and video content, and making a site mobile friendly. A site's layout has to be attractive to its target audience. It also has to make navigation between different pages and sections easy and hassle-free, regardless of the user's device. For coherence, the design elements have to be similar to the overall style, imagery, and color scheme adopted by the offline corporate branding.
Content
Any site engages its visitors through the content it has. Different target audiences respond to different tones, the relaunch needs to ensure that the content is specifically crafted to appeal to the target group. This includes other technical aspects such as the keywords used for SEO (search engine optimization) purposes, which also depend on the desired target audience.
Features
An effective relaunch is usually carried out from a position of knowledge. A business owner needs to understand which elements of the old site were lacking, and what additional features to include in the new site. Common aspects that are a must-have during a relaunch include having a blog section, social media integration, webchat support, a frequently asked questions (FAQ) section, effective search functionality, and a site map. Proper marketing research will reveal other features that a target audience will better respond to.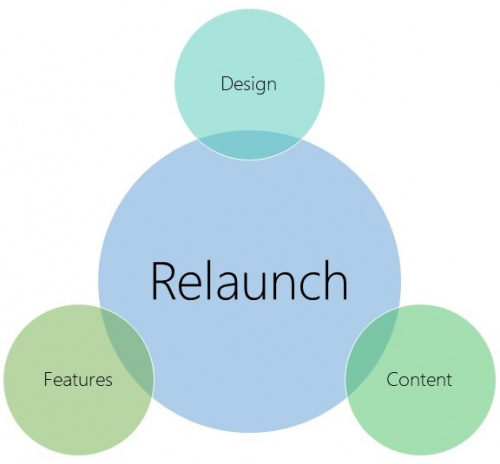 Figure: Main elements of a relaunch, Author: Seobility
Risks
People prefer familiarity. That is why the main risk of an overhaul is that existing customers might find the new layout off-putting. A big reason why customers establish loyalty with a business is that they enjoyed their previous experience and expect to have a similar experience in future visits. The same applies to website visitors.
This risk can be somehow managed by having an advance notice on the relaunch; At least, existing users will be expecting changes and will not be surprised by suddenly finding a different website. Your new site should also maintain the navigational experience of the design (unless it was problematic) to make it easier for users to adapt.
Importance for search engine optimization
SEO is concerned with most of the elements that will be changing during a relaunch. The business needs to ensure that the relaunch does not negatively impact the effective aspects of its SEO strategy. If the relaunch involves migrating to a different web address, then a 301 redirect needs to be in place to redirect visitors who type in the old web address to the new domain.
A relaunch also offers the best opportunity to analyze and revise your SEO strategy because some important elements can only be changed during a relaunch. Website content, images, video content, mobile compatibility, and other design elements all factor into search engine ranking. This is why it is so important from a marketing perspective.
The importance of comprehensive planning
A business's online presence is an extension of its physical (if any) storefront. It needs to project competence and professionalism, as it impacts the brand perception and reputation. Extensive testing needs to be carried out before launching the new website. Fewer things are more embarrassing for a business than a malfunctioning website during a much-hyped relaunch event. A/B testing is also important to compare the effectiveness of the new website against the previous version. The new online presence needs to outperform its predecessor across all measurement metrics to justify the cost and effort invested in the relaunch.
In summary: Website Relaunch FAQs
When should you consider a website relaunch?
Good reasons for a website relaunch are outdated technology or design aspects, a subpar structure, or a change in your corporate design.
What is the difference between a website redesign and a relaunch?
A website redesign focuses on upgrades of an existing website. Website relaunch, on the other hand, describes a complete overhaul that results in a replacement of the old website.
What are the main elements when performing a website relaunch?
The main areas to look at during a website relaunch are:
What are potential problems when relaunching a website?
Existing customers that are used to your current website layout might not approve of the new design and find it confusing.
Related links
Similar articles
To quote this article, just copy this link:
https://www.seobility.net/en/wiki/Website_Relaunch