Landing Page
From Seobility Wiki
What is a landing page?
Landing pages are standalone pages that users land on after clicking a link, an ad or a hyperlink in a text. Landing pages are offered and used in various formats. They are characterized by the fact that they only serve the purpose of arriving and are designed specifically for this. Landing pages are commonly used in online marketing for informing users, advertising products, etc.
Landing pages as a link target
Landing pages are typically accessed through a link which can be included in all kinds of media. In most cases, users arrive on a landing page after they have searched for a keyword in search engines and clicked on a search result. Advertisements such as banners or Facebook ads usually lead to a landing page as well. The same thing applies to ads in a social media post or a video.
Newsletters often contain links to landing pages where interested visitors will find the promoted campaign along with further information, content, and tips about the product.
The content or ad that links to a landing page should make users curious about the linked content. For newsletters, this should happen in a more detailed way than with short ads.
Goals of a landing page
Landing pages can be used in marketing for advertising purposes or to provide information about a special offer. Further goals could be the download of an app, newsletter subscriptions, or simply increasing the visitor's interest in a company. Niche sites on specific topics often aim to keep customers on the site for a long period of time and eventually encourage them to buy products from an affiliate program. So instead of just giving a brief insight, the landing page itself should contain enough information to make it an attractive read. Marketing videos on landing pages work the same way.
In online marketing, landing pages are also a popular way of generating leads or pulling visitors into the conversion funnel. In this case, visitors are often offered a service if they enter their contact data in a form and agree to the use of this data. This service could be an interesting ebook, contact with a marketer, or a newsletter. If your landing page contains an actual offer, the price and possible follow-up costs must be listed before and after the click.
Landing page design
The content of a landing page should provide exactly what the ad or link suggests. For example, if a visitor clicks on a banner about "insurance comparison" he is looking for information about that topic. Landing on the website of a food manufacturer makes the ad misleading, misses its point, and frustrates the user.
When designing a landing page, it is essential to tailor it to the needs of your target group. The page has to address them authentically and create trust. That is why landing pages should be clear, yet attractive. A hero shot, usually stock photos of people who allegedly use the product, can provide identification. The style of a landing page should also match the corresponding ad, i.e. it should use the same wording. By using a call to action, you can encourage users to buy a product, register for a service, or leave their data when they visit your page.
The design of pages that are used for data collection often follows the same scheme. One half of the page contains a form, the other one a text with further information. Of course you can also integrate the form directly into the text. Some marketers prefer working with pop-ups and overlays instead:while users read the text, an ad temporarily hides it and calls to action. In this case, you have to make sure that it is easily possible to close this overlay. Visitors who can no longer access the desired content because of an overlay may leave your website without return.
Example of a well-designed landing page
An example of a well-designed landing page can be found on the homepage of flickr. It is very appealing but still clearly arranged and animates users to register on the website through the central call-to-action.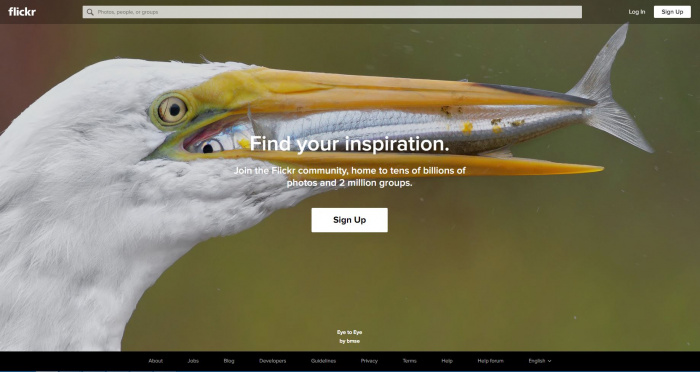 Screenshot with landing page of flickr.com
Importance for online marketing
In online marketing, landing pages are a central lever for increasing conversion rates. For this reason, they should be created or selected carefully for each advertising link. The site's professionalism also dictates the first impression a user gets of your service, product, or company. That is why you should not underestimate the importance of informative and high-quality content as well as good design.
A landing page can decide if a marketing campaign is successful or not. Visitors and potential customers will only make a purchase if they actually find what they expect behind an advertisement.
Related links
Similar articles
To quote this article, just copy this link:
https://www.seobility.net/en/wiki/Landing_Page