Link Exchange
From Seobility Wiki
What is a link exchange?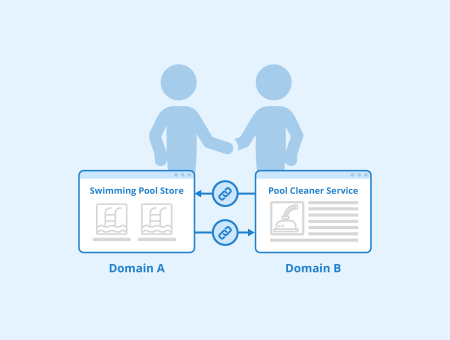 A link exchange, also called reciprocal links, is when two webmasters agree to link to each other's sites. This can be done for link building purposes in SEO but is also commonly done for general cross-promotion of each other's products, services or information. A link exchange can be either black hat or white hat depending on how it is done and what the reasons behind it are.
How a link exchange works
A link exchange works by two webmasters agreeing to link to each other's website or page for mutual benefit. Often, anchor text is chosen by each webmaster giving them more control over their link profile, but this doesn't have to be the case.
Reciprocal links can be black hat when done at scale, or when links are created from bad neighborhoods like low-quality linking sites or in link schemes. However, if there is a benefit to the user and link exchanges aren't done excessively, they are generally considered white hat and in line with search engine guidelines.
How link exchanges were used in the past
In the early days of SEO, search engines used fewer ranking factors than they do now and there was less focus on the quality of links. Back then, link exchanges were used as a major part of off-page SEO, with either paid or free link exchanges being used to grow a website's link profile and increase its PageRank.
These days, low-quality links have little to no value, and link schemes can even be penalized by search engines. This has led to link exchanges being used a lot less, with only genuinely beneficial link exchanges still offering any value.
Google's stance on reciprocal links
Google clearly states [1] that it only sees excessive link exchanges that are used solely for the purpose of cross-linking as being against their guidelines.
Since Google and other major search engines want websites with the best user experience to be shown in their search engines, this is what their stance on link exchanging is based on. As long as the links add value to users and aren't used to build backlinks at scale, link exchanges are generally accepted as white hat.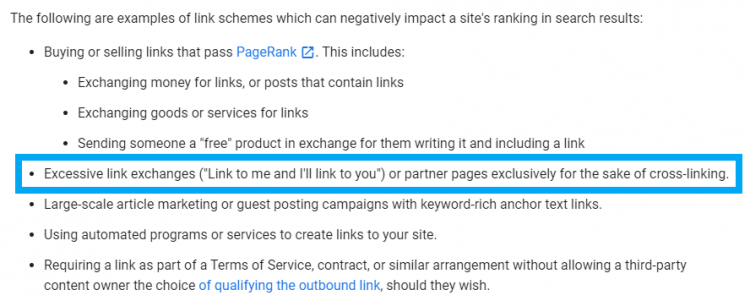 A highlighted section on developers.google.com that provides information on link exchanges
Relevance to SEO
Although not used often anymore, link exchanges can still be a good way of cross-promoting sites in parallel industries that aren't direct competitors. For example, an eCommerce store that sells swimming pools and accessories may link to a pool cleaner's website, and vice-versa, thereby promoting each other's services.
This drives more targeted website traffic to each site and creates more value to users. This can benefit a site's off-page SEO efforts and improve user signals on a site.
That being said, the relevance of the sites as well as their quality are important factors for successful link exchanges. This ensures they provide maximum marketing and SEO benefits.
References
↑ Link schemes Google Search Central. Retrieved 08 February 2021.
Related links
Similar articles
To quote this article, just copy this link:
https://www.seobility.net/en/wiki/Link_Exchange