Hero Shot
From Seobility Wiki
Definition
A hero shot is a general term for the main image which is used to represent a company's products or services on their website. A website's hero shot could also take the form of a video, illustration or a GIF.
This is a form of imagery which is used to capture the interest of potential customers who are visiting the website. The hero shot is typically the first image that a visitor to a company website will see.
Often, this one image will occupy the central position in a site's landing page. Furthermore, an image will be processed by a viewer at a far faster speed than text can be. As a result, it is a key contributor to a user's first impression of the business.
What does a hero shot normally look like?‌
In principle, a hero shot could capture anything. The image or video should make it clear what products and services the company can provide to a customer.
An effective hero shot is highly design-led and is styled in a simple, clear way. It is vital that the image is clear to understand, is uncluttered, and presents the products or services in an attractive fashion.
This could also be composed in a way which presents a 'bird's-eye view' of the product or service being depicted. This method of framing would provide the consumer with the perspective of the benefits that they would get if they made a purchase with this company. For example, the image may depict a user's perspective of an online application.
It is essential that the hero shot is composed in a way which would enable the consumer to easily picture themselves in that position.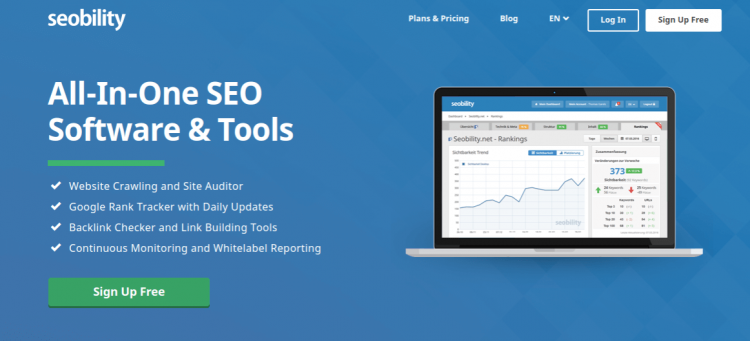 Above, you can see the hero shot that is used on the Seobility website
How to create a strong hero shot
An effective hero shot can be created by considering the following:
Its relevance - a hero shot should be evidently relevant to the business's services, and sit within the specific context of the copy. For example, if one image used on a bathroom creator's website could feasibly be used on a website advertising a cleaner's services, it is unlikely to be a successful image.
The emotions that it conveys - the image should evoke an emotional response from the audience as it demonstrates the benefits that they can get from making a purchase. For example, if it is a beauty product, it should aim to make them feel positive, attractive and confident. This is also a great opportunity to create a positive user experience of the landing page.
It should be subtle - if it is too heavily directed towards a sale this could deter the consumer.
The image should tie in to a company's branding and marketing strategy. It should also be consistent with the rest of the company's marketing channels and the other elements of the website.
The hero shot should also have an engaging, thoughtful caption or piece of copy situated directly alongside it, too.
It is advisory that a web designer does not use a stock photo as the hero shot for their website.
In addition, if possible, it would be beneficial to invest in the services of a professional photographer or graphic designer to create a hero shot. This image would then be taken in a photo shoot that uses the company's own products or features their real employees, to create a more believable and trustworthy image.
How to test the success of your hero shot
The success of a hero shot depends on its ability to direct customers through the store's conversion funnel, increase website traffic, and ultimately, boost sales. It should also create a positive impression of the brand amongst consumers.
This design element should enhance the user interface by making it easier for visitors to understand what the company has to offer them and follow the intended CTA of the company.
There are a variety of different website testing methods that you can use to gauge how successful a potential hero shot is. These include:
It may be beneficial to hire a consultant to help advise a web developer of the strength of a potential hero shot.
Importance‌ ‌for‌ ‌‌Online‌ ‌Marketing
Hero shots are useful for enabling a visitor to the site to understand, almost instantaneously, what the company does and get a positive impression of this brand. In comparison to text which takes time to read, a hero shot is the element of a website which is most likely to contribute to the immediate first impression that the brand creates amongst its online consumers.
Furthermore, a hero shot can enhance an online marketing strategy by helping an audience to get a better sense of the company's services and products (in the place of seeing these offerings in-person), and get a clearer sense of the brand's USP and values. In addition, a successful hero shot can create an aesthetically pleasing website, which evokes an emotional response from viewers.
These benefits will also help to increase traffic and boost a website's conversion rates, too.
Related links
Similar articles
To quote this article, just copy this link:
https://www.seobility.net/en/wiki/Hero_Shot