Google Custom Search
From Seobility Wiki
Features and integration into your website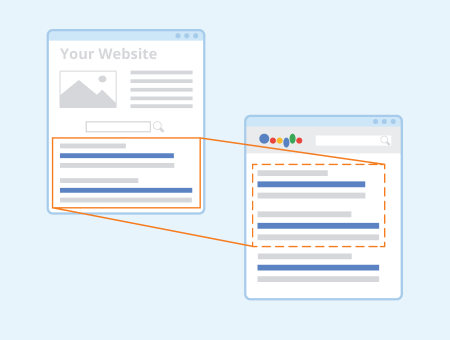 Google Custom Search (also known as Programmable Search Engine) is a Google service that lets website owners add a custom search box to their site. The platform was initially launched in 2006 and was eventually renamed to Google Programmable Search Engine. The main goal of this service is to provide a better browsing experience to website users, as they do not need to leave a site in order to run a search query. This custom search function can be added to all kinds of websites, from intranets to blogs.
Customization options
The Programmable Search Engine can be customized to return results from different sites. These could be an individual page, an entire domain, parts of a website, or the entire world wide web.
Website owners can also select a custom language. Language selection will be reflected in localized search results, and will not affect the content of the actual results.
Another customization option is the search engine's theme. Google's custom search comes with a selection of pre-built themes, but it is possible to customize the design and style of the search box and results page so they match the website's overall theme.
Additionally, functionality can be enhanced and customized to improve the user experience, for example with the addition of autocomplete, search results refinements, and thumbnails on the results page.
The Programmable Search Engine can also be customized to enable image and document search results.
Pricing
Google's Programmable Search Engine is available under two pricing models: paid and free. In total, there are four versions available depending on which pricing model is chosen.
Free options
Version 1, also called standard search element. This option features ads, optional Google branding, and has no daily query limits. This version is implemented client-side.
Version 2 is also free but only available to nonprofits. It has no ads, no cap on daily queries, features Google branding, and client-side implementation.
Paid options
Version 3 is a paid option that costs $5 for every 1,000 queries, can be implemented client or server-side, has no ads or Google branding, and the daily query limit is set at 10,000.
Version 4 is another paid option only available to site restricted engines. Its features are the same as version 3 except that it has no daily query limits.
It is also possible to turn the Programmable search engine into a source of revenue. Google offers website owners the option to display relevant ads on their site with the AdSense program.
Advantages and disadvantages
Advantages
Disadvantages
Google Custom Search and SEO
The Programmable Search Engine has no direct bearing on SEO in that setting up a custom search engine does not make a site rank higher or lower. However, since the platform was created to provide better user experience, it can help improve site retention rates because it makes it easier for website users to find the information they need.
Some custom features of the Programmable Search Engine can help highlight specific pages within search results. This is the case with the Promotions feature, which can be linked to pre-defined query terms. For example, a website selling computer accessories could create a promotion for 1TB external drives and define query terms like "external storage" or "external hard drive". When users perform a search using the linked query terms, the Programmable Search Engine would display the 1TB external drive promotion, which would be highlighted over other search results.
When integrated with other Google products, this service can yield useful insights for SEO purposes. For example, Google Analytics integration allows you to find out which are the top keywords being typed in by your website visitors.
Related links
Similar articles
To quote this article, just copy this link:
https://www.seobility.net/en/wiki/Google_Custom_Search