Google AdSense
From Seobility Wiki
What is Google AdSense?
Google AdSense is an online advertising program that allows website owners to earn money by generating clicks to ads placed on their website pages. The main goal of this scheme is to provide website monetization through contextually targeted ads – that is, through placing ads on websites, ensuring the ads are relevant to the content and context of that site, and to the user's search preferences. Website owners can then earn revenue based on the clicks or impressions generated by these ads.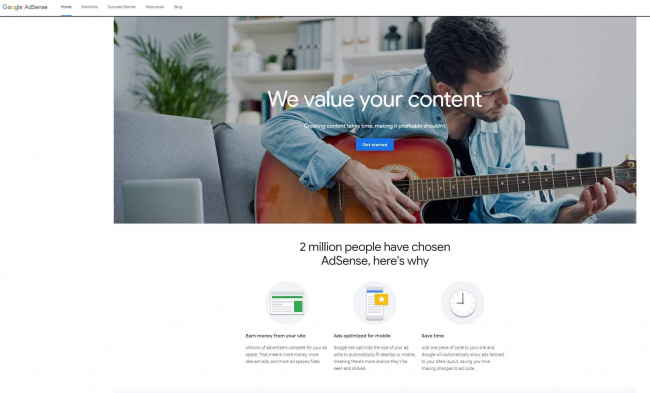 Screenshot of google.com showing AdSense's main page.
This program was first launched in 2003 and was initially called Content-Targeted Advertising until Google acquired the right to use the name AdSense, which was previously owned by another company. Google AdSense was highly successful and grew quickly, in only 2 years it accounted for approximately 15% of Google's total revenues. Gradually, AdSense fine-tuned its targeting features in order to make ads more relevant to users and their search habits. For example, in 2010 Google added functionality that relied on user search history to offer fitting ads. Nowadays, AdSense has evolved into a self-serve advertising platform.
How to participate in Google AdSense
Website owners (sometimes called publishers) must meet certain criteria to qualify for participation.
Joining Adsense
Publishers must be at least 18 years old before they can apply for an Adsense account via Gmail. They must also agree to the program's policies, especially in what concerns artificially inflating click or impression rates, or using deceptive methods to generate views.
Minimum payout
There are payment thresholds in place since ad revenue must amount to at least $100 or the equivalent in other currencies before a payout is made. Payment terms are set at 30 days.
Quality checks
Content must be unique, original, and high-quality. It must also be able to sustain the interest of the audience and build a loyal customer base. While search ranking is not a determining factor, priority is given to sites that have been functional for a few months and that have a certain amount of engaging content already published (approximately 30 articles). Page design and layout also contribute to eligibility based on quality, since qualifying pages must be easy to navigate, fully functional in terms of in-site search and navigation, and easy to read.
Criteria for exclusion
Some types of content may not be monetized using this scheme. This includes any content that promotes illegal activities, constitutes intellectual property abuse, may be deemed abusive, derogatory or dangerous, sexually explicit, contains malicious or unwanted software, or any content that misrepresents or may be misleading about the advertiser or the product/services offered.
AdSense as a complement to AdWords
Both AdSense and Adwords are online platforms that can be used to generate revenues independently or as a complement to search optimization strategies. However, there are some important differences between these platforms:
AdSense targets publishers, whereas AdWords is created as a business solution. A website owner can earn revenue from online advertising without having an official business (for example, bloggers).
Through AdSense, publishers can make online "space" available for businesses to place advertisements, which is done via AdWords.
Google will pay publishers for revenue earned via AdSense, whereas in AdWords it is the business that must pay to advertise.
The qualifying procedure is slightly more complex for AdSense than it is for AdWords.
Advertising media and Cost-per-click rates
When using this program, publishers have an option to choose between different advertising formats. Formats are specific ways in which an ad may be displayed to site users. Common formats include:
Anchor ads, usually featuring a fixed placement at the edge of the screen.
Display ads, such as banners.
Text advertisements, which are placed within a page's content.
In-article ads, which are placed in between paragraphs for native-content appearance.
Auto ads, a feature that relies on machine learning to determine whether to display an ad only if it is likely to yield good results.
AdSense mainly relies on a cost-per-click model (CPC), but there are different factors influencing CPC rates and how much publishers can earn. These are generally based on how much money businesses are willing to bid to advertise on the publisher's website. Important factors include website quality, reputation, and past performance on search results. Other elements that may influence rates are device type, niche content (as opposed to generic content), and ad format and size.
Advantages and disadvantages of Google AdSense
The main advantages of this program include the ability to generate revenue beyond the possibilities offered by search results only. In addition, AdSense's contextual advertising may help draw more traffic to a website. When users feel that ads are relevant and useful, they may be more inclined to visit the site if it saves them time to search for products or services by themselves. Another advantage is the user-friendly dashboard that offers detailed data that facilitate tracking performance.
There are some disadvantages to this program too. For example, AdSense is only available in selected languages, so not every website will be eligible to join. The program is not intended for new websites since they must have been running for at least 3 to 6 months. Moreover, traffic from social media sites is deemed invalid.
Related links
Similar articles
To quote this article, just copy this link:
https://www.seobility.net/en/wiki/Google_AdSense