Thumbnail
From Seobility Wiki
Definition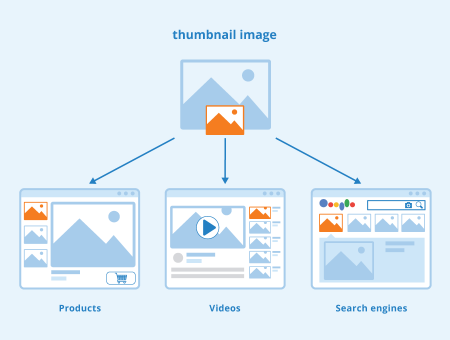 Thumbnails are downsized versions of larger images that are displayed instead of the original ones. The term was originally used to describe physical images or drawings with a very small size. Using thumbnails in the specific context of previewing digital images has been common since the 1980s. Since these thumbnails serve as preview pictures, they often contain a link to the original image. Clicking on thumbnails opens the larger version of the image.
Where are thumbnails used on the internet?
Google uses thumbnails in image search to display a variety of pictures on a single page with little loading time. This gives search engine users an overview of search results. When clicking a thumbnail, a larger version of the image is displayed along with alternatives and a link to the website where it was found.
Search engines such as Google also display thumbnails on the results pages and in the Google Knowledge Graph:
Screenshot with thumbnails in the Knowledge Graph of google.com
Company websites use thumbnails to create online galleries, for example with an overview of the product portfolio, references, or application examples. Artists and photographers use thumbnails to provide visitors with an overview of their work.
In online shops, thumbnails are used in several places. On category pages, for example, they provide an impression of products in each category. On product pages, thumbnails are often displayed to show different angles of the product. In many cases, a thumbnail is also included as a reminder next to each purchased product in the shopping cart.
The video platform YouTube uses thumbnail images to provide previews of video content. In addition, thumbnails of other, often thematically matching videos are displayed in a list next to the currently viewed YouTube video.
Reasons for using thumbnails
A thumbnail's small dimensions allow you to display many images on a single page, for example on the category pages of online shops. In addition, thumbnails show visitors what to expect when they click on the image. Finally, you can use video thumbnails as digital advertising banners to encourage viewers to watch a specific video.
Tips for creating thumbnails
You can create thumbnails with any image editing program. However, most content management systems such as WordPress automatically create thumbnails for uploaded images.
Depending on the thumbnail format and the original image content, it can be advisable to use just a section of the original. Converting a rectangular image into a square thumbnail, for example, leads to an unattractive distortion of the picture. Therefore, if you need only some elements of the original image for your preview, it is recommended to crop it.
Unlike larger thumbnails for videos, previews for photos usually do not include text, as this is difficult to read. You should, however, add a logo if sufficient space is available. A logo in the thumbnail increases recognition and allows viewers to associate it with a specific company or brand. After creating the thumbnail, you should also test its display on screens of different sizes and resolutions.
Importance of thumbnails for search engine optimization
Thumbnails offer the advantage of much smaller file sizes than originals. As a result, they load faster and require less bandwidth. Shorter loading times lead to lower bounce rates, especially for mobile internet users. Since bounce rates are an important factor for search engines, this can have positive effects on the ranking of a web page.
Google Image Search also uses thumbnails in search results. A high-quality preview image displayed here can improve your CTR and the traffic on your website.
Online shops in particular, as well as other websites, can use thumbnails to help structure content, visually display extensive information with little space, and encourage visitors to click. Thumbnails can thus help to increase visitors' dwell time. This is also an important indicator of a website's relevance and a ranking signal for Google.
Legal situation regarding thumbnails
Copyright applies to thumbnails just like to the original images. You should respect the legal regulations for using external images on your website in order to avoid problems. In general, you must always name the creator of an image. You can do this in the area surrounding the picture, for example, or in a separate picture credit. However, many authors do not allow the editing of images that have been released (for a license fee or free of charge) for private or commercial use. For images that are not authorized for external use, you must always obtain permission to use them and thus also to create a thumbnail.
Related links
Similar articles
To quote this article, just copy this link:
https://www.seobility.net/en/wiki/Thumbnail