Focus Keyword
From Seobility Wiki
What is a focus keyword?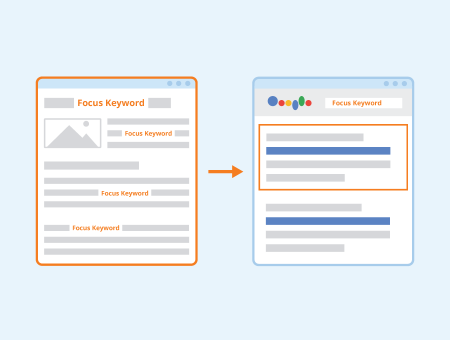 A focus keyword is a term that a web page is optimized for with the objective of getting the site to rank for that specific keyword in search results. As their name suggests, focus keywords are the primary keywords that a page is optimized for or the focal point of a piece of content, and they are closely linked to the page or site's main theme or topic. In addition to improving search engine rankings, focus keywords give a piece of content a strong and clear thematic focus.
Ideally, each piece of content should be optimized for 1 or 2 focus keywords and multiple secondary keywords. On that note, it is important to understand that a piece of content can rank for both focus keyphrases and other (longtail) keywords. When a web page is optimized for relevant focus keywords, there are major benefits from an SEO perspective, as will be discussed in Section 3 below.
How to find a focus keyword
To find a focus keyword, it is important to keep in mind that one of its main purposes should be to help search engines determine what a web page or piece of content is about. Therefore, the first step to find a focus keyword is to decide which keyphrase is the most relevant to each piece of content.
Another thing to bear in mind when trying to find the right focus keyphrase is that it must be related to the content you want to promote. Choosing irrelevant keywords will not only result in a negative user experience, but it can also have a negative effect on a website's ranking and on your SEO efforts.
Keyword research tools can help you find attractive keywords relevant to your niche that you can choose as focus keywords. Once you have found suitable keywords, you can create content that is optimized for these terms. There are free and paid versions of keyword research tools. For example, Seobility provides a helpful free Keyword Research Tool. Another popular free tool is Google's autocomplete feature, which displays the most popular search queries starting with a certain term once you type it into the search box. These keyphrases are a reflection of what users are looking for, so website owners can target focus keywords that are likely to resonate with their audience. However, it must be noted that this tool does not provide important keyword data, such as search volume or keyword difficulty.
Google offers other free features that can be used to find focus keywords:
The "related searches" feature, which appears at the bottom of a search results page. For example, someone trying to find focus keywords for a website selling "Italian olive oil" could type this keyphrase into Google's main search engine, then scroll down to the "searches related to" section, which displays keyphrases like "Italian extra virgin olive oil" and "Italian olive oil brands".
The "people also ask" feature, although this does not appear on every Google search. In the example above, this section displays a series of questions that could be used as focus keywords, such as "What's the best Italian olive oil?"
Once you have found potential focus keywords for your content, it is helpful to determine their overall search volume and how tight the competition is to rank for them. If competition for a focus keyphrase is tight or is dominated by large and well-established competitors, it might be necessary to find alternative focus keywords, ideally more specific or with the addition of modifiers. Using the example "Italian olive oil brands", it could be hard to rank high against established brands, so alternative keyphrases could be created by adding modifiers such as "affordable Italian olive oil brands".
Similarly, a low search volume usually suggests low popularity and means that the desired keyphrase would not bring much traffic to a site or piece of content. In short, finding a good focus keyword requires striking a good balance between relevance, search volume, and difficulty.
Importance for SEO
Focus keywords are essentially the target of all SEO efforts. Optimizing content for the correct keyphrases makes it easier for users to find your site and can help deliver targeted traffic, which is more likely to lead to conversions.
It is generally recommended to include these keywords in specific parts of a web page, including the page title, meta-description, one or more sub-headings, the first 100 words, and in image alt tags. Some content management systems have built-in SEO tools that suggest where to include these keyphrases for best results. This is the case with the Yoast SEO plugin or the Search Keywords tab in SquareSpace.
Similar articles
To quote this article, just copy this link:
https://www.seobility.net/en/wiki/Focus_Keyword