Content is King
From Seobility Wiki
Why is high-quality content so important for search engine optimization (SEO) and online marketing?
Besides technical on-page SEO and off-page optimization, high-quality content is one of the most important factors for a good ranking on search engines such as Google. High quality means that the content is relevant for users and provides a benefit for them, as this is recognized and rewarded by Google. While in the early days of search engine optimization (SEO) factors such as the number of keywords contained in a text still played a major role, search engines such as Google are now trying to evaluate the content of a website from the user's point of view. Therefore, high-quality content has become increasingly important in recent years for the ranking of a website and for online marketing. Inferior, irrelevant or stolen content, on the other hand, can lead to lower rankings.
Content SEO Checker
Check if your content is optimized for SEO
However, qualitative content is not only king in the area of search engine optimization but also animates users to return to a website, which at best entails certain actions such as the visitor's purchase transactions. In addition, high-quality content can contribute to building trust on the part of the customer, as a company thus proves competence and expertise. In addition, unique content is an easy way to stand out from competitors and leave them behind. Furthermore, users share content that offers them added value, so it can contribute to a higher reach of a website on the internet.
Providing relevant content for users in the form of texts, images or videos thus not only pays off for search engine optimization (SEO) at Google but also for many other areas of online marketing. In the next chapter, we will explain what you should bear in mind when creating such content.
What makes good content for SEO and online marketing?
Even though Google primarily analyzes text on a site, images and videos are also important content that you should optimize. In the following, we will explain how to optimize these three types of online marketing content.
Optimization of text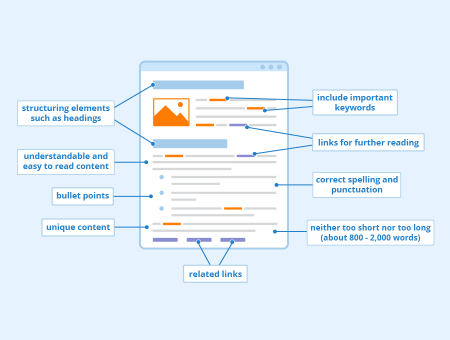 When writing copy for your site, make sure that the texts are well structured in order to improve readability. For this purpose, you should subdivide text into paragraphs and provide it with headings, teasers, and subheadings. Always keep in mind that you not only create new content for Google but also and especially for the visitors of your site, so your texts should be understandable and well legible written. Furthermore, you can make a text clearer and more user-friendly through tables, bullet points, highlights and tables of contents.
Another important factor is the length of your text. Basically, the texts on your website should neither be too short nor too long. Texts that are too long could result in Google not being able to assign a specific topic to your page due to the wealth of information. Thus your page achieves worse search engine rankings for the respective sub-topics than individual pages which are well optimized could do. In addition, you may have to formulate important optimization elements (e.g. meta title) in too general a manner, since the subject covered is too extensive.
Also, very long texts might be unclear and could deter users who are looking for compact and comprehensible information on the internet. However, if you cannot avoid very long texts, you should at least ensure a good text structure and possibly install a short table of contents for users. In addition, a balanced relation between the frequency of keywords in a text and the text length is important (2.5%-5%).
However, you should also avoid texts that are too short and do not offer sufficient added value. How long the text on a page should be in order to give readers all the necessary information depends on the topic and cannot be fixed in general terms. You should also bear in mind that long texts constructed for search engine optimization (SEO) without useful content usually do not offer much added value to users either and are thus not helpful for online marketing.
Basically, you should not concentrate too much on the ideal text length, as this is of secondary importance compared to high-quality content and also varies depending on the type and goal of your website.
Furthermore, when creating texts, always ensure correct spelling and punctuation. This is not only well received by readers but also by search engines such as Google. If a visitor leaves a page quickly due to many spelling or grammar mistakes, this leads to a high bounce rate and thus indirectly contributes to a worse ranking on Google.
One of the most important aspects is that your content should always be "unique". Google recognizes texts and text sections that have been adopted from other websites and rates them negatively. But also for the visitors of a page, a real added value is delivered by unique content, which motivates them to visit a page again.
Links to further content are usually also helpful for the visitors of your website and can contribute to a positive user experience.
Optimization of images
In addition to texts, pictures are also a good way to convey information or entertain users in online marketing. Here you have to consider similar factors as for text optimization. For example, you should avoid duplicate content for images too and always create added value for users. Furthermore, the name of an image file should reflect the respective content as accurately as possible, as it is used by Google to assess the thematic context of an image. The text within close proximity to an image also plays an important role and should, therefore, contain the most important keywords. In addition, you should make sure that all files are appropriate in size. Here you have to find a balance between a sufficiently high quality of the image and the shortest possible loading time of your website.
Optimization of videos
Just like texts and images, the videos on a website should also create added value for users in order to increase the relevance and reach of your online marketing content. Also, the file name and text around a video are important for search engines like Google in order to classify the content of it.
You can also add a call to action to the video itself or the page on which it can be found in order to encourage viewers to share the video and thus increase traffic.
In the following, we have summarized the most important points you should consider when creating high-quality content for online marketing:
structuring by paragraphs, subheadings, etc.
text length: neither too short nor too long
perfect spelling and punctuation
unique content with added value
appropriate file name for images and videos
relevant text near pictures and videos
appropriate file size
Related links
Similar articles
To quote this article, just copy this link:
https://www.seobility.net/en/wiki/Content_is_King