Bing Webmaster Tools
From Seobility Wiki
Definition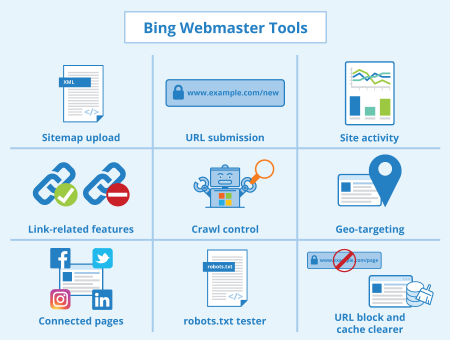 Bing Webmaster Tools is an online service that allows website owners to carry out a variety of site maintenance, indexing, and monitoring-related tasks. The site can also be used to troubleshoot some website performance issues. This tool was launched by Microsoft in 2009 and was initially known as Bing Webmaster Center. The service is free to use and can be found at https://www.bing.com/webmasters.
Website registration and verification
To use Bing Webmaster Tools, you will first need to create an account. Because Bing is owned by Microsoft, you can use an existing Microsoft account to log in or create a new one from scratch. Social logins are also allowed using a Google or Facebook account.
The next step is adding your website to the webmaster's account by typing in its URL address. You can manage more than one site from a single account, but all URLs must be entered and verified individually. The verification process is there to ensure ownership of the site and can be completed using three different methods: via XML file authentication, adding a CNAME record to the site's DNS, or by copying and pasting a meta tag into the website's head section. After verification is completed, Bing will start gathering and displaying data within a couple of days.
Dashboard and features
Once logged into your webmaster account you will be presented with the dashboard, which gives you access to important features, including:
Sitemap upload: This allows you to submit XML sitemaps to Microsoft's search engine so it can crawl and index the site's URLs.
URL submission: You can submit single or multiple URLs for indexing purposes. This feature can be used to get new pages indexed or to request a new crawl for modified pages. There is an upper limit on how many URLs can be submitted per day, set at 10,000.
Site activity: This displays an at-a-glance overview of data like clicks from search results, number of pages indexed, sitemap status, crawl errors, and number of times a website appeared in search results.
Link-related features, including deep link management and the option to disavow certain backlinks. Disavowing links is done to signal to Bing that certain low-quality or spam links pointing to a website should be ignored.
Crawl Control: Using this feature, you can set a custom crawl schedule so it does not impact bandwidth or server performance at critical times.
Geo-targeting: This feature allows webmasters to define a location-based audience, either for individual URLs or for the entire website. Once this parameter is defined, Bing will serve the page(s) to the desired locale.
Connected pages: By adding social media accounts related to the main website, Bing can track the total number of impressions across multiple online properties.
The updated 2020 version of Bing Webmaster Tools includes these additional features:
URL inspection tool:still in beta, this tool detects potential issues affecting URL indexing status.
Robots.txt tester, which can be used to ensure all URLs have the desired allow or disallow status.
URL block, which temporarily stops specific pages from being displayed in search results, and can also clear Bing's cache for pages that have been recently updated.
Bing Webmaster Tools and SEO
Bing Webmaster Tools offers many functions and tools that can be used by website owners to improve their site's overall SEO performance.
Search keyword reports offer insights into the top keywords driving organic traffic to your site. Keywords can be filtered by country, device, and language for additional insights into user behavior. Similarly, under Diagnostics & Tools, webmasters can also find query volumes for any keywords or key phrases in order to inform their keyword strategy and optimize their site's content.
Under the reports and data section, you will find SEO reports that are automatically updated approximately every 2 weeks, and which contain SEO suggestions based on best industry practices. The reports also highlight issues hindering SEO performance, rating their importance as high, moderate, or low.
Another tool that can be relevant for SEO purposes is the SEO analyzer, found under Diagnostics & Tools. This is an on-demand service that can scan any URL of the verified domain and generate compliance reports along with suggestions and priority items.
Within the dashboard, page traffic reports also display important SEO metrics, such as click-through rate, clicks from search, search keywords, and average search position.
In summary, the data provided by this Microsoft tool can be used to plan on-page and off-page SEO with the objective of increasing rankings and traffic.
In summary: Bing Webmaster Tools FAQs
Are the Bing Webmaster Tools available for free?
Yes. The Bing Webmaster Tools can be used free of charge. All you need is a Facebook, Google, or Microsoft account.
How do you add your website to the Bing Webmaster Tools?
You can add a website to Bing's service by logging into your account and entering your site's URL address. Note that you have to enter each URL individually.
What features does the Bing Webmaster Tool offer?
Some of the features of the Bing Webmaster Tools are:
URL inspection tool
Robots.txt tester
Geotargeting
and many more
Are the Bing Webmaster Tools relevant for SEO?
Absolutely. Tools like the SEO analyzer, traffic reports, and even SEO suggestions can help you plan your SEO strategies.
Related links
Similar articles
To quote this article, just copy this link:
https://www.seobility.net/en/wiki/Bing_Webmaster_Tools