Article Spinning
From Seobility Wiki
Article spinning – Definition & explanation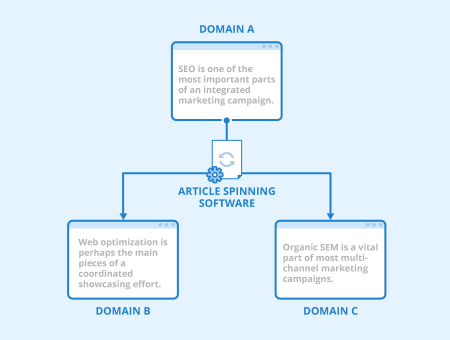 Article spinning is a term used to describe the rewriting of articles, often using software, in order to make them seem unique to search engines. This reduces the amount of unique content that needs to be written, saving the site owner time and costs as well as allowing them to scale their link building campaign.
In the past, article spinning was used in off-page SEO but is now considered a black hat technique and against search engine guidelines.
Article spinning in the past
In the early days of SEO, search engines had simplistic algorithms that were easy to manipulate. In the early 2000s, search engine algorithms used both backlinks and keyword density as important ranking factors. Since there were very few other factors, these factors had a large impact on a page's ability to rank.
Article spinning allowed website owners to create large numbers of articles with little effort. These articles could then be used for article marketing/guest posting, which worked by submitting large quantities of articles that include a backlink to the main site, to external sites.
Article spinning also made the creation of Private Blog Networks (PBNs) easier, as well as allowing website owners to create a lot of content for their main sites in little time. By completely changing how the post is written, article spinning created unique content in the eyes of search engines.
These days, article spinning is considered black hat and isn't used much. Since it creates thin content which is penalized by search engines, article spinning no longer adds much value in white hat SEO. The quality of spun articles is also often poor, creating a poor user experience on the site.
Article spinning and search engine guidelines
Article spinning creates thin-content articles that add no value to website visitors. Article marketing using article spinning is strictly against search engine guidelines. Scraper sites that spin content before posting it on their own site have been a target for Google and other search engines for a while now and will likely continue to be penalized by search engines in future.
Example of how content is spun
Below is an example of how text can be spun without changing the meaning. We submitted the sentence to various article spinning tools found online. It's not always the case that the text that article spinning software creates is accurate or flows well. This is one of the reasons why it's not used much today.
Original: SEO is one of the most important parts of an integrated marketing campaign
Web optimization is perhaps the main pieces of a coordinated showcasing effort
Website optimization is the main pieces of a coordinated promoting effort
Search engine optimization is probably the most pieces of a coordinated promoting effort
Below are some examples of how the same sentence could be spun manually:
Organic search marketing is an integral part of integrated marketing efforts.
Organic SEM is a vital part of most multi-channel marketing campaigns.
In nearly all integrated marketing campaigns, search engine optimization is highly important.
The legality of article spinning
Although spinning your own text is technically legal, article spinning that spins other people's content is generally considered an infringement of copyright law. However, it is difficult to prove whether content has been spun or not, causing this form of content theft to be difficult to prevent. This has caused issues in the past, especially with certain content farms where the information within the posts is often directly taken from other blog posts found online.
Its relevance to SEO
Today, article spinning is only relevant to black hat SEO and no longer has a place in a white hat SEO campaign. The content produced by spinning an article is often sub-par, thin content that doesn't provide any value to users. Although it used to be very effective, it's not used much today.
Related links
Similar articles
To quote this article, just copy this link:
https://www.seobility.net/en/wiki/Article_Spinning