Guest Blogging
From Seobility Wiki
Guest blogging – Definition & explanation
Guest blogging is a marketing method used in SEO and content marketing to promote a website/business in a blog post on another site's blog. In off-page SEO, guest blogging works to build backlinks and brand mentions to a site, improving its reputation.
Guest blogging can be used to drive referral traffic, increase brand mentions, build backlinks, build authority, and improve brand awareness.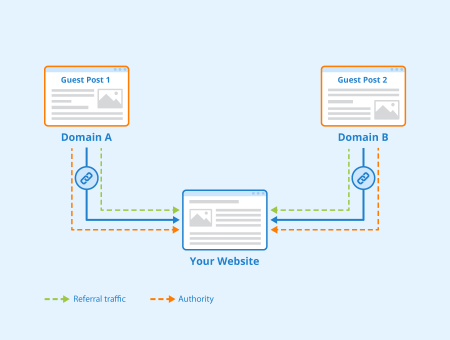 The history of guest blogging
In the early days of SEO, search engines placed a lot of focus on backlinks, and guest blogging was mainly focused on article submission sites that often published many low-quality blog posts. Large quantities of low-quality blog posts would be published on external sites in a bid to improve a site's rankings in the SERPs. This resulted in a lot of low-quality sites ranking on the first page.
As search engines started adding more ranking factors to their algorithms and started focusing on the quality of links as opposed to the quantity, guest blogging became more focused on relevance and site authority. Today, guest blogging is seen as a white hat off-page SEO method where high-quality blog posts are published on external sites in order to increase brand awareness and build backlinks to a site.
Search engine guidelines & guest blog posts
Guest blogging is in line with search engine guidelines as long as it is not done at scale and the blog post provides value to readers. Guest blogging at scale is generally considered as publishing a large number of low-quality guest posts within a short amount of time.
Guest blogging is still used in off-page SEO and can be very effective as long as the guest posts are authoritative, of high-quality, and add value to readers. Guest blogging solely focused on building links is considered a black hat SEO technique.
Guest posts vs sponsored posts
In general, guest posts are not paid for if they're done for SEO purposes. However, there are times when a company may decide to pay for an opportunity to post a blog post on another site. Paid blog posts are called sponsored posts.
Sponsored posts can still provide both content marketing and SEO benefits, but it's important that they are clearly labeled as sponsored in order to comply with search engine guidelines. Links should be labeled as Nofollow or as sponsored to ensure search engines understand the link is not an organic link.
Buying and selling Dofollow links is strictly against search engine guidelines, which is the main reason why sponsored posts are generally not used for link building purposes. Although used for content marketing and to build brand awareness, sponsored posts have limited SEO benefits.
Its relevance to SEO
Guest blogging can be an important part of a content marketing campaign as well as an off-page SEO campaign. Although not a mandatory aspect of an integrated marketing campaign, guest blogging with in-depth articles allows companies to demonstrate and grow their authority in an industry and improve brand awareness.
Related links
Similar articles
To quote this article, just copy this link:
https://www.seobility.net/en/wiki/Guest_Blogging