SEM (Search Engine Marketing)
From Seobility Wiki
Definition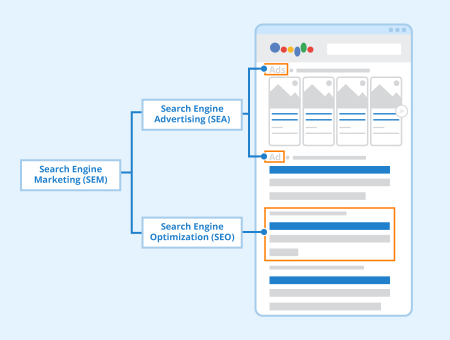 Search engine marketing is a term that was coined by author and journalist Danny Sullivan when Google became the internet's leading search engine at the turn of the millennium. Originally, it described SEA (search engine advertising) strategies helping companies and brands to increase their visibility in paid search results. That is the reason why SEM and SEA are still often used synonymously today.
By now, the majority of marketing professionals understand SEM as all measures that contribute to higher visibility in search engines, including search engine optimization (SEO) for organic search results. Thus search engine marketing combines the two disciplines SEA and SEO.
Search engine marketing is generally about reaching customers through targeted marketing via search engines such as Google. The main focus is not always the sale of products or services, but can also be on campaigns that increase brand awareness.
How does SEO work?
Google and its competitors like Bing use an algorithm to sort organic search results. SEO aims to optimize websites in such a way that they are rated as particularly relevant by this algorithm and ranked accordingly. In the best-case scenario, successful search engine optimization leads to optimized websites ranking among the top ten results for matching search queries. A typical example of an SEO measure is the integration of a certain density of keywords in online content. However, Google's algorithms take many more factors than just a website's text and keywords into account. Other important factors for successful SEO are a balanced ratio of text and images, backlinks, loading times, and technical metadata. Therefore, SEO is typically divided into on-page optimization (technology, structure, content) and off-page optimization (backlink building).
Search engine optimization has long since become a professional field, partly because Google subjects its algorithms to major updates from time to time. These can pose considerable challenges for search engine marketing. If Google changes its algorithm and your current SEO strategy no longer leads to top positions in search results, you could lose a lot of reach.
How does SEA work?
Search engine advertising means that companies pay for prominently placed ads in the search results. At Google, this is organized by Google Ads, which is based on an auction mechanism. Based on keywords, advertisers define the maximum price they want to pay to have their advertisements displayed above organic search results. Google then automatically displays the highest bidder's ads in a prominent position.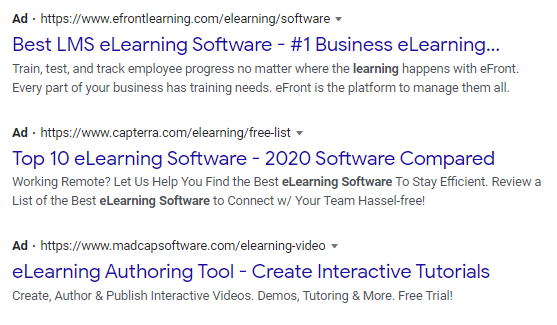 Screenshot of google.com, showing ads within the SERPs
These ads allow you to buy reach and attention in search engine marketing, shortening the time-consuming process of branding. The success of SEA is measured by click rates or business transactions (conversions), depending on your goals.
Although Google Ads considers the relevance of an ad and its landing page to calculate the ad rank, the most important factor remains how much you are willing to pay for one click on an ad. You can limit the use of your budget to specific age and gender groups, as well as cities, regions, and similar criteria. In social networks, SEA allows you to refine this microtargeting even further using criteria such as hobbies, religion, or political attitudes. The search engines for social networks with millions of daily search queries, such as Facebook, Instagram, and Pinterest, play an increasingly important role in search engine marketing.
Advantages of SEM compared to other types of marketing
Search engine marketing brings SEO and SEA together, which allows you to place your offers prominently in both organic and paid search results. Google does not always have to be the most important platform. Depending on individual offers and campaign goals, Facebook, Instagram, or Amazon can play the leading role for SEM.
Search engine marketing benefits from direct cost control, extensive options for measuring your success, and immediate availability in the SEA sector.
The decisive advantage of SEM, however, is that marketing starts with the customers' needs. They search for a specific product, service, inspiration, or information and SEA leads them directly to where they can find and buy it. The scatter loss is minimal compared to classical marketing in print, TV, and radio. Additionally, SEM often leads to higher click rates than banner advertising and other types of online advertising. Another advantage: SEA is typically charged per click (pay per click, PPC), not per view.
Google and other platforms that are attractive for SEM have a genuine interest in presenting relevant search results to users due to their business model. This has the advantage that search engine marketing can react quickly to current trends. In addition to Mobile First, this includes, in particular, the increasing number of search queries via virtual assistants such as Alexa and the growing importance of local search results.
Related links
To quote this article, just copy this link:
https://www.seobility.net/en/wiki/SEM_(Search_Engine_Marketing)