Negative SEO
From Seobility Wiki
What is negative SEO?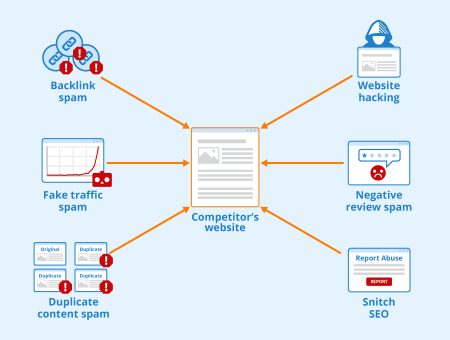 Negative SEO is the sabotaging of a website's rankings and works to move the competition down instead of organically moving a site up. Negative SEO is strictly against search engine guidelines and some forms of negative SEO are even against the law in certain countries.
Negative SEO is considered black hat SEO and is not part of a white hat SEO strategy.
Note: We do not condone nor encourage negative SEO. This wiki post is for informational purposes only and is meant to help webmasters understand how negative SEO attacks may harm their website, and what they can do to prevent it.
Forms of negative SEO
There are hundreds of different forms of negative SEO and there are likely many that are still unknown. Below are a few common forms of negative SEO.
Building spam links
Since spam backlinks can cause penalties or other ranking problems, negative SEO attacks in the form of backlink spam can occur. These negative SEO attacks often result in a large number of spam links from bad neighborhoods being built, usually through the use of software.
Although these negative SEO attacks can cause issues, they usually aren't very effective as this is a form of spam that Google has placed a lot of focus on in the past. Monitoring a site's link profile and using the disavow tool when needed can help reduce the effect of this form of negative SEO.
Hacking the site
Hacking a competitor's website is illegal and is one of the most harmful forms of negative SEO. Google removes sites with malware from search entirely, greatly damaging a site's incoming traffic. After fixing the hack and restoring the site, it's common to see long-term effects in the form of reduced search performance.
Good security practices and keeping the technology used on a site up to date are the most effective methods of preventing a hacked website.
Fake traffic spam
Bought traffic can be very detrimental to a site's user signals and can cause reduced organic search performance. This form of negative SEO is very difficult to defend against. However, there are certain things that can be done, like blocking the source of the traffic as well as trying to get in contact with the service provider.
Duplicate content spam
By scraping and publishing direct copies of a site's content, black hat SEOs may try to reduce a site's rankings by creating duplicate content issues. If the spam site scrapes the content fast enough and it is indexed before the original page, this can be very detrimental to a site's search performance.
The correct use of canonical tags as well as good internal linking practices and link building practices can reduce the effectiveness of this form of negative SEO.
By using a plagiarism tool or typing sentences from a site's posts into Google search, It's possible to find instances of illegal scraping. If any scraped content is found, it's good practice to contact the website owner to get it removed.
It's also possible to file a Copyright removal request with Google. When doing so, it's important to get proof that the content is owned by the site. This can either be proof that they wrote it first or proof that the other site is scraping it.
The latter of these can be achieved by adding sentences to the content that states it is created by the original site before it is scraped. This will ensure the sentences stating who the original author is are scraped too.
Fake removal requests
By posing as the site owner, a black hat SEO might try to get high-quality backlinks removed by asking the linking site to remove the link. This doesn't happen often and isn't generally very effective as webmasters tend to check who's contacting them.
However, when the webmaster falls for it and removes the link, it can be detrimental to a website's SEO performance. There's not much that can be done to combat this, although for very large companies, it can be worth buying domain name variations and domains with other extensions to limit abuse.
Slowing down a site
There are various methods that can be used to make a website slower, including excessive crawling and excessive UGC (user-generated content) submission, among various others.
This is an issue that is generally easy to deal with as long as a website owner monitors their page speed to ensure they discover it early. By blocking certain user agents or IP-addresses, excessive crawling or other server requests can be reduced.
Tarnishing a site's reputation
By submitting a large number of negative reviews, a black hat SEO can tarnish a company's reputation. The implications aren't just limited to SEO and can also reduce the effectiveness of other marketing channels.
Fake reviews are under scrutiny by various legislators around the world, with fake negative reviews already deemed unlawful in many regions.
Contacting the review platform can be beneficial if there are a large number of fake reviews. Also, ensuring a fast and polite response to all reviews can prevent a business's reputation online from getting too damaged.
"snitch SEO"
So-called "snitch SEO" is where SEOs report potential black hat or grey hat link building practices to a search engine in the hopes of a penalty being applied to a competitor's website.
Since all forms of building links are against search engine guidelines in some way, this can cause a lot of damage to a website. By only building white hat links, the risks of this form of negative SEO can be reduced.
Its importance for SEO
Negative SEO is taboo in the SEO industry and isn't used in white hat SEO. In many cases, there's not much that can be done to prevent it. By monitoring important website metrics like your link profile, website speed, copyright infringements, and online reviews, website owners can ensure that instances of negative SEO are discovered before they cause any real damage to their site.
By responding swiftly, the harmful effects of negative SEO can be reduced.
Related links
Similar articles
To quote this article, just copy this link:
https://www.seobility.net/en/wiki/Negative_SEO