Google Disavow Tool
From Seobility Wiki
What is Google's disavow tool?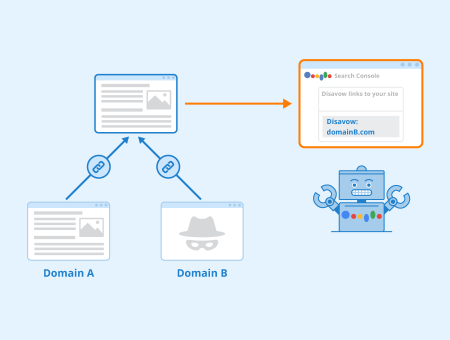 The Google disavow tool is a tool offered on Google Search Console that allows you to ask Google to ignore a certain backlink pointing to your page. This indicates to Google that you do not want the disavowed backlink to be taken into account when ranking your site. It is important to note that this is a recommendation to Google and doesn't necessarily mean they will not use the link when ranking your site.
The history of the disavow tool
Backlinks have always been a major part of SEO, but their use has changed over the years. Spamming large quantities of backlinks used to work well for improving your search rankings.
To help combat this black hat SEO technique, Google introduced the Penguin algorithm update, which worked to combat shady link building tactics. This update was one of the first updates that shifted off-page SEO from a focus on link volume to a focus on high-quality, relevant links.
The disavow tool was launched in the last quarter of 2012, and at first, the consensus was that since the Penguin update penalized bad links, you should try to disavow them where possible. However, that changed as new versions of the penguin update were launched.
When the fourth version of the penguin update was rolled out in 2016, Google moved from penalizing bad links to devaluing them. This meant that bad links were no longer penalized but simply not counted towards a site's ability to rank according to Google. This led to many SEOs using the disavow tool more sparingly, and some even considering it completely useless unless there was a manual penalty on the site.
When to use the disavow tool
The disavow tool is a tool that should be used sparingly. It should only be used when someone suspects that their site is about to be penalized by (a) link(s), or has already been penalized. It is recommended to try and get a link removed on the site it's on before attempting to use the disavow tool since disavowed links can still be counted by Google.
According to Google[1], the disavow tool should only be used if you have a manual action against your site, or if you think you are about to get one. Removing links can harm your site's search performance, so the disavow tool should only be used when you are confident that a link is harming your site.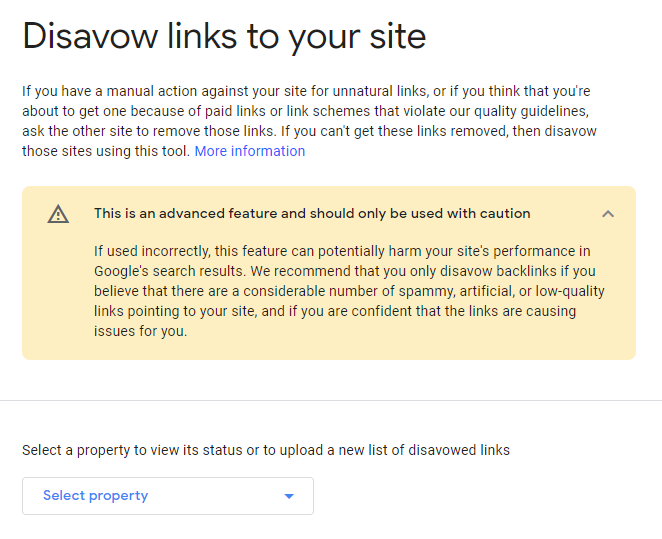 An image of Google's disavow tool
Its relevance to SEO
Although the disavow tool isn't used much in SEO, it is very important on the rare occasions when a site suffers a manual action, or a site has a large number of highly toxic links.
Preference always goes out to try to manually remove any toxic links from the pages they are on, but if this isn't possible, the disavow links tool gives you some control over links pointing to your site and can help remove or prevent penalties.
References
↑ Disavow links to your site Google Search Console. Retrieved 02 February 2020.
Related links
Similar articles
To quote this article, just copy this link:
https://www.seobility.net/en/wiki/Google_Disavow_Tool