Mailchimp
From Seobility Wiki
What is Mailchimp?
Mailchimp is a US cloud-based marketing automation platform and email newsletter provider. Mailchimp originated in 2001 as a paid-for service, and also adopted a freemium model in 2009, after which user numbers soared. The company is one of the most successful service providers in its industry and offers its solutions according to the principle of "Software as a Service" (Saas). This means that customers need no additional software on their computer or server but can use a browser-based user interface to access the tool.
Features of Mailchimp
Mailchimp has a range of plans offering email delivery and analytics.
Campaign creation: Mailchimp allows simple and effective creation and delivery of email campaigns and enables the management of subscriber lists, customer targeting, and detailed reports to enable analysis and, ultimately, drive growth. This key customer data is designed to drive more effective future communications.
Template design: Subscribers have access to a range of pre-designed email templates along with the option to create custom templates.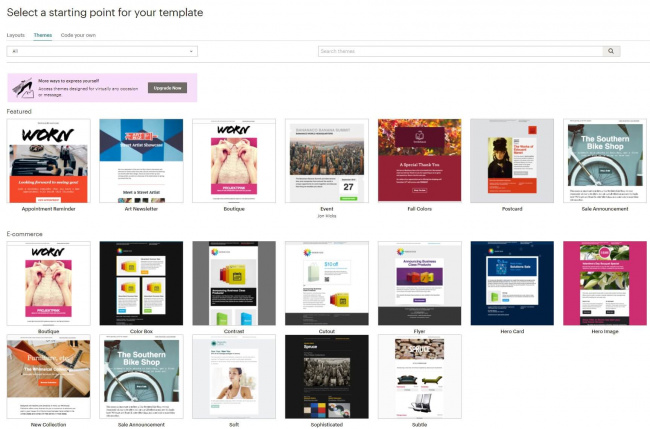 Screenshot showing different templates of mailchimp.com
Free and paid-for options: Mailchimp's freemium model, for SMEs and start-ups, allows up to 12,000 emails a month to be sent to a maximum of 2,000 subscribers. This also gives the option to send 2,000 emails in any one 24-hour period. A wide range of paid-for plans offer, as expected, an increasing number of options, with bespoke tools to help customers contact clients - and prospective clients.
Mobile functionality: An integrated Mailchimp mobile app, on both IoS and Android, facilitates the delivery, tracking, and analysis of email campaigns.
Customization: The platform's users utilize tools to categorize their email list to a wide range of specific audiences. The RSS-to-email option allows automatic delivery of email newsletters when, for example, a business blog or online campaign is updated. Pre-designed email marketing automation and the ability to add logos and insignia are other features from Mailchimp. Existing email lists can be easily imported and sign-ups integrated.
Online help: An informative series of tutorials, both written and on video, allow the platform's users to get the best out of the Mailchimp experience.
Targeting facilities: Mailchimp tools let businesses target newsletters to clients based on specific criteria, for example, geolocation or click history. This details who is responding, or not responding, to newsletters, and who is clicking on what within the document. Campaigns, such as A/B testing, help users hone their marketing strategies - for example, by sending alternative emails to different subscribers and analyzing the resulting engagement. Harvesting these key customer data is designed to drive more effective future communications. Mailchimp customers can also send out 'blast' emails to their full subscriber lists, along with more nuanced options.
Analytics: Reports generated include newsletter subscribers' Twitter reactions, along with intelligence gained from Mailchimp's integration with Google Analytics.
Advantages and disadvantages of Mailchimp
Advantages:
The service provides ease and convenience of use, with the ability for a business to promote goods and services via newsletters across email, social media, and landing pages, from one single platform. Mailchimp's pricing plans are designed to suit all business budgets, and there is clarity in which plan enables which services. As the market leader, app and website integrations mean Mailchimp users can connect with their customers via more than 300 external sources, including Wordpress, Lightspeed, Slack, and SurveyMonkey.
Disadvantages:
Mailchimp caused some controversy in 2019 by charging businesses for unsubscribed users in their databases. Effectively, new users are charged per contact, instead of the previous model of only subscribed contacts being charged for. As the biggest player in the field, some critics have alleged some complacency by Mailchimp, and a perceived reluctance to respond to criticism.
Alternatives to Mailchimp
Constant Contact: A popular email marketing service targeting SMEs and non-profits. A drag and drop editor allows the quick creation of professional-looking email newsletters. It also features built-in eCommerce solution tools.
Sendinblue: An SMS and email marketing platform for business, allowing the creation and sending of email newsletters, Facebook advertisements, and live chat. Its personalized marketing automation software lets subscribers send emails to a targeted audience list based on previous user behavior.
Drip: An email marketing automation provider designed for eCommerce groups, featuring advanced personalization features. Drip reaches customers via email delivery and the creation of user engagement via social media channels.
GetResponse: The email marketing software provider is specifically designed for small businesses. It delivers reliable email marketing, including automation, landing pages, and integrations with business-related apps including Slack and WordPress.
Sender: A multipurpose email marketing platform that fuses all necessary features and tools for a complete marketing experience. It allows businesses to nurture their clients via different marketing channels using a combination of SMS + email automation, popups, high deliverability, and much more.
Importance for online marketing
Online newsletters are vital for businesses wishing to effectively market their goods and services. Even if your business is great and you have innovative ideas, you still need to reach your target audience. Newsletters and platforms like Mailchimp offer a wide range of features and can help increase your reach.
Related links
Similar articles
To quote this article, just copy this link:
https://www.seobility.net/en/wiki/Mailchimp