Email Marketing
From Seobility Wiki
Definition
The term email marketing refers to a set of actions and techniques that rely on emails to promote and sell products and services. You can think of email marketing as the digital version of direct mail. However, this type of marketing involves more than simply sending an email to a lead or customer. Instead, it refers to a coordinated campaign over a specific period of time.
Like other forms of online marketing, these techniques can be used to build relationships with existing and potential customers and to support lead generation campaigns.
This is an effective alternative to one-to-many communications used in traditional marketing, where information is released from a single source (e.g. radio, TV, newspapers, etc.). Instead, email marketing draws part of its success in that it is a form of one-to-one communication, which can deliver tailored content to individuals based on their interests and preferences.
There are several reasons why email marketing is popular in online marketing:
It delivers highly targeted information and personalized content. Doing so shows that a business is committed to putting customers first and can help drive loyalty.
Email marketing uses a medium that the audience is already familiar with since statistics show that more than 90% of email users check their messages every day.
It is easy to implement since there are several automated platforms that can send emails to an entire contact list, by segments, etc.
In addition to being able to send emails to leads and customers, these platforms can also track and measure data that help in redesigning future campaigns.
Email marketing is a cost-effective solution, especially when compared to direct mail campaigns, printed materials, and paid advertising. As such, it suits all kinds of companies irrespective of business size.
Campaign types
Email marketing campaigns can take many forms, but the most common are:
Mailings / Mailing lists
The majority of businesses have a database featuring a list of email addresses. These can be used to launch campaigns aimed at generating leads or encouraging existing customers to take a specific action. A mailing list campaign could include anything from surveys to abandoned shopping carts, exclusive deals, customer birthday offers, etc.
Newsletters
This type of email marketing campaign involves sending digital newsletters to subscribers on a mailing list. Newsletters are sent periodically and contain a roundup of curated content that is relevant to the audience. This could be new product releases, sneak-peaks, tips, interviews, subscriber-only deals, links to blog posts or how-to videos, etc.
An effective email marketing campaign encourages readers to click on links that will take them to the sender's website, generating more traffic and driving exposure. They can also prompt readers to visit a store, attend an event, request a trial, or any action that underscores business goals.
Success factors
Email marketing has higher conversion rates than social media campaigns. Some studies claim conversion rates could be up to 40 times higher, but success depends on how a campaign is executed. Success factors include:
Content that is relevant to customers
Relevance is crucial to prompt readers to open an email. Relevant content can also inspire customers to learn more about a product, service, company, or to spread the word themselves.
Valuable emails instead of spam
To avoid getting emails deleted - or worse, marked as spam -, they must deliver something of value and not simply ads. Emails should also comply with anti-spam laws and with current spam filter technology.
Meaningful subject lines Effective subject lines compel the audience to read an email and to act on the call to action. Subject lines should be short, direct, memorable, and personalized whenever possible.
Individual customer approach
Personalizing the emails you send in each campaign can increase open and click-through rates. Studies have found that this type of communication can generate transaction rates up to 6 times higher than mass emails.
Attractive design
An attractively designed email campaign grabs the reader's attention and keeps them engaged while driving click-throughs. Layout, typography, white space, and animation should all be carefully designed. It is particularly important that emails are designed to be read on mobile devices. The structure and design of every email marketing campaign must have a professional look.
Compliance with legal requirements
Successful campaigns comply with legal requirements, especially those concerning user consent and transparency in data collection, use, and storage. Each region has its own guidelines (e.g. CAN-Spam in the US and GDPR in Europe), so take some time to familiarise yourself with the details of applicable laws.
Example of good email marketing
The South by Southwest festival (SXSW) provides an example of a well-designed newsletter tailored to the needs of the target group. Being a film and music festival, their newsletter focuses on appealing images instead of text.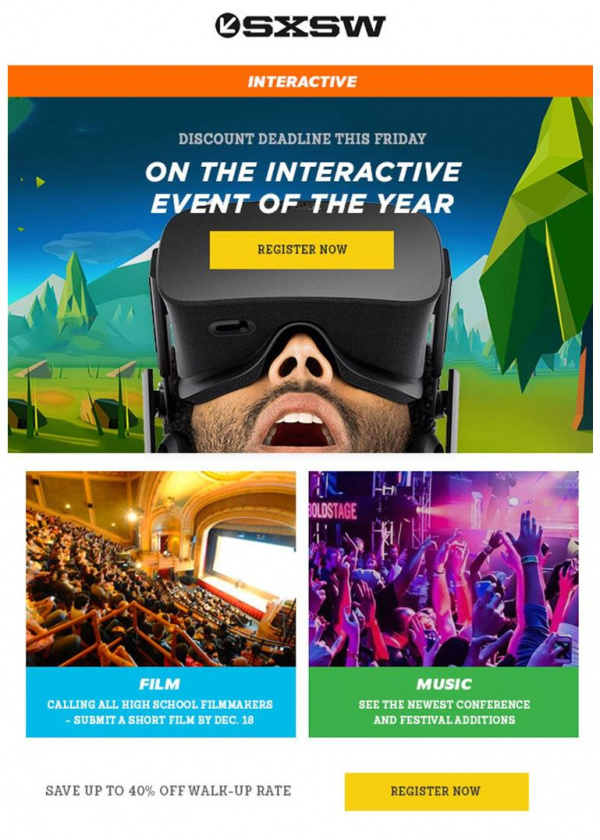 Screenshot of a newsletter of sxsw.com
Related links
Similar articles
To quote this article, just copy this link:
https://www.seobility.net/en/wiki/Email_Marketing