Linkbait
From Seobility Wiki
What is linkbait?
The term linkbait refers to content that is created in a way that it attracts the audience's attention and generates inbound links. The concept behind linkbait is delivering something of value which is deemed link-worthy by the target audience. Essentially, linkbait is a form of link building.
Using this technique successfully requires having detailed knowledge of the audience and their needs. This often means creating a reader persona and updating it regularly to ensure linkbait content stays relevant and inspiring.
Requirements for successful linkbait
Content created for linkbait purposes must be engaging and provide value. The following good practices are important for successful linkbait:
The piece's title should be worded to build anticipation. The use of superlatives is common.
Another important factor is a strong visual component. This can include infographics, high-quality images, and/or videos.
The content's structure is also important. It should be designed and presented in a way that is visually appealing and easily skimmable. This includes making good use of white space, typography, the adequate use of bold or larger font sizes, bulleted lists, headlines, etc.
Besides the content's structure, it should also be original. Usefulness is important, so the content must have a practical focus or touch on known pain points.
To increase your credibility, you should include sources, ideally as links to other pages.
Additionally, the piece should be relevant to the audience and ideally based on data obtained from keyword research to ensure it catches the reader's attention.
Linkbait can also be timely and often covers seasonal trends or news stories.
Linkbait techniques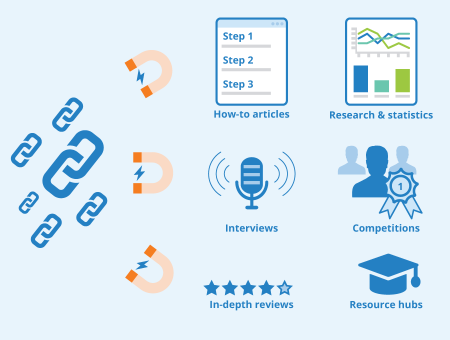 Linkbait pieces use so-called hooks, which are specific techniques that grab the audience's attention. Some of the most popular include:
How-to articles, complete guides, tutorials, step-by-step instructions.
Data-rich pieces, like original research, surveys, statistics, case studies, and polls.
Articles in list format, tips, hacks, cheat sheets, etc.
Resource pages with links to authoritative sites.
Proprietary tools that the audience may find useful.
Offering access to exclusive or newsworthy content that lets the audience be the first ones to know about a new development (e.g. sneak peeks, trials, unboxing videos, etc.).
In-depth reviews.
Interviews with industry leaders.
Competitions.
Content that presents unconventional points of view, myth-debunking pieces, or controversial opinion articles.
Ego bait: this marketing technique aims to get the attention of influencers or personalities that are known and respected by your audience, in the assumption that they will share or link to the piece themselves.
Emotional hooks: moving or compelling content that establishes an emotional connection with the audience. This can include anything that creates surprise, intrigue, humor, awe, or anger, as these emotions often give readers a reason to click on a link and share it.
Irrespective of the technique used, it is important to promote linkbait content in spaces where it is likely to reach your audience. This includes social media, email campaigns, or reaching out to known bloggers or influencers. Seeding techniques can also be applied to linkbait content so it can capture links from a variety of online spaces.
Advantages and disadvantages
A positive aspect of linkbait is that it can be an effective way to build an audience organically. Just like other forms of link building, it can boost website traffic.
Unlike paid marketing or advertising techniques, linkbait does not require a financial investment – apart from the costs for content creation and possible promotion.
Linkbait can also help content go viral, resulting in greater exposure and increased brand awareness.
Of course, linkbait is not without fault and involves some risks. If the audience deems the piece misleading, this can erode trust and damage brand reputation.
Another disadvantage of linkbait is the limited scope of this strategy since more pageviews do not always lead to better conversion rates.
Importance for SEO
Like other digital marketing strategies, linkbait can have a positive effect on SEO. Its ultimate goal is organic link building, which remains an important contributing factor to good SEO performance.
Building links through linkbait can increase targeted referral traffic and help build or solidify domain authority, which can improve search engine rankings as backlinks are still one of the most important ranking factors.
Effective linkbait also has a qualitative component, since it focuses on providing outstanding content that gets shared and linked to. From an SEO point of view, quality content is another important ranking factor and can help boost or maintain site ranking.
Related links
https://www.webfx.com/blog/marketing/examples-of-great-link-bait-how-they-succeeded/
Similar articles
To quote this article, just copy this link:
https://www.seobility.net/en/wiki/Linkbait