Domain Authority
From Seobility Wiki
What is Domain Authority?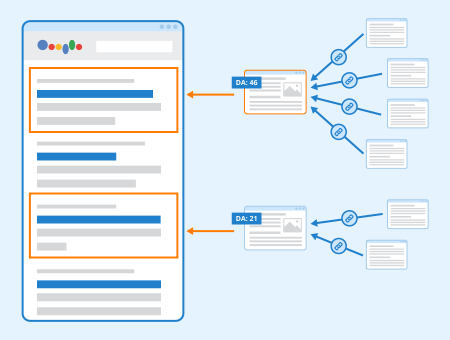 Domain authority, also called website authority, is a term used to describe how authoritative a domain is based on the backlinks pointing to the domain, as well as other off-page SEO factors.
The term was first coined by Moz and is used in their DA score (Domain Authority score), which attempts to measure the authority of a domain name in the same way that search engines might do so. Today, domain authority is used to reference the concept of the authority of a domain in general and is therefore no longer solely linked to their tool.
When SEOs talk about domain authority or the authority of a domain/website, they are generally referring to the overall concept. This can cause confusion to SEOs that are just starting out.
MOZ DA score
The Domain Authority Score is a metric developed by Moz that aims to provide an indication of how likely the domain is to rank in the SERPs. The DA metric uses various off-page SEO factors to gauge the authority of a domain, giving them a score between one and one-hundred.
Domain Authority Score works on a logarithmic scale that makes it far easier to increase lower scores than higher scores. Moving a DA score of 10 to a DA 20 is far easier than going from a DA 50 to DA 60.
Although Domain Authority Score can be used to provide you with an indication of how authoritative a domain is and how likely it is to rank on search engines, it is not a factor directly used by Google or other search engines.
Various other tools exist that provide a similar score to domain authority, often with relatively similar names like domain score and domain rating. All these tools aim to provide you with an indication of the chance a domain has to rank in the SERPs but are not used by Google directly.

An image of our SEO Wiki with the Moz Toolbar active in the browser, showing the Domain Authority of our site.
Domain authority is used as a term to describe the "power" a domain has. A domain with a lot of high-quality backlinks from highly relevant pages is generally considered as a domain with high domain authority. New domains or domains with very few links can be seen as having a low domain authority.
When building links to a domain, an SEO may say that they are working to increase the domain's authority. However, other off-page factors like brand mentions, citations, and social media promotion can also be considered as factors that increase the subjective authority of a domain.
The idea behind domain authority is based on factors that search engines have admitted to using, like backlinks, or the authority of a domain name as mentioned in Google's Quality Rater Guidelines.
However, it is not something directly implemented by search engines. SEOs use tools that provide indications of a domain's authority as yardsticks to provide an extra, measurable guideline to their SEO efforts as opposed to a direct goal. The main KPIs used in SEO are based on direct results like website traffic and conversions, among others.
Why it's important for SEO
Although domain authority isn't directly used by search engines, it provides extra insight into how your overall site may compare to other sites on the web. This can help SEOs and webmasters optimize their site by providing them supporting data on their off-page SEO progress.
Related links
Similar articles
To quote this article, just copy this link:
https://www.seobility.net/en/wiki/Domain_Authority