Content Marketing
From Seobility Wiki
Definition
Content marketing is a marketing technique that aims to inform, advise, or entertain visitors with high-quality and relevant content and thus convince them of your company without directly pushing them to buy your products. Instead, you want to build a connection between your business and your target audience. In online marketing, it is often an essential component of a company's communication strategy. Content marketing lets you address complex issues and inform your customers in a more detailed way than with traditional advertising campaigns. However, you have to make sure that your content offers value to users so that they have an incentive to access it.
Content marketing comes in a variety of forms, such as
Blog posts
Tutorials
Infographics
Videos
Podcasts
Advisory pages
Encyclopedias
Software
Games
Tests
Polls
Studies
White papers
E-Books
FAQ
and much more
Content spread through this kind of marketing is usually provided for free, for example on a website or blog.
Difference between content marketing and classic advertising
Content marketing can be distinguished from classic banner ads, commercials, etc. by the fact that it does not highlight your company's and product's positive characteristics. Instead, it focuses on providing high-quality content that is valuable to your potential customers. Good content marketing should not be perceived as an advertising measure. This means that you should not try to push customers to buy your products, but rather encourage them to interact with your company, which ultimately increases business revenue, for example by generating leads or sales. The goal of content marketing is to make users want to access and consume your content by choice. However, this is only possible if you know your target audience and create content that fits their interests and desires. If you do this right, you can win fans and brand ambassadors, which can possibly lead to a higher number of conversions than with classic marketing strategies.
The following table shows the differences between classic advertising and content marketing using an exemplary comparison between banner ads and how-to guides.
| | Banner ads | Guides |
| --- | --- | --- |
| content focus | positive characteristics of a product or company | extensive information on a specific topic |
| quality standards | low | high |
| value | does not benefit customers | provides value to customers |
| goal | product purchase | interactions, customer loyalty |
| model of communication | one-sided | two-sided (customer retrieves information) |
| viral effects | little or no viral effects | wide-ranging viral effects possible |
| target group | tries to reach a broad mass of people | can be tailored to specific customer segments |
Goals of content marketing
Content marketing can be used to pursue a multitude of both short-term and long-term goals.
Short term goals of content marketing could be to increase interactions between your target audience and your business. Content marketing can also be used to increase the reach of your brand through social media shares and word-of-mouth communication. This enables you to gain new visitors to your website who can be converted to customers later on.
In the long run, providing high-quality content can increase the number of returning visitors to your website and help you build a community. It can also improve the trust of your customers and thus lead to higher retention rates. In addition, content marketing allows you to build a brand and raise awareness because it can influence the way people perceive your company or products. Thus, it is a great means to improve your company's reputation. Furthermore, high-quality content is one of the most important ranking factors for Google and other search engines, which is why content marketing is also beneficial for search engine optimization (SEO).
Content marketing approaches
When implementing content marketing for your business, you need to consider two basic approaches: push and pull marketing.
Push marketing means actively promoting paid (but still high-quality) content in your audience's environment, e.g. through sponsored contributions on third-party websites or blogs.
Pull marketing, on the other hand, includes publishing unpaid content on owned communication channels, such as your website or social media sites, or on third-party channels. In this case, the content is not pushed to potential customers but they rather consume it by choice because of its high quality and usefulness.
Example of content marketing: Whole Foods Market
A good example of content marketing can be found on the website of Whole Foods Market. It provides visitors with lots of recipes, healthy eating tips, holiday recipes, shopping lists, and more.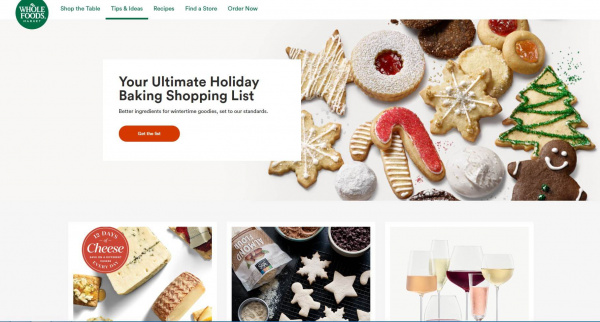 Screenshot of wholefoodsmarket.com
In addition, Whole Foods Market runs a blog that informs visitors about new products and how to prepare or serve them.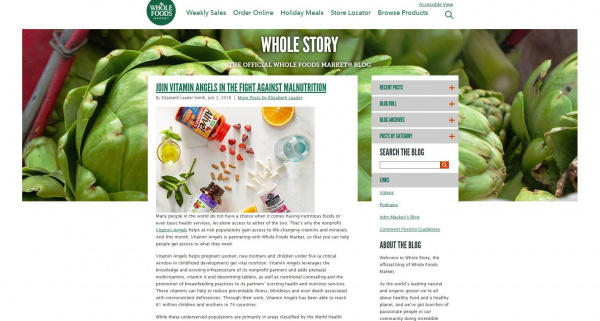 Screenshot of wholefoodsmarket.com
This example shows that Whole Food Market provides their visitors with more than just entertainment. They offer detailed information about nutrition, cooking, recipes, and healthy eating. This fits the target audience well and satisfies their needs, which is why the website serves as a good example for successful content marketing.
Related links
To quote this article, just copy this link:
https://www.seobility.net/en/wiki/Content_Marketing