Keyword Advertising
From Seobility Wiki
Definition
Keyword advertising is a type of online advertising. It harnesses the power of search engines as a tool to find information, and utilizes this to the advantage of the company. The aim through this type of advertising is to put your company immediately in front of the customer, as the first option in the list, when they search for your services online.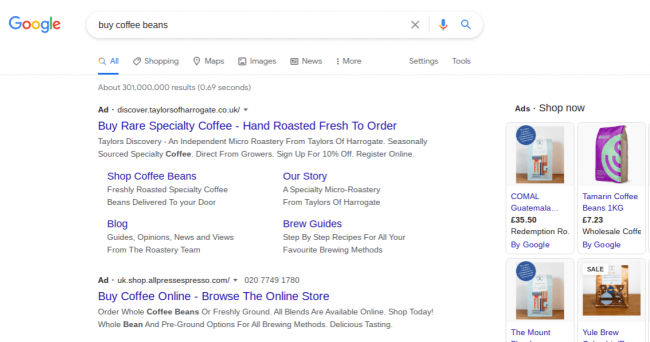 A screenshot of a search page featuring a number of keyword advertising campaigns, taken from google.com
This method requires users to identify keywords that are commonly searched by their target market on search engines. Then, individuals bid against their competitors to pay to have their company's web page feature on the results of search engines when this keyword is searched for.
If your bid is successful, then an advert for your business web page will feature on the search results for that keyword. The success or failure of this advertising method lies in the keyword research that you first undertake. It is essential that you identify a strong keyword to bid on - one which is commonly searched for, is highly relevant, and is cost-effective.
How to start keyword advertising
Google Ads is by far the most commonly used option for this method of advertising. You can also opt to feature your advert on other, relevant domains that Google owns, too, including Blogger and Youtube. If you wished to use a different platform, you could use Bing Ads as an alternative search engine, or social media sites such as Facebook or Instagram.
For this example, however, we will be outlining the process of keyword advertising through Google Ads. To begin using this platform, just click the 'Start Now' option on the Google Ads home page. The platform will then provide you with the guidance and the tools to get started.
With Google Ads, advertisers identify keywords that they believe are the best fit for their advertising campaign, and then bid on these terms. If your bids are high enough, your online advert will be positioned at the top of the results page for these search terms.
When you create a new campaign, up to five search terms is a good number to start with. Later, you can add more keywords and organize related terms into "Ad groups".
The Google Ads platform is also designed to enable users (even if they do not have prior experience in web advertising) to evaluate the success of their keyword advertising strategy through built-in reporting tools. You can also use the tools within this software to improve your campaign, or potentially select more effective keywords. We will cover this in more detail below.
‌How can you measure the success of keyword adverts?
You can measure the success of these ad campaigns by using an ad tracking or analytics tool. Below, we will be outlining an example of how you can undertake this process by using Google Ads. However, there are a number of different tracking and analytics platforms that you can use to access metrics pertaining to your keyword ads.
Google Ads is a software which provides users with conversion tracking tools that can be used to measure the success of a keyword advertising campaign. These campaigns can be analyzed using a variety of different metrics.
Through Google, you pay for your advert on a pay-per-click (PPC) basis. Users can measure this advertorial cost against the returns that you make (in terms of new customers that this keyword advert has generated) by using conversion tracking. This will enable you to see the number of new customers that an advertising campaign has brought to your business website.
Google Ads provides a variety of services, including the ability to deploy ad tracking tools through Google Analytics. You will need to link your keyword advertising campaign to this Google tool in order to monitor it.
You will also need to incorporate an Urchin Traffic Monitor (UTM) code into your Google Ads. This enables users to monitor the way in which visitors use a particular link. Through this code, you will receive information about which element of your online advertising campaign facilitated a sale - for example PPC advertising, social media campaigns, an email campaign, and so on. You can use this to calculate the return on investment (ROI), and so gauge the success of your keyword advertising.
How to choose the right keywords
Identifying a keyword of high value is the surest way to make your campaign a success.
The more competitive or popular a keyword, the higher the bidding prices will be. So, another element to consider when selecting a keyword is how cost-effective it is. You should attempt to balance the strength of a keyword against your budget.
You can isolate a strong keyword by using the Google Ads Keyword Planner tool. This platform will help you to choose the most relevant search terms that provide the best fit for your campaign. The tool also provides users with information pertaining to the number of times a term is searched for, and predictions of its bidding rate. Seobility also provides a free Keyword Research Tool.
When filtering through your keyword options, choose a keyword that is specific, clear, and relevant. Remember that long-tail keywords often perform better with this type of advertising. Ensure that the term ties in exactly to your company's offering and that it intuitively fits with what visitors will be searching for when they require your services.
You should also regularly review your keyword advertising campaign so that you can see which keywords are generating the best ROI, and amend your advertisements accordingly.
‌Importance for Online Marketing
Keyword advertising is a key part of a marketing strategy. From a company's perspective, it is a highly valuable investment because when done correctly, this method of advertising is incredibly timely. The advert places your company directly in front of customers who have just searched for your services, and are therefore more likely to get in touch or make a purchase with you.
Its success lies in your choice of keyword, and how successfully this feeds into the search patterns of your target market. This has the potential to not only increase your [[Website Traffic|website traffic], but boost this number with relevant visitors. On average, the number of visitors to your webpage from a keyword advert are significantly more likely to be interested in your products than, for example, the percentage of relevant viewers out of the group of people who would see your advertisement on a billboard.
Related links
Similar articles
To quote this article, just copy this link:
https://www.seobility.net/en/wiki/Keyword_Advertising