Google Suggest
From Seobility Wiki
What is Google Suggest?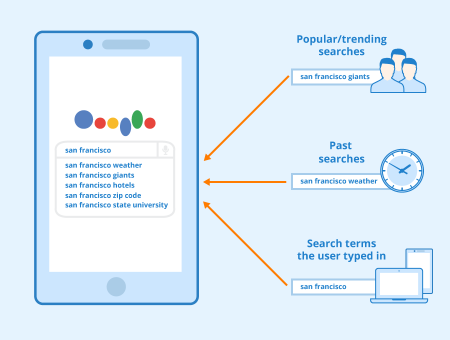 Google Suggest, now called Google Autocomplete, is the feature offered by Google that shows relevant search suggestions while typing in a search term. This feature suggests possible relevant searches based on various factors, including past searches, popular searches and the search terms the user has already typed.
Although this search feature was created to improve the user experience on Google, it has been adopted by many SEOs as a method for finding possible relevant keyword opportunities. Besides being used on the main Google search engine, Google Suggest is also used in the Google Chrome search bar, in the Google app, and various other Google search locations.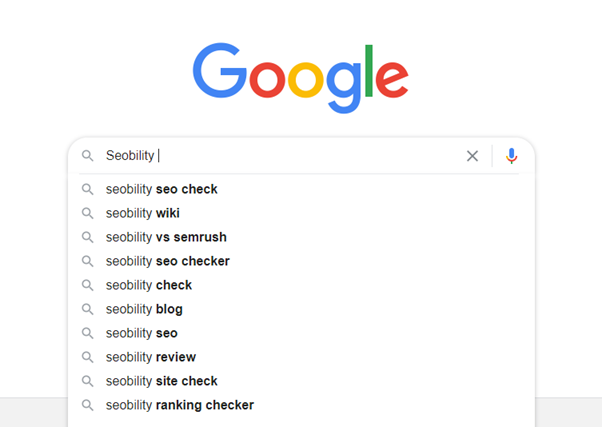 An example of Google suggest in action, showing popular searches related to Seobility
The history of Google Suggest
Google Suggest was first introduced in 2004 on the main Google search engine for desktop, but it was only used as a default search feature from 2008 onwards. Due to various inappropriate suggestions, Google now calls it Google Autocomplete and calls them predictions instead of suggestions[1].
As of late, Google has also started showing Onebox result snippets in Google Autocomplete to make the predictions more useful to searchers. This has led to things like sports match scores and weather forecasts being shown as suggestions for searches with relevant search terms.
How Google Suggest works
Google Suggest, now called Google Autocomplete, works by using various different factors to try and predict what it is a user is looking for and then suggesting that search term. Google has access to a lot of information, especially if the user is signed in to their Google account. This information is used to try to understand what it is a user is looking for.
The information Google uses can include past search terms a user has searched for, popular searches, the terms a searcher has already inserted into the search bar, and trending searches.
Its relevance to SEO & marketing
Google Suggest is used by SEOs and content marketers to find relevant keyword suggestions and discover popular content for content marketing strategies. It can also be used in combination with manual analysis of the SERPs to gauge the search intent of a particular search term, as well as related topics and keywords.
It's also relevant to how the searcher behaves on the SERPs, as certain Onebox results are shown directly. This could reduce the number of people that navigate to a webpage since they get the information they're after directly in the predictions. Another way it can impact user behavior on the SERPs is by focusing more traffic to particular keywords or variations. This can result in more or less traffic to certain sites based on the keywords that pages on the site target.
References
↑ How Google autocomplete works in Search The Keyword. Retrieved 08 February 2021.
Related links
Similar articles
To quote this article, just copy this link:
https://www.seobility.net/en/wiki/Google_Suggest