Lead Generation
From Seobility Wiki
Definition
A lead is someone who shows interest in your company, your products, or your services. Lead generation describes the process of transforming visitors into such leads with the help of marketing tools. It is not about direct sales, but rather about generating interest in an offer and raising brand awareness. It turns an unknown visitor into a familiar face, i.e. a lead. Such a lead agrees to be contacted and provided with further information.
Especially in email marketing, this declaration of consent is the basic prerequisite for lead generation. as it is needed for companies to make contact with interested parties in the first place.
Used correctly, lead generation is important for winning new customers on a regular basis in both online and offline marketing.
Lead generation through content marketing
You can generate new leads in a number of different ways. On the internet, you can do this with targeted content on a highly relevant topic, for example. For this strategy of lead generation, it is important to provide relevant information to a clearly defined target group that has specific interests and requirements. The better you are at providing relevant and valuable content on certain topics, the easier it gets to address the right people. In an ideal case, this means that with enough relevant traffic on your website, you can make contact with many potential leads.
But traffic is only the first step because you still have to convert the many unknown visitors of your website into leads. This is usually done via an opt-in process. For example, users can sign up for a newsletter. This can be encouraged by offering additional information, for example, an e-book or white paper. Ultimately, lead generation is a give and take, i.e. e-mail address (and further information) against additional premium content.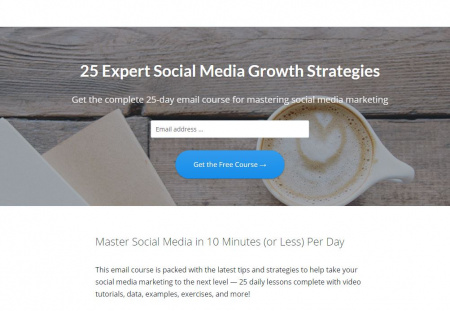 Screenshot with an example of lead generation by offering a free email course on buffer.com
Even if no legally binding information is passed on, note that each opt-in process requires a confirmation email with an activation link. All e-mails that your lead receives from then on must provide an easy way to unsubscribe. In addition, you must have a privacy policy that is linked near the registration form.
Many people spend a lot of their free time on social media, which makes it a great place for you to attract attention. Facebook, Twitter, and Linkedin even offer special services for lead generation:
Facebook offers Lead Ads. There you can buy ad space and your target audience will see your content directly in their feed. They can even fill out your lead form without leaving the site.
Twitter has Twitter Lead Gen Cards. Interested users simply click your tweet, enter their data, and click submit.
LinkedIn uses LinkedIn Gen Forms for lead generation. Just as with Facebook, you can address potential leads seamlessly in their feed.
Lead generation through push and pull marketing
There is no universal strategy to overcome individual challenges in lead generation. Each industry has different ways of winning new leads for their products, offers, solutions, and services. The different approaches can be assigned to push or pull marketing.
Classic marketing that we encounter in our daily lives can be classified as push marketing. This includes print ads, advertising letters or flyers, TV and radio ads, etc. The aim is that customers are activated as a result of marketing pressure. Telephone marketing is also frequently used for lead generation but is only allowed if customers have given their consent. However, since some black sheep obtain this declaration of consent by deceiving customers, this form of contact is blocked by many people.
In summary, companies have to be highly active in order to gain leads through push-marketing.
Lead generation through pull marketing works the opposite way. Simply put, the company presents itself in such a way that customers become active on their own. One way to achieve this could be through providing high-quality content on the internet or through an effective strategy and positioning in social media. The main goal is to establish contact with the target group. The sale of products, offers, solutions, or services is not the focus but happens afterward. It is primarily about customers getting to know your company and your offers and thus building a foundation of trust.
In pull marketing, customers become somewhat active and have a genuine interest in the company and its products. Active means that customers search for information on the internet, join groups, read blog posts, listen to podcasts, or watch YouTube videos so that they are informed about topics they are particularly interested in. This in-depth research is often the basis for purchasing decisions. In many cases, they also ask friends on Facebook about their opinion so they can make the best decision possible.
In the digital age, pull marketing is becoming more and more important for lead generation because the internet confronts users with a huge mass of information on a daily basis. Push marketing, on the other hand, is losing its importance for the generation of leads. Forerunners of this trend are ad blockers and similar ways in which users try to avoid ads.
Customers have an increasing desire to discover information on their own, research, and find out which products are suitable for them and which are not. If you follow this trend, it offers many opportunities for lead generation on the internet, as customers get used to requesting information or submitting their email addresses.
To maximize your lead generation, you should take advantage of these opportunities by making it as easy as possible for potential leads to get to know your company and what you have to offer, and by giving them the opportunity to express their interest in a simple way.
Related links
Similar articles
To quote this article, just copy this link:
https://www.seobility.net/en/wiki/Lead_Generation